Blake Griffin Is Who He Is Because Of Father's Training and Brother's Roughening up
"It really helped me a lot," Blake Griffin says about his father's coaching style.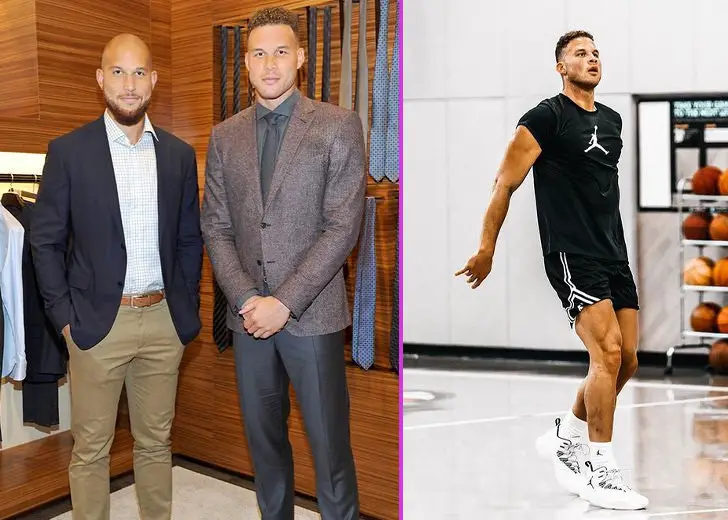 Oklahoma City native Blake Austin Griffin, commonly known as Blake Griffin, is a skilled professional basketball player who plays for the Brooklyn Nets of the National Basketball Association (NBA).
Since being selected by the Los Angeles Clippers in the 2009 NBA draft, he has been a six-time NBA All-Star and a five-time All-NBA selection. In addition to the Clippers and Nets, Blake also played for Detroit Pistons between January 2018 and March 2021.
What also sets him apart from other players on the field is, presumably, his thick skin which does not let him meltdown under pressure and helps him perform to his best capacity. And it turns out the credit for his tough build goes to Blake's family, which comprises his parents and older brother, Taylor Griffin.
Blake Griffin Was Trained by His Father
Blake's father, Tommy Griffin, who is of Afro-Haitian descent, was a basketball center and track standout at Northwestern Oklahoma State University. He is also one of the most successful high school basketball coaches in Oklahoma, with nine state championship wins as a head coach.
Tommy, therefore, coached Blake, putting all his experiences during his training in high school at Oklahoma Christian School in Oklahoma City.
The result? Blake matured into one of the most coveted recruits at OCS, where he averaged 26.8 points and 15.1 rebounds as a senior and was named a McDonald's All-American.
"Every day in practice, the first 45 minutes would be fundamentals," the 32-year-old told Dallas News, crediting his father for his success. "It really helped me a lot."
The basketball pro also credits his mother, Gail Griffin, who is white, for helping him stay fit since she has always been big on health and nutrition.
Mentioning how his mother home-schooled him until he was in the seventh grade, Blake said, "She's also instilled a lot of values in me. She basically has done everything for us."
Brother's Roughening Up
Like his parents, Blake's brother, Taylor also had a big role in incorporating an excellent work ethic into his system.
In the stated interview with Dallas News, the 6 feet 9 inches tall star recalled his driveway basketball games with his older brother, who played for Pallacanestro Trapani of the Italian Serie A2. He said those matches often had an ugly ending.
"We had some serious battles, and they always finished in a fight," Blake said. "Every single time, it didn't matter. Normally, not a fist fight, but yelling and throwing the ball at each other."
Because of that, he hated losing to his brother and always played with a drive to succeed at any cost. But that drive eventually transformed into fuel for Blake, who learned never to give up.
Blake Griffin's Stats
Today, as one of the most accomplished NBA players, Blake has some amazing career stats to his name. For instance, from winning four high school state titles at Oklahoma Christian School to being selected as an All-Star in his NBA debut season, Blake scaled his reputation.
In addition, he was named National college player of the year in 2009 and NBA Slam Dunk Contest champion and NBA Rookie of the Year, both in 2011.
On March 8, 2021, he was signed by Brooklyn Nets, making his debut for the team on March 21. He logged two points, two rebounds, and a block in 15 minutes of action, in a 113–106 win over the Washington Wizards.