List of Bill Maher's girlfriends — Is He Serious with His Current One?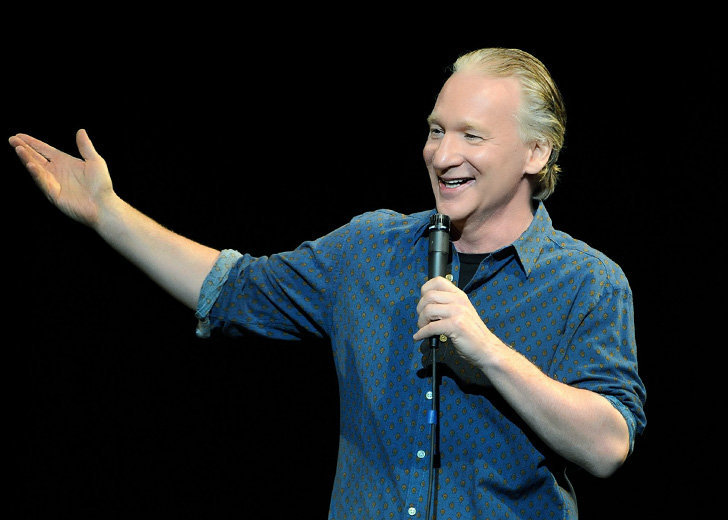 Bill Maher does not hesitate to talk about controversial topics. Brutal honesty and sarcasm are his weapons that he wields like no other comedian in the industry. 
With shows like Politically Incorrect and Real Time with Bill Maher, the comedian has stolen the hearts of his fans. Maher is open about everything, mostly his opinions and views on various topics.  
One such topic is marriage. Maher is in his 60s but has no plans of getting married. Maher has voiced out his opinion of not getting married ever since he has been in the spotlight. But that has not stopped him from having a slew of girlfriends. 
Bill Maher's Relationship History 
Maher does not have a wife, but he has dated a lot of women in the past.
Women like Tracy Richman, Heather Hunter, Karin Taylor, Vanessa Kay, Brook Lee, Aiko Tanaka, Kaya Jones, Bai Ling, Rochelle Loewen, and Thora Birch have been dubbed as Maher's girlfriend in the 90s. 
Bill Maher and Coco Johnsen
Maher began dating Playboy model Coco Johnsen in 2003, but there were soon problems in paradise. Their romance was short-lived, but it made news when Johnsen sued Maher for $9 million.
The lawsuit alleged that Maher made derogatory racial remarks and humiliated his girlfriend, which caused her "pain and suffering." Johnson claimed Maher offered to marry her and financially support her. 
Similarly, the comedian allegedly persuaded her to leave her profession as a flight attendant and model via his false promises. 
The lawsuit was nasty, and Maher's attorney defended him, claiming that he is a "confirmed bachelor, and a very public one at that," and that he "never committed to marry." 
Maher's lawyers filed a lawsuit in November 2004, which claimed that Johnsen "launched a campaign to embarrass, humiliate, and extort ridiculous sums of money from Bill Maher" after the relationship ended.
This was not the first time Johnsen had gotten in an ugly lawsuit. It was reported that in 1997, she had accused a former boyfriend of rape and kidnapping. However, those accusations were dropped because of a lack of evidence.
Maher's and Johnsen's lawsuit was dropped on May 2, 2005. 
Bill Maher and Karrine Steffans
Maher started dating Karrine Steffans, an author, and hip-hop model, in 2005. Although the couple split up in 2006, it appears that they were still on good terms.
The comedian was serious about Steffans, but she thought she wanted to grow up and discover herself first.
Bill Maher and Cara Santa Maria
For two years, Maher dated Cara Santa Maria, a scientific communicator, writer, television broadcaster, and podcaster, from 2009 to 2011. Maher gave a statement to In Touch Weekly stating that their split was consensual and amicable.
Maria stated they would remain friends and collaborate in the future while the comedian wished nothing but the best for his ex-girlfriend. 
Bill Maher and Anjulie Persaud
It has been reported that Maher's current girlfriend is Anjulie Persaud, and the pair have been dating since 2014. Persaud is a Canadian singer who has worked with people like Nicki Minaj, Benny Benassi, Diplo, Zedd, and Kelly Clarkson. 
Not much is known about the couple except that this is Maher's longest relationship to date.