Is Bhad Bhabie Lying about Her Net Worth? Rapper Spills on Why She Wears Fake Jewelry
Bhad Bhabie was not lying about her OnlyFans earning.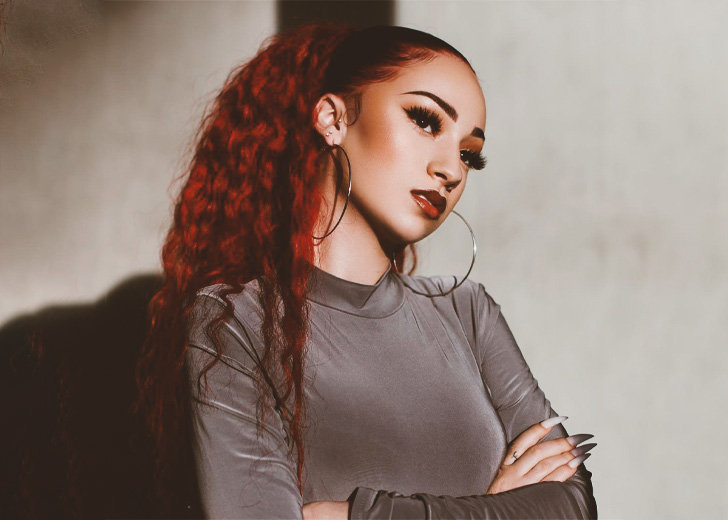 Once upon a time, everyone knew the famous catchphrase "catch me outside, how 'bout dah?." It was made famous by Danielle Bregoli, aka Bhad Bhabie after she appeared on the talk show Dr. Phil.
Her mother pleaded for the doctor's help to control her "car-stealing, knife-wielding, twerking 13-year-old daughter." While being interviewed, the audience expressed their displeasure at the teenager, to which she told the crowd to "catch [her] outside, how 'bout dah?" where she was asking for a fight.
A few months later, her famous catchphrase became viral and spawned hundreds of memes, prompting a ton of tweets, videos, and remixes on the internet. She released her line of "cash me ousside" merchandise off her newfound fame. 
She also ventured into music, and her first single, 'These Heaux,' debuted at no. 77 on the Billboard Hot 100 chart, making her the youngest female to land a debut single on the chart.
She showed just how big an internet meme could become when she joined OnlyFans and broke the record on the platform after bringing in $1 million in just six hours. 
Bhad Bhabie Takes a Lie Detector Test
A few weeks after turning 18, Bhabie joined the NSFW platform OnlyFans. The rapper charges $23.99 per month for access to photos and videos on her OnlyFans page. After her account went live, she took to Instagram to post the receipts. 
She made $757,526.08 from subscription fees and received $267,675.00 from direct message payments. She also received $5,502.35 tips which totaled up to $1 million-plus in earnings. According to Variety, her net worth is now in the millions. 
While many fans found it hard to believe and thought it was a scam, she set the record straight when she appeared on Fuse to take a lie detector test. In the interview, the controversial star got grilled by Fuse's private investigator, John. 
She was asked about many things, including her OnlyFans earnings. The interviewer asked her if she made over $1 million in mere six hours, to which she iterated was true. According to the lie detector, Bhabie was telling the truth. 
Bhabie was not lying, and it looks like her net worth is in the millions.
Bhad Bhabie Wearing Fake Jewelry
In the interview, the interviewer also asked the rapper if she wore fake jewelry.
She iterated that she would never wear fake watches, but she had real and fake jewelry that she wore more often.
The OnlyFans millionaire revealed she had many replicas because she needed them when she was going out with only her assistant. She then added that she could not wait for the day someone would rob her and shared that she learned this from Kim Kardashian. 
In October 2016, Kardashian was held at gunpoint by burglars who broke in and took approximately $10 million worth of jewelry. Ever since that day, she stopped keeping her expensive jewelry at home and sometimes wore fake jewelry. 
Bhabie was not lying about wearing fake jewelry as she got a thumbs up from the investigator.