'BFFs' Podcast Addresses Why They Deleted the Cooper Noriega Episode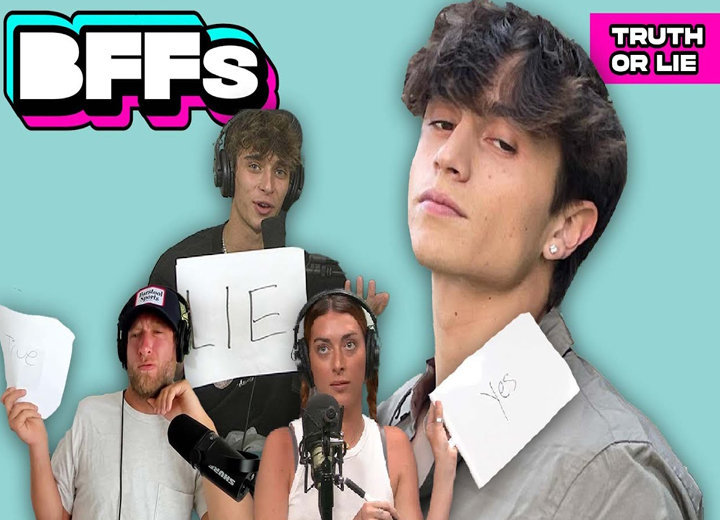 On July 24, 2022, the BFFs podcast deleted their episode on Cooper Noriega, which was released on their YouTube channel days before his death. 
The late TikTok star was wearing a crop top in the video, and host Dave Portnoy said it was "triggering."
At the time, Dave had received backlash and hate from Cooper's fans, but Cooper told his fans not to take it seriously and that he had a lot of love for the podcast host. 
The comment seemingly rubbed Noriega's sister Parker Blaine the wrong way because she took to Instagram story to post a picture of Jaden Hossler wearing an unbuttoned red vest. 
She then tagged BFFs and Josh Richards and wrote, "Is this crop top triggering for you?" with a few middle finger emojis. 
The podcast channel then deleted the Noriega episode. So naturally, this went viral on social media, with many demanding an explanation. 
And in a new episode of BFFs uploaded on July 27, 2022, they finally explained why. 
'BFFs' Host Says Parker Blaine's Actions Were Insensitive
Although the hosts felt uncomfortable talking about it because of the tragedy, they noted they had to mention it because "it went super viral."

BFFs hosts explain why they deleted the Cooper Noriega episode and discuss Parker Blaine's actions. (Source: YouTube)
Dave explained that his "triggering" comment was just an age thing, alluding that as a 45-year-old man, he was not used to seeing a man wearing a crop top. 
The host didn't know who Noriega's sister was but felt her actions were "insensitive."
"There's a legitimate tragedy, and to equate it to like our podcast in the Jaden history... to me, they are two different things. We shouldn't be convoluting a serious thing into a BFF beef," said Dave. 
Richards then said he found the behavior "really upsetting and disgusting," to which fellow host Brianna LaPaglia added she found it insensitive.
The hosts acknowledged many people were grieving, including Jaden and Parker, and that everyone had a way of dealing with their grief. 
But for Hossler and Parker to do something like that was just unacceptable. 
'BFFs' Explain Why They Deleted the Podcast
Meanwhile, guest Tana Mongeau seemingly sympathized with Parker, claiming as someone who had gone through grief. She said some people looked back to a million little moments before that person passed and felt anger towards so many things. 
However, Dave maintained that whether or not one was grieving, he still thought it was not right of Parker to do something like that and put it in public. 
Richards added he was not trying to turn this into drama or anything else and trying to be understanding. 
"I'm trying to be understanding because that's like the worst I could never imagine, like losing my brother would be terrible. And like obviously, Cooper was a very close friend of mine, and it was terrible for me. So I'm not trying to like turn it into something," said the former Sway Boy.
But he wished the post had never been posted in the first place, to which Dave agreed. 
Dave then explained the episode was taken down much earlier because they were requested to take it down.