New Parents Alert! — Barry Keoghan Is Expecting a Child with His Girlfriend Alyson Sandro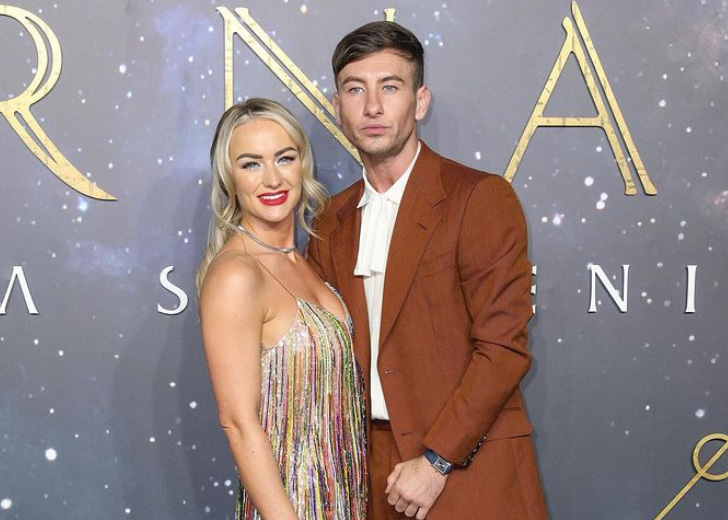 Barry Keoghan is about to be a dad!
He is currently expecting a baby with his girlfriend, Alyson Sandro. The Eternals star took to Instagram Stories on March 27, 2022, to announce that he and his partner were going to be parents.
He posted a picture of him hugging Sandro, who held a confetti cannon in her right hand. The decorations were full of pink, blue, and golden balloons, along with streamers.
Sando wrote a pink outfit adorned with red spots, whereas Keoghan wore contrasting colors, pale blue, for the baby shower. It seems like their friends and family joined them for the baby shower, and gender reveal party.
There was blue confetti all over, revealing that the new parents were expecting a baby boy. Keoghan wrote, "I don't know why others have there opinions. WE ARE HAPPY HERE."
Other than this, the two revealed nothing about their pregnancy or their baby's due date. But, all in all, the two looked extremely excited to be new parents and welcome their son.
Who Is Barry Keoghan's Girlfriend?
Keoghan prefers to keep his love life under wraps and outside the spotlight. As a result, not much is known about his girlfriend.
Sandro has a social media presence, namely Instagram, with the account name @officialalyalysandro, but it is private. However, she sometimes makes it to her beau's Instagram and social media.
It is unknown when the two initially started dating. However, it is reported that they were first linked in February 2021.
They made their relationship official in October 2021 after Sandro attended Eternals' premiere as Keoghan's date. Sandro wore a multicolored strapless fringe dress with red heels and lips.
Keoghan, on the other hand, looked happy beside his partner in a brown suit and shoes. There were photographed on the red carpet outside BFI IMAX Waterloo in London, where the couple did not hesitate to show some PDA.

Barry Keoghan with his girlfriend, Alyson Sandro, at the premiere of Eternals in October 2021. (Source: Instagram)
They kissed and hugged each other while posing for the pictures. Since then, The Killing of a Sacred Deer star has uploaded another photo with his girlfriend.
It was a black-and-white picture where the two are kissing each other in front of beautiful light settings. Other than this, not much is known about Keoghan and Sandro.
Barry Keoghan's Former Girlfriend Shona Guerin
Before Sandro, Keoghan was in a long-term relationship with his former partner, photographer, and MUA, Shona Guerin. According to RSVP Live, the pair dated for around three years, from 2017 to 2020.
They met in a pub in Kerry on Good Friday. Guerin was working at the pub, and Keoghan was there with another woman.
Eventually, one thing led to another, and the pair started dating. Throughout their relationship, Keoghan spoke fondly of Guerin.
He told Lucy Kennedy of Living with Lucy in 2019 that he was grateful for the makeup artist.
He would be lost without his girlfriend, and she made him who he was. He said, "I wouldn't be the man I am now without her."
He was also sure that Guerin was the woman he wanted to be with for the rest of his life. Moreover, Keoghan's friends and co-stars like Cillian Murphy and Colin Farrell were also fond of Guerin.
They gave him relationship advice and told him not to mess up his relationship with Guerin. But unfortunately, it was easier said than done.
The two parted ways in 2020, but they did not announce their breakup publicly. Instead, they quietly unfollowed each other on social media and moved on with their life.