Who is Colin Farrell's Wife? A Look into His Dating History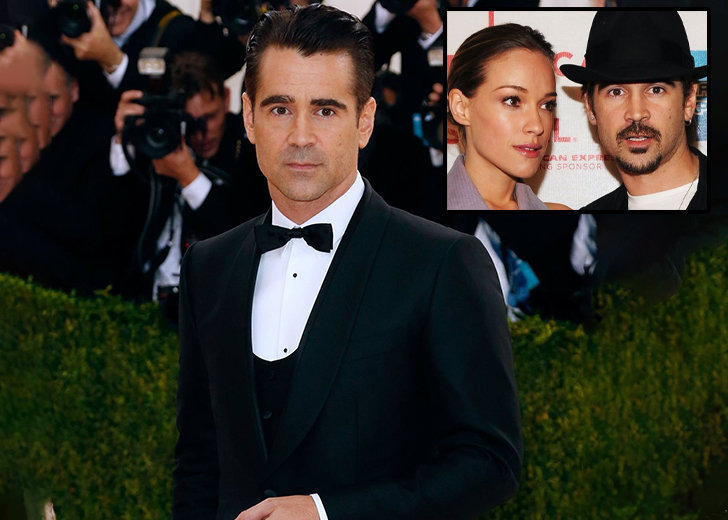 Colin Farrell has acclaimed tremendous success with his splendid performance on-screen. There have been no downs in his entire acting career.
The Total Recall actor might have a steady career, but his love affairs have been a whirlwind of romantic disasters.
He shares a son with his former girlfriend, Kim Bordenave, and his fans speculated her to be his wife, but it turned out Farrell was not marrying any time soon.
He also has another son with actress Alicja Bachleda. So, the curiosity that has been killing his fans is,
Do Colin Farrell Share Kids with His Wife?
The Irish actor publicly displayed his affection for an English actress and singer, Amelia Warner. It is reported that they met during the premiere of Quills in 2000.
According to Distractify (Via People), they both were even briefly married for four months in 2001.
The Irish charm worked on Warner, and they both tied the knot on the island of Bora Bora when she was just nineteen. 
In an interview with The Sun, Warner clarified it was a ceremony on a beach in Tahiti. They were on holiday and exchanged vows as husband and wife in a non-legal ceremony. 
The Batman actor Farrell had even tatted her nickname, "Millie," on his ring finger to show that he loved and was committed towards Warner. But it ended "too fast, too young."
Later in 2002, the In Burges actor flaunted his relationship with his then-girlfriend, Bordenave. He and his former girlfriend expected their first child the following year they started dating.
On September 12, 2003, they gave birth to their son, James Padraig Farrell. But the couple freed themselves from the relationship soon after. 
In 2007, the actor revealed his son was diagnosed with Angelman Syndrome.

Colin Farrell is clicking a selfie with his son James Padraig Farrell. (Source: Twitter)
Farrell welcomed his second son, Henry Tadeusz, with Bachleda. He met Bachleda while both were shooting for Ondine in 2009.
During the movie's premiere, Farrell's former girlfriend Bachleda said they didn't have time to express their genuine emotions on the set as the movie itself was romantic and beautiful.
The couple split up because the Trade actress realized Farrell was never going to wife her, and hence she dated someone else.
Despite having numerous affairs, the Irish actor is not married, and he doesn't have a wife, except for the trial marriage he had with Warner.
David Farrell and His Girlfriend, or Let's Say "Girlfriends"
The Irish charmer has been constantly on the headlines for his colorful love life and alliances with other Hollywood stars.
He had been linked with the pop star Britney Spears. However, they denied all the allegations and mentioned they were just friends.
The actor also sparked rumors with Lindsay Lohan, Angelina Jolie, and Demi Moore. However, none of the rumors were confirmed.

Colin Farrell and Britney Spears were rumored to be dating. (Source: Twitter)
In 2015, Farrell claimed that he had shifted all his focus to his work. But before that, he had a reputation as a casanova.
After making the statement, Farrell enjoyed his time with a mystery girl in March 2016.
During his appearance on TheEllenShow, he cleared that his mystery girl was not from the showbiz and said, "My girlfriend she travels a lot as well with work so often we're two ships passing in the night, but we make sure to find a port that we can, you know, rendezvous at."
Farrell has never been secretive about his private life and love affairs. In 2018, he and Kelly Namara were spotted in a PDA-packed performance in Los Angeles.
The things ended between them after three years, and as of now, Farrell is seemingly single and doesn't have a wife.