Asian Doll Slammed for Moving on Too Fast after Boyfriend King Von's Death
Asian Doll is ready to move on but not without hate coming her way first.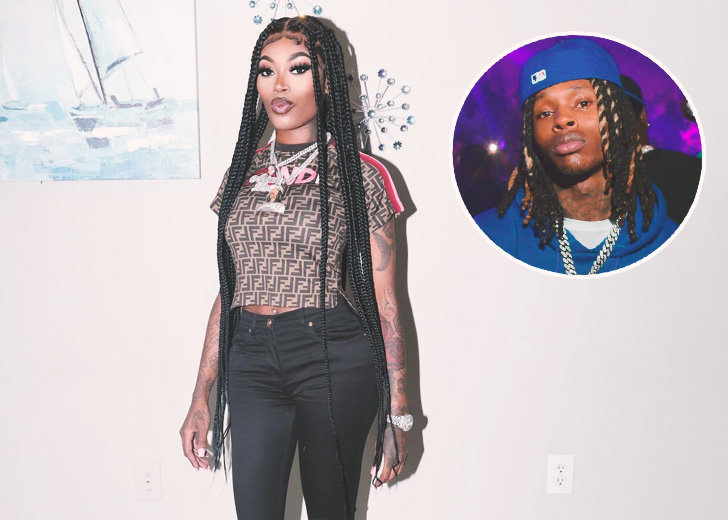 When Chicago rapper King Von was murdered in a deadly shoot-out outside an Atlanta club last November, everyone close to the rapper mourned his death, including his on and off girlfriend Asian Doll.
For Asian Doll, the rapper was her soul mate. 
The 'Nunnadet Shit' rapper did not shy away from letting fans in on the grieving process.
Though the duo had split a few days before Von's death, Asian Doll shared that her relationship with Von was her first serious one and described him as her "first real boyfriend." 
She posted a series of heartbreaking tweets hours after the Chicago rapper was killed.
"I'll never be the same I just hope you visit me in all my dreams I just wanna sleep so I can picture us again," she tweeted after the news of his death went public. 
Asian Doll continued to share special tributes to the late rapper and even got a tattoo to honor her boyfriend and made a chain that depicted the rapper.
But now, almost a year after his death, Asian Doll is ready to move on. 
Asian Doll Slammed on Twitter
Asian Doll has been spotted flirting with Jackboy on multiple occasions on social media.
On September 14, she tweeted that if anyone saw her with her boyfriend in a couple of days, they should mind their business. 
Since then, Asian Doll has not stopped dropping hints on Twitter that she has a new man in her life. 
On October 5, Asian Doll made a series of tweets. In her first tweet, she shared that she did not have many boyfriends, but now that the rapper was getting older, she wanted to settle down.
Fans, however, criticized Asian Doll for moving on too fast because, in her following tweet, she questioned Twitteratis, "How Ima be loyal to somebody who no longer here?"
Many did, however, support her and offered her kind words for the pain she went through. 

User Commenting on Asian Doll's Actions (Source: Twitter)
Users tweeted that Asian Doll was allowed to move on whenever she was comfortable and that there was no time limit to how long she was supposed to grieve.
However, there were still some that insulted her, with one user saying they were not talking about her loyalty but her illogical actions. 
Asian Doll Shades Her Friends
She continued clapping back at her haters, but in her following Tweet, her focus seemed to have shifted on her friends because she tweeted that she was in the process of making her man her only friend. 
Although her intentions are unclear, fans took it to mean that she was getting rid of her man for her friends and advised her not to do so.
They iterated that she would be making a huge mistake and that she needed her friend no matter what because things could always go south with her man. 
Maybe Asian Doll's friends were not happy about her dating Jackboy, or perhaps she just meant she wanted to focus on her man; we don't know for sure, and all we can do is wait for her to speak up.