5 Arthurian Movies to Watch after 'The Green Knight'
Here are the 5 must-watch films if you love King Arthur's adventures.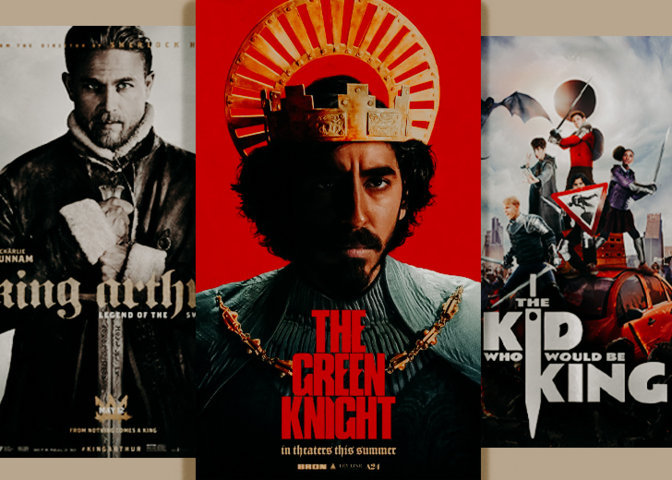 Arthurian movie The Green Knight is making waves in the movie industry since its premiere on July 29, 2021.
A decent adaption of the chivalric romance titled Sir Gawain and the Green Knight, the movie revolves around the odyssey of Gawain, nephew of legendary King Arthur, portrayed by Dev Patel. 
The movie attempted to highlight King Arthur's tale without introducing him as a lead character. Instead, it presented him as a motivating force for the lead protagonist Gawain to dream of being equally legendary and dwell on the dangers to prove his might. 
Now, if you crave to know more about King Arthur or his other-worldly tales, here are the five hand-picked Arthurian movies. 
1. 'Excalibur' (1981)
To comprehend Britain's King Arthur's legend, one must know about his famous and divine sword, Excalibur. Named after the blade, the 1981 film Excalibur is a must-watch for all Arthurian movie fanatics.
It opens up about Arthur's origin, how he got his sword and his royal title, and his battle against his half-sister Morgan le Fay. John Boorman's classic also introduces the famous wizard Merlin.
With its vintage visuals, legendary musical score, and legendary actors, the movie is undoubtedly an evergreen choice to be on the watch list.
Casts: Nigel Terry as King Arthur, Helen Mirren as Morgan le Fay, Liam Neeson as Gawain, and Nicol Williamson as Merlin.
2. 'First Knight' (1995)
Directed by Sean Connery, First Night holds its importance in the Arthurian legend, although it was released decades ago. 
The 1995 movie highlights not only the bravery and adventures of King Arthur but also brings light on his romantic side. It focuses on his tragic relationship with Guinevere, who falls in love with one of the Knights of the Roundtable, Lancelot. 
Arthur has to deal with his marriage and prepare a battle from his Camelot with an evil knight named Maleagant.
Spirituality and Practice magazine applauded the almost two-and-a-half-hour movie as a "king-sized serving of romance and ritual" for its unique take on showcasing Arthur's challenges. 
Casts: Sean Connery as King Arthur, Julia Ormond as Guinevere, Richard Gere as Lancelot, and Ben Cross as Maleagant. 
3. 'King Arthur' (2004)
King Arthur is the darker, realistic version of all Arthurian films. Antoine Fuqua's action drama, released on July 7, 2004, revolves around the King's journey from being a soldier to a leader.
It focuses on his battle against the Saxons and how he ended up being the King of Britain. 
Famous film critic Roger Ebert praised the movie for its film location in Ireland, its production qualities, and the apparent hard work of the actors. In his own words, the film casts brought more interest to the characters than they deserved. 
Casts: Clive Owen as King Arthur, Ioan Gruffudd as Lancelot, and Keira Knightley as Guinevere. 
4. 'King Arthur: Legend of the Sword' (2017)
Guy Ritchie's film King Arthur: Legend of the Sword is the opposite of the 2004 movie, with humor and its blend of Arthur's persona.
The story goes a little out of the actual Arthurian legend and puts fate in the plotline. Arthur only knows about his royal origin after pulling out the Excalibur from a rock. Thereon, he opts to take revenge on his father's killer, King Vortigern. 
Though the movie performed less than expected and its planned sequels were canceled, it still could be a captivating watch for people yearning to see the other version of the Arthurian legend. Who knows!
Casts: Charlie Hunnam as King Arthur, Djimon Hounsou as Sir Bedivere, and Jude Law as King Vortigern. 
5. 'The Kid Who Would Be King' (2019)
The Kid Who Would Be King differs from all the aforementioned movies, given that it doesn't bring King Arthur to life. Rather, it provides glimpses of his legacy by making the lead Alexander Elliot and his friends the Knights of the Round Table. 
The fantasy chronicles Elliot using Excalibur to fight off the ancient villain, Morgana le Fey, combining medieval warfare with modern technology. 
The CGI and the unique perspective to the Arthurian world in this family-friendly adventure certainly make the film deserving of a watch. 
Casts: Louis George Serkis as Alexander Elliot, Rebecca Ferguson as Morgana, and Patrick Stewart and Angus Imrie as Merlin.