Did Anthony Davis Marry His Girlfriend in Secret? A Look inside His Personal Life
Anthony Davis shares a beautiful daughter named Nala with his wife, Marlen.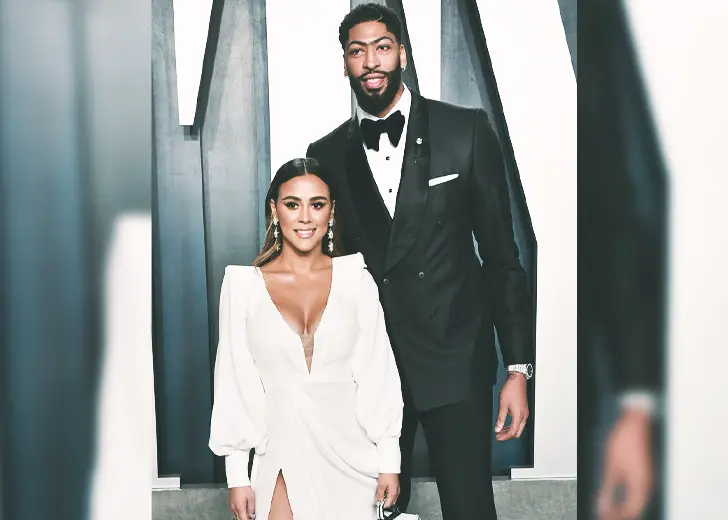 One of the 75 Greatest Players in the National Basketball Association's (NBA) history, Anthony Davis has made a name for himself since 2012. He started his NBA journey with the New Orleans Hornets / Pelicans and is currently with Los Angeles Lakers. 
He is an eight-time NBA All-Star, and he won the NBA championship in 2020 in his first season with the Los Angeles Lakers. Davis's professional career is well known, but the same can't be said for his personal life.
Davis is very secretive about his love life, so here is everything we know about it. 
Does Anthony Davis Have a Girlfriend?
He has been in a relationship with a woman named Marlen for quite some time. Unfortunately, the details about their relationship are unknown. 
According to Sportskeeda, Marlen is Dominican and follows Christianity. Both Davis and Marlen have kept their relationship out of the spotlight. The NBA player rarely shares anything except basketball on his Instagram. 
Similarly, Marlen used to have a private Instagram, but currently, it is unknown if she still uses it or not. After being in a long-term relationship, the pair made their first public appearance in 2020. 
The couple attended the 2020 Vanity Fair Oscar Party hosted by Radhika Jones on February 9, 2020. The couple was photographed at the Wallis Annenberg Center for Performing Arts in Beverly Hills, California. 
Marlen looked stunning in a white long-sleeved gown with a plunging neckline and high slits. She wore minimal makeup and accessorized her looks with a white bag and long earrings. 
Davis wore a black tuxedo with a matching bowtie and sneakers. Since then, the duo has made no public appearances together.
Does Anthony Davis Have a Wife?
It is reported by various sites online that Davis got married to Marlen on September 18, 2021, officially changing her status from girlfriend to wife. While the two have not explicitly said anything about their marriage, there are a lot of leaked photos online. 
The wedding ceremony was intimate, and many famous faces made the guest list. Davis's colleagues like LeBron James, Jared Dudley, and Russell Westbrook attended the wedding. 
Similarly, leaked footage showed Adele dancing the night away while sipping wine. During the ceremony, Davis wore a sharp blue tuxedo and later changed into a black one for the reception. 
Marlen, on the other hand, looked stunning in a sleeveless white gown with a long veil. 
Does Anthony Davis Have a Daughter?
Davis shares a daughter named Nala with Marlen. Once again, not much is known about Nala except for the fact that Malen had a private baby shower in 2017. 
There are barely any photos of Nala online since Davis does not post pictures of her. However, when he took his daughter to the 2020 NBA Finals he was photographed celebrating his win with Nala.
Similarly, Davis also took his daughter to the premiere of Space Jam: A New Legacy on July 12, 2021. The father-daughter duo was photographed on the premiere's red carpet, which was held at Regal LA Live, California. 
Marlen and Davis live with Nala in a rented $14 million mansion near the Staples Center. According to TMZ, the house is located in Bel-Air and has a pool, personal gym, and, of course, a basketball court.