Anthony Davis' Twin Sister Didn't Go into Basketball like Him — A Look into His Family
Unlike her towering brother, Antonette Davis decided to shy away from a career in sports.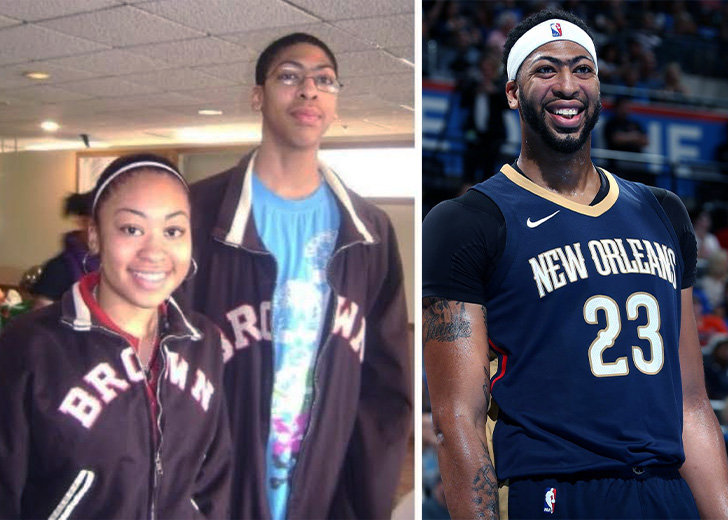 Anthony Davis of the Los Angeles Lakers, who stands at a towering height of 6 feet 10 inches, has two siblings, including a twin sister named Antoinette Davis.
When basketballer Davis' made his university debut in 2009, his height was 6 feet 3 inches which grew to 6'5, 6'8, and presently to 6'10. While Davis' ever-increasing physical growth is well-documented in public, lesser is known about his parents' heights.
A Look into Anthony Davis' Family
Davis' father, Anthony Davis Sr., stands at 6 feet 6 inches while his mom is 6 feet 1 inch tall, hinting Davis' growth might have been influenced by his genes.
The power forward's twin sister, Antoinette, isn't associated with professional sports, but their older sister Iesha Davis was drafted to play for Harlem Globetrotters in 2012 as per Kentucky Sports Radio. However, Iesha is currently not actively involved with the sport. 
Heightwise, Iesha is relatively shorter than her brother, standing at 5 feet and 10 inches.
Antoinette, on the other hand, not only has distanced herself from involvement in sports but is also less popular on social media platforms, something which might come as a surprise given her twin sibling's popularity on social sites.
A huge reason for this can be drawn down to her habit of maintaining privacy on public forums. 
Unlike her brother, Antoinette is long-known to keep her Instagram account private and remain careful about what she shares. While her Twitter is set to public, Antoinette's account has significantly lesser followers.
Anthony Davis' Closeness with his Sisters
Per Distractify, Davis got married to his longtime girlfriend and internet personality, Marlen P, last month and has a baby daughter named Nala with his wife.
However, the basketball star has remained equally close to his sisters and has publicly shown his love for Antoinette and Iesha on many occasions.
Understandably, when the player is not posting about his team and sports events, he shares pictures of his family members on his official Instagram account. 
Before his wedding, Davis remained tight-lipped regarding his love life with his current wife, but at the same time, he was openly showcasing his affection for his sisters, reflecting the family bond between the siblings. 
In the past, the 28-year-old Lakers superstar has even gone to call his twin sister his other half. However, there is another special reason for Davis' closeness with sister Antoinette.
Antoinette Davis' Role in Her Brother's Career
During his university years, when Davis remained engaged with his basketball practices, interviews and photoshoots, Antoinette came as a big help to her twin brother. 
She is understood to have helped Davis' with his academics by tracking all his homework and project works. Fortunately, his twin sister's contribution did not go unnoticed as the basketball sensation gathered many college honors to his name and later made a name for himself in NBA as well.
During his collegiate days, he was recognized with accolades like NCAA Final Four Most Outstanding Player, Consensus National Player of the Year, SEC Play of the Year, etc.
In his early pro career, Davis saw him being named in the NBA All-Rookie Team. He also has six NBA All-Star recognizations, and in 2017, Davis was named the NBA All-Star MVP.
In 2012, a year which is also classed as his breakthrough year, NBA outfit New Orleans Hornets made him their first overall pick during the draft.
During the same year, which happens to be before the start of his glittering NBA career, Davis caught the eyes of the wider audience after he finished the 2012 Summer Olympics as a gold medalist.
A couple of years later, his impressive showing resulted in the United States being crowned as FIBA Basketball World Cup champions in 2014.