Who Is Lakers' General Manager Rob Pelinka's Wife? Meet Kristin Pelinka
Rob Pelinka's wife, Kristin, is as accomplished as he is.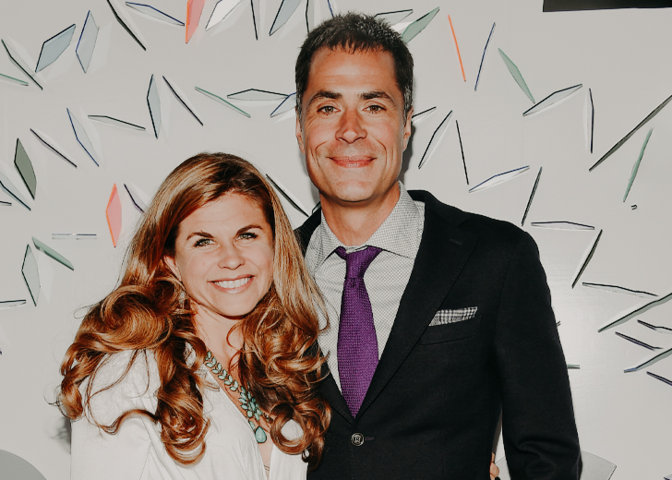 Many basketball enthusiasts recognize Rob Pelinka as the man in command of the Los Angeles Lakers, working as the organization's Vice President of Basketball Operations and general manager. 
Naturally, as an agent, he has represented many renowned basketball players, such as Kobe Bryant, Derrick Williams, Dion Waiters, and Kevin Durant. But Pelinka doesn't just represent athletes; he was one himself.
Pelinka played basketball for Lake Forest High School, and by the end of his senior year, he was selected to play on several regional all-star teams. He was eventually recruited by the University of Michigan and was a key player for the Michigan Wolverines from 1989 to 1993. 
He played in 36 games averaging 4.3 points, 2.1 rebounds, and 1 assist per game. At Michigan, he became known not just for being a superb athlete but also for his intelligence. He graduated from the University of Michigan's Ross School of Business with a 3.9 GPA. 
After that, he attended Michigan Law School and earned his Juris Doctor cum laude to become a sports agent. Afterward, Pelinka joined Mayer Brown, and 2 years later, he joined SFX management, where he became an agent. 
During his time at SFX, he began dating his future wife. 
Pelinka's Wife
In June 2005, LA Times reported that Pelinka got engaged to Kristin Brett Schwarz, daughter of Dr. and Mrs. Kenneth Schwarz of Corona del Mar. Two months later, they tied the knot. 
Kristin graduated from Duke University and then UCLA's School of Medicine. After that, she completed her pediatric residency at Cedars Sinai Medical Center in Los Angeles.
She is currently a licensed pediatrician in Costa Mesa, California. According to her bio on Costa Mesa's website, her medical passions include "child development, behavioral issues, special needs children, and international medicine."
In an interview with Sapres, the pediatrician talked about what inspired her to become a doctor. 
Kristin revealed that she wanted to be a doctor since 11 because she loved maths and science, but it wasn't until much later that she realized her true calling. 
I learned that my true calling was to be a healer, an encourager, a voice for the voiceless, and serving the least of these. Serving the least of these in my world means children affected by disabilities, developmental delays, disease, and disfigurement. 
The Pelinkas' Volunteerism
Both Pelinka and his wife are intelligent and successful. Besides having thriving careers, the duo serves their community as upstanding members of a Christian Group at St. Andrews Presbyterian Church.
Pelinka and Kristin, alongside their two children, son Durham and daughter Emery, have volunteered at The Painted Turtle Camp — a camp that caters to children with life-threatening illnesses.
Pelinka's group also partners with the Los Angeles Lakers Youth Foundation, assisting non-profit community organizations. The foundation focuses on sports and promotes education, teamwork, confidence among youths in Los Angeles. 
The fund raised through the foundation is used to provide financial help to children and local youth programs.