Angus Cloud Gets Asked If He Would Star in Mac Miller Biopic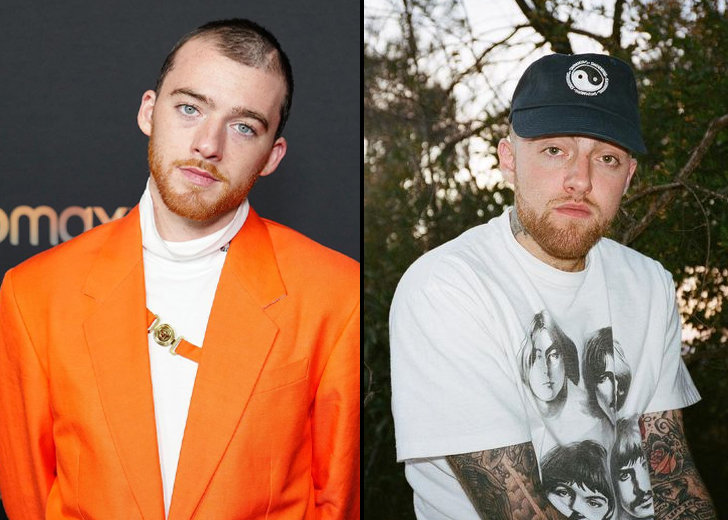 It is undeniable that Angus Cloud, who rose to fame after his portrayal of Fezco on HBO's Euphoria, is a doppelganger of late rapper Mac Miller.
Since netizens have noticed the resemblance, the actor has frequently been asked one major question across various social media platforms. And the question is — whether he would star in a possible biopic of the rapper in the future.
Mac Miller Biopic — A Clear 'No' from Angus Cloud
In the wake of the situation, Cloud spoke with TMZ's reporter after an event in March 2022 and responded to the fans' most asked question.
The reporter questioned him what it would take for him to play the role of Miller in a biopic, to which he quickly responded by saying, "I don't know about it."
Angus Cloud is a doppelganger of late rapper Mac Miller. 
"One more thing ... we raised the issue lots of 'Euphoria' viewers notice -- Angus' uncanny resemblance to the late Mac Miller. Maybe a future biopic role? Understandably, Angus isn't ready to tackle that topic just yet," the publication later wrote on the topic.
Cloud was previously asked the same question during an interview in February 2022, and his response was also the same.
He stated that he wouldn't be able to play a real person, whom he respected a lot and regarded as a legend.
"I mean, no, I don't think so," he said. "Taking on someone's whole life and becoming that person like, how much respect you have to give them to actually try to portray them, you know? Like, you have to learn, you know what I'm saying?"
Going by his multiple responses, there seems to be little possibility of him ending up in a biopic of Miller.
Angus Cloud and Mac Miller's Other Similarities
While the facial similarities between Cloud and Miller are quite obvious, a few other interesting similarities have made fans think the actor is the perfect man to play the rapper onscreen.
For instance, the famed rapper died of a suspected overdose. Three months after his death, the Los Angeles County Coroner's office released the official toxicology report in November 2018, confirming that he died of an accidental overdose of fentanyl, cocaine, and alcohol.
The coroner noted that Miller's death was accidental due to "mixed drug toxicity" from what was deemed "recreational" drug usage.
On the other hand, Miller, who does not have a history with drugs in real life, plays the character of a kind-hearted drug dealer, Fezco, in the HBO series Euphoria.
Since being tagged as a kind-hearted dealer, he even prevents Rue Bennett, played by actress Zendaya, from using Fentanyl, a highly addictive drug, despite her dire requests during episode 2 of the first season.
"Angus Cloud (Fezco in #Euphoria) looks and sounds a lot like Mac Miller...The similarity is impressive and the fact that Fez takes care of Rue (a drug addict play by Zendaya) makes me speechless because Mac died from a fentanyl overdose," one tweeted.
breaking all my locals hearts by telling them angus cloud said he'd never do a mac miller biopic, the way facebook was intended to be used — dominic fike's only fan (@noabournexo) March 1, 2022

Another wrote, "if they ever do a biopic for Mac Miller Angus Cloud should be offered the role."
But all fan speculations aside, Cloud has already made his intentions on the matter clear.