5 TV Shows You Should Definitely Watch If You Love 'American Horror Story'
Must-watch shows for 'American Horror Story' fans.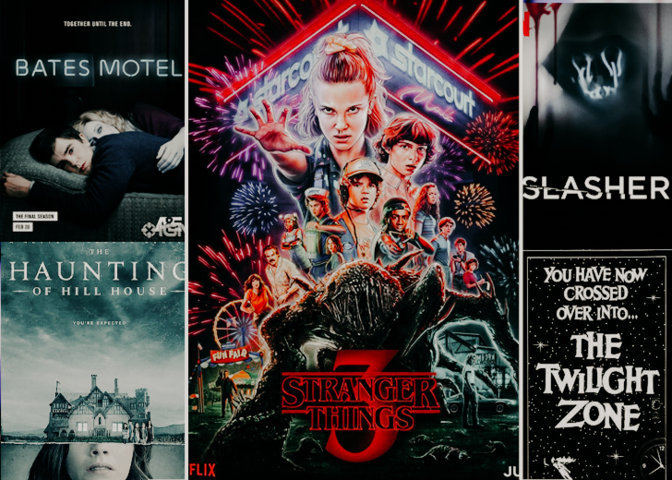 It's unusual that a true crime or horror lover hasn't heard of American Horror Story (AHS). Arguably, it is one of the best anthology horror television series to date. 
Produced by Ryan Murphy and Brad Falchuk, the series first premiered in October 2011 on the cable network FX. But now, it is available on Hulu and also on Netflix. 
To date, nine seasons have been released, with each having a unique theme to them. They include a murder house, an insane mental asylum, a coven, a circus with "freaks," a possessed hotel, a haunted farmhouse, a cult, an antichrist, and a summer camp terrorized by serial killers. 
In addition, the series is not entirely fiction since it toys with real-life horrors that have happened.  
For example, Season 5 is based on a haunted hotel loosely related to Cecil Hotel in Los Angeles. Similarly, the seventh season is inspired by the 2016 presidential election and cult leaders like Charles Mason and Jim Jones. 
Every season of AHS has been critically acclaimed and has won various accolades. As noted by IMDb, the franchise has achieved 128 wins and 388 nominations, among which 16 wins are the Primetime Emmy Award. 
In 2019, Murphy announced AHS was dubbed as the Most Popular Horror TV Show in the World by the Guinness Book of World Records. Given how famous the franchise is, it is no surprise that it has already been renewed till Season 13. 
The tenth season, named Double Feature, is currently in production and will be released on August 25, 2021.
However, Murphy and his team have worked on a spin-off series with anthological episodes called American Horror Stories, which premiered on July 15, 2021. 
Double Feature won't be released for another month. Therefore, to fill the void of a new season, here are five series like AHS you can binge-watch. 
'Stranger Things'
When Stranger Things was released in July 2016, it took the internet by storm. The Netflix series of science fiction, horror, and drama genres puts the audience at the edge of their seats. 
The series is set in the 1980s in a fictional town called Hawkins in Indiana. The first season starts with the disappearance of a child named Will. His friends, Mike, Dustin, and Lucas, and family set out to search for him. 
In the process, they meet Eleven, an eccentric psychokinetic girl, who helps them search for Will. However, they unravel something terrifying that involves a different dimension and government conspiracies. 
Three seasons of Stranger Things are available on Netflix, and the fourth one is in production. With an ensemble of casts like Winona Ryder, David Harbour, Finn Wolfhard, Millie Bobby Brown, Gaten Matarazzo, Noah Schnapp, Sadie Sink, and Caleb McLaughlin, among others, the series is a must-watch. 
'Bates Motel'
If you love the classic psychological movie Psycho by Alfred Hitchcock, then Bates Motel is the one for you. The series is the prequel to Psycho, where throughout the series, we can see how Norman turned into a literal psycho. 
The series explores the psyche of teenage Norman (Freddie Highmore) and the influence of his mother, Norma (Vera Farmiga), in this life. 
The show aired on A&E from 2013 to 2017, with five seasons and 50 episodes. 
'The Haunting of Hill House'
The Haunting of Hill House is one such series that will haunt you for a long time because of its phenomenal plot, acting, and cinematography. The Netflix series is loosely based on a gothic horror novel with the same name written by Shirley Jackson in 1959.
The show revolves around the Crain family who moved into Hill House in 1992 to renovate and sell it. But horror awaits Hugh, Olivia, and their five children—Steven, Shirley, Theodora, Luke, and Eleanor. 
Hugh and his five kids manage to escape the house in 1992. Twenty-six years later, because of a series of misfortunate events, they are dragged back to Hill House, where they discover the secret of the possessed mansion. 
The series has been critically acclaimed and dubbed as "close to a work of genius" by the King of Horrors, Stephen King. 
'Slasher'
Similar to that of AHS, Slasher is anthology horror television series. Its plot quite resonates with the AHS: 1984. 
To date, three seasons have been released - The Executioner, Guilty Party, and Solstice. Season 4, named Flesh & Blood, will premier on August 12, 2021, on Shudder. 
Each season revolves around a masked killer who kills people because of their vendettas with one or more victims. The "whodunit" aspect, trying to figure out who the killer is, makes the show more interesting. 
Similarly, every death scene is articulated well — most of which you do not see coming. As a result, Slasher is one of the best binge-watch-worthy shows, which is guaranteed to entertain you from beginning to end. 
'The Twilight Zone'
The Twilight Zone is a successful franchise with many series, films, literature, and theme park attractions under its belt. 
The anthological series explores various genres like science fiction, suspense, horror, dark humor, psychological thriller, fantasy, dystopian fiction, and supernatural, among others. 
The episodes often end with unexpected twists or an eerie atmosphere that leaves the viewers perplexed. Nonetheless, there is usually a moral at the end. 
The Twilight Zone series has four eras — 1959, 1985, 2002, and 2019. The first series was shot in black and white and is the most acclaimed out of the four. 
The second and third series did well, but the fourth one was not appreciated by many. Jordan Peele was responsible for the 2019 reboot which ran for two seasons. 
Unfortunately, it was canceled in February 2021. However, nothing is as good as The Twilight Zone 1959. 
It comprises 156 episodes spread across four seasons. Season one to three had around 25-minute long episodes on average whereas episodes in the fourth season is around 51-minute long.