'Stranger Things' Stars Natalia Dyer and Boyfriend Charlie Heaton Were Initially Skeptical About Their Relationship
'Stranger Things' stars Charlie Heaton and Natalia Dyer had a pretty good reason to keep their relationship a secret.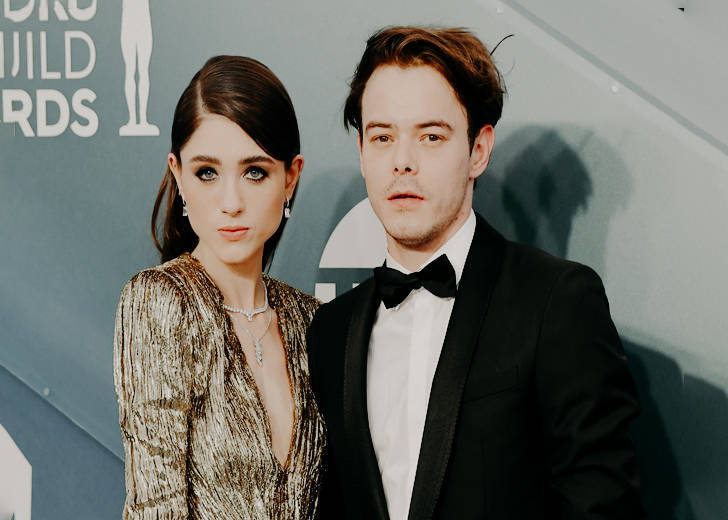 Stranger Things stars Natalia Dyer and Charlie Heaton have been dating each other since 2017. The duo met during the audition for the show and have been together for almost 5 years.
Fans ship the couple, but what they might not know is that they were not sure about their relationship when they first started dating.
Heaton and Dyer Didn't Know What Their Relationship Was
Heaton and Dyer, who got their recognition from the science-fiction horror series Stranger Things, play the on-screen couple, Jonathan Byers and Nancy Wheeler. In an interview GQ, the co-creator of the show, Matt Duffer revealed the duo's first audition together was a chemistry-read. He claimed sparks between the duo were flying during the audition itself. 
The New Mutants actor then explained why the duo kept their relationship a secret. Since both of them were co-workers on one of the biggest TV series, Heaton confessed they did not want to jeopardize anything.
They didn't know what the relationship was. Heaton insisted they weren't trying to be sneaky and secretive.

Charlie Heaton and Natalia Dyer. (Source: Instagram)
Their Relationship Timeline
Fans spotted a potential flame between Heaton and Dyer in September 2016 when Heaton posted a picture with Dyer on Instagram during their vacation on the Island of Menorca.
Dyer also posted an adorable picture of the 27-year-old, further solidifying the relationship rumors. The duo also spent Halloween 2016 together.
Fast forward to January 2017, Life & Style exclusively reported the actors were dating long before the speculations began. A source claimed they started dating since Stranger Things began filming in October 2016. The source also reported that Dyer had taken Heaton to meet her parents. 
The pair neither confirmed nor denied the relationship. When TMZ asked them about their personal and professional lives in March 2017, Dyer said the entire cast is close with each other and they are one big family. When the reporter asked if they were dating, Dyer deflected the question. 
In October 2017, the pair confirmed all the rumors when they were spotted holding hands while walking. In November 2017, the duo was spotted spending time together in Paris while doing a press tour for Stranger Things. The same month, they were photographed kissing each other in the middle of the street in London.
The couple made their relationship red carpet official at the 2017 Fashion Awards in London. Since then, the duo has attended Coachella and various other red carpet events together.
The couple seldom made comments about each other to the reporters but, in January 2018, the Velvet BuzzSaw actress talked about her boo during a chat with US Weekly. She joked about how she loved Heaton doesn't mess up their scenes too much and said that he is talented like everyone else in the cast. 
A year later, US Weekly reported the couple was smitten with each other. Dyer took her boyfriend as her date for the premiere of Velvet BuzzSaw, where Heaton reportedly seemed proud to be with Dyer. The duo was reportedly together for the after-party as well.

Charlie Heaton and Natalia Dyer. (Source: Instagram)
In February 2019, the English actor told V-Man that it was nice to have emotional support from Dyer, who worked on the same project as him. 
"Because we work in the same industry and have had similar trajectories, we've gone through it together. Sharing that does bring you closer. They understand something that maybe no one else would. You go into high-pressure situations together, but you can share those insecurities or whatever they are."
Similarly, in July 2019, Dyer spoke about her relationship with Refinery29 and shared how it was interesting to go home with someone she works with. She also revealed the duo kept their relationship private because it is important for her and she would like to keep it for herself. 
They also took a lie detector test in July 2019 during a Q&A game with Vanity Fair. In 2019 itself, the duo attended several fashion week events. 
The latest interview Dyer did about her relationship with Heaton was with InStyle in November 2019. She said their outfit coordination is never intentional, and it's just something that happens.