Does Alia Shawkat Have a Boyfriend? Her Dating Life after Brad Pitt Rumors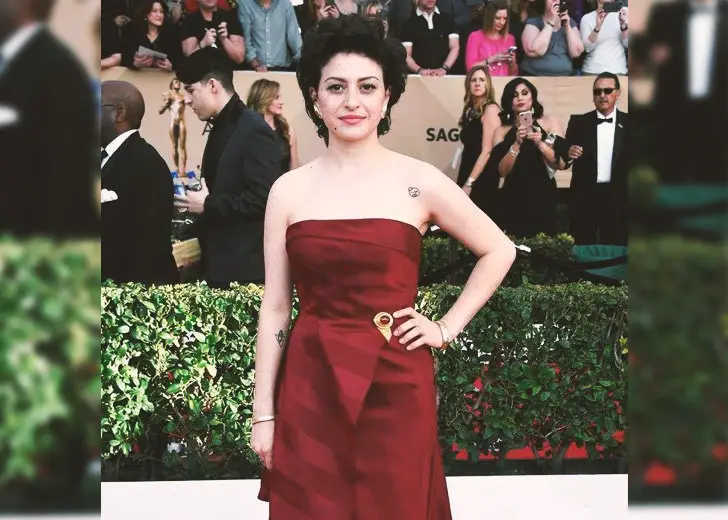 Alia Shawkat was once in the headlines for her rumored relationship with Hollywood heavyweight Brad Pitt.
The dating speculations spurred once the Arrested Development actress was spotted enjoying a performance of Ethan Coen's A Play Is a Poem with Pitt in Los Angeles in September 2019. 
The duo attended the 'L.A. on Fire' art exhibition at Wilding Cran Gallery a month later. Apparently, their frequent meeting added fuel to the rumors.
However, a source close to the Seven actor dismissed all possibilities of them dating. "They are absolutely just friends," the insider told People. 
Almost two years later, Shawkat spoke about her relationship with her rumored boyfriend in an interview with Vulture. Ruling out that their relationship was strictly platonic, she stated, "We're not dating. We're just friends."
The 32-year-old also relived the days she first knew about the rumors. Then, going down memory lane, Shawkat remarked that the media's obsession regarding celebrities' personal life was "uncontrollable."
Oh my God, everyone's looking at me. I've gotten press, but not like that. 
All her friends were curious about the news and sent her photos, inspecting what was going on. "I just felt overwhelmed," she remembered comparing the experience with the feeling of being clotheless in school.
Does Alia Shawkat Have a Boyfriend?
Shawkat was spotted displaying PDAs with a mystery man on January 30, 2021. She shared a passionate kiss with her supposed boyfriend in Los Angeles before grabbing coffee and snack together. 
However, since the steamy lunch date, Shawkat has kept her relationship under wraps. Ergo, it is not sure if she is dating anyone at the moment, for she hasn't mentioned having a boyfriend in her social media accounts or interviews. 
Having said that, the famed actress has been romantically linked to other celebrities in the past. She supposedly dated fellow actor Michael Angarano for a year from 2010 to 2011. And before that, she is rumored to have dated Jack Antonoff. 
Whatever her dating status may be, Shawkat doesn't want her dating life or sexuality to be that big a deal.
Shawkat Is a Member of the LGBTQ+ Community
Shawkat came out as bisexual during an interview with Out magazine in 2017. She revealed that growing up in Los Angeles and being exposed to many gay and lesbian artists shaped her identity. 
The California native also disclosed she was a tomboy growing up, and her mother already had a hint of her romantic orientation. "I remember my mom asking me when I was 10, 'Are you attracted to boys or girls?' I said I don't know," she recalled. 
Then she added balancing her male and female energies had been a big part of her growth as an actor. 
A year later, Shawkat told PopSugar that she had no intention of coming out necessarily in that interview. She wasn't planning for it to be a big deal.
"It just kind of happened," she elaborated, reasoning that it was a kind of the first time she was asked about her orientation.