Michael Angarano Girlfriend Moved To Dating Another Actor, Did He As Well?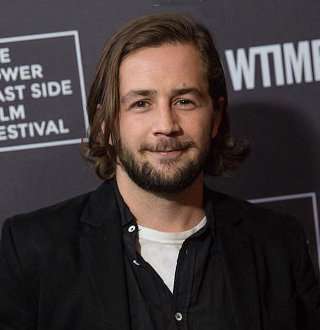 Michael Angarano has had plenty of success in his professional life and is one of the most known faces on TV. His personal life, however, has been riddled with failed relationships and high profile breakups.
The actor of Italian descent began to make waves in Hollywood as a child actor, and his lead role came in 2005 movie Sky High. His TV career got up and running through Will & Grace and after that he appeared on Cinemax's period drama The Knick. He has been tied up with Showtime's sitcom I'm Dying Up Here since 2017. 
Married To Career: Michael Angarano talks about his time in the series, I'm Dying Here on BUILD Series (Published on 8 June 2017)
His TV appearances by that time had dwindled, and in an interview with The Huffington Post during the promotion of The Knick's second season in 2015, he said that he had been acting for a long time and revealed his happiness in having chosen acting over anything else. 
Michael Angarano's Journey As Successful Actor
Born on 3 December 1987, to Italian parents, he was the second of four children. Despite being more inclined towards sports in his early childhood, the lure of dance academies proved too hard to resist for the actor, leading him to pursue a career in showbiz.
You May Also Like: Who Is Lee Ingleby Partner Turned Wife? Personal Life Of 'Bob The Builder' Star
Michael was into movies from an early age, as his parents ran a dance studio and he got his first taste of showbiz from them.  The Crespi Carmelite High School graduate in the late 90s auditioned for the role of young Anakin Skywalker in the  Star Wars: Episode I – The Phantom Menace. Despite not getting selected for the part, the audition whetted his appetite, and he began to pursue a career in Hollywood. 
His movie career began as a 13-year-old playing the role of Cameron Crowe's semi autobiopic, Almost Famous. After a few child roles, he landed the big one, the lead role in 2005 movie Sky High. 
His TV appearances were also going side by side, and by 2006 he had completed five years with the NBC's Will & Grace. And his best role till date came in Cinemax's period series, The Knick (2014-15) where he played the role of a doctor.
In an interview, he admitted he had been more experimental with roles. He had done an Indie film The Stanford Prison Experiment just before signing for the knick, and explained that he was coming to a crucial point in his career where he had to be a bit choosy with the roles he played. 
And that particular nature was on the show, as he rebuffed many directors approaches after The Knick until tying himself up with the Showtime's sitcom I'm Dying Up Here.
Michael Angarano Joins 'This Is Us' Cast 
It was announced in October 2018 that Michael would be stepping into the shoes of the character played by Milo Ventimiglia, Jack Pearson's brother, Nicky in This Is Us.  
Read Also: Kay Burley Reveals Failed Married Life, Two Husbands & Satisfactory Salary
And it was an incredibly important moment as Jack's brother is the main reason that Jack went overseas and the story revolves around Jack's Vietnam war shaped life.
Viewers had already seen Jack's brother as a child when he rested in his father's car with his big brother, waiting too long for their dad to leave the bar. The viewers had also seen an older and bespectacled version of him through old pictures Jack had kept hidden away from his family.
But Michael is bringing a renewed life to the character, taking up the helm while a terrified Nicky finds out that he has been drafted to report for duty in Vietnam.
In an episode told in the past, Nicky head into service and Jack feels helpless as he can't protect him because it is an older brother's only job according to his father just after Nicky was born. 
There is more to come as Michael told Entertainment Weekly that Nicky's reaction to Jack's arrival in Vietnam is going to be a bit 'complicated.' Well, we will find that out when the episode airs.
His time in Hollywood, not only earned him a name and fame but also love. 
Michael Angarano's Quirky Habit Of Falling For Co-stars; Girlfriend Does The Same
Michael's love life surfaced in the news in late 2004 with his girlfriend Kristen Stewart, who worked together in the 2004 flick Speak. The pair were reported to be dating after the movie. Kristen confirmed about the pairs love interest in 2008 when she said that they were dating.
You Don't Want To Miss: Tom Pelphrey & Girlfriend Getting Married? Post Lili Simmons, He's Swooning
However, Michaels's relationship with his girlfriend barely lasted a year after the public confirmation, as Kristen started dating her Twilight co-star Robert Pattinson. Michael's absent dating life after parting with his girlfriend Kristen and Kristen's publically bisexual affairs sparked rumors about Michael being a gay.
However, the gay rumors received a sharp rebuttal after news of the handsome hunk dating came to light.
Like his first relationship, the actor had again found love on the sets, this time with The Brass Teapot co-star, Juno Temple in 2013. The two carried their romance form the sets to real life, and Michael and his new girlfriend attended various red tape events together as a couple. 
The pair's affection towards each other did not last long, and they split up in 2016. Juno has found love again after the split with Michael, while Michael is still single.