Ali Wong's Parents And Husband Are Incredibly Supportive Of Her Career
Ali Wong's parents took her to Asian American Film Festivals, which inspired her to be an artist.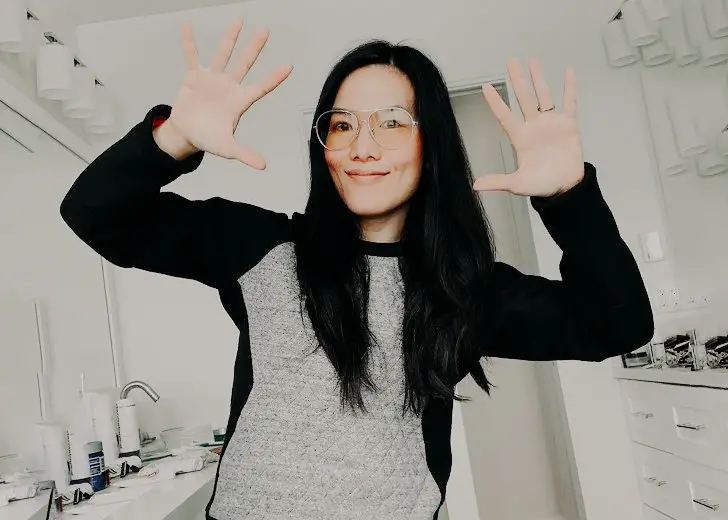 If you're a fan of adult animated comedy shows on Netflix, then you have probably heard Ali Wong's voice. Born Alexandra Dawn Wong, she is best known for the voice of the titular character Bertie in Tuca & Bertie and Ali in Big Mouth. 
Wong is an actress, comedian, producer, and writer who has been active in the industry since the early 2010s. She started her career in comedy from college as a theater student. 
After college, she got a scholarship to study in Vietnam, after which she returned to the USA. It was then she decided to pursue her career in comedy full-time. 
She started doing open mics and stand-ups, which soon skyrocketed her career. In 2011, Variety named her as one of the '10 comics to watch.'
That opened a lot of doors for her. Since then, she has worked very hard to be one of the sought-after artists. However, she could not have done it all alone. She had a support system consisting of her parents and husband. 
Ali Wong's Parents
On October 20, 2019, Wong discussed her parents' life story on NPR. Her father, Adolphus, is a Chinese-American anesthesiologist, while her mother, Tam, is a Vietnamese American who came to the USA in 1960.
Adolphus came from a low-income family. He grew up in Chinatown in a one-bedroom apartment with two sisters and his parents. 
The apartment had no running water, and there was only one bed he shared with his mother and siblings. The situation was so bad that Adolphus's father had to sleep on newspapers. 
Tam came to the USA when she was 20. Unlike most Vietnamese people, who came to the country in 1975 after the war, Tam made her way to the USA before the official start of the infamous Vietnam war. 
Since both of them had a hard lifestyle, they worked very hard to change it for their four kids. In addition, Adolphus and Tam inspired their daughter in the field of arts.
They always took Wong to the Asian American Film Festivals, where the actress saw herself being represented on the big screens. This built confidence in Wong, who eventually made a career in movies and series.
Adolphus was always supportive of his daughter. Even when Wong was a struggling comedian, he would attend her shows and be proud of his daughter. 
Ali Wong's Husband and Children
Wong is married to half Japanese and half Filipino businessman Justin Hakuta. He is the son of inventor and TV personality Ken Hakuta. 
Justin is a talented and strong-willed person who has worked in renowned companies like DIRECTV and Cargomatic Inc. Currently, he is working at GoodRx, a company that helps track drug prices and coupons for pharmacies. 
The pair met at a wedding reception of mutual friends back in 2010. Wong was instantly impressed by Justin, but it took a while for the business executive to reciprocate it. 
He attended one of Wong's standup shows and was eventually captivated by her. Regardless, the couple took their relationship slow. The pair are very supportive of one another.
Wong paid off her beau's student debt of $70,000 from Harvard Business School, and Justin always checks on Wong's jokes before she delivers them to the audience. 
They got married in 2014, and soon after, Wong was pregnant with twins. Unfortunately, the pregnancy ended up in a miscarriage. This took a toll on the couple who did drugs to cope up with the situation.
In addition, Wong was worried about what other people and her in-laws would say about the situation. Later, everything turned out to be okay. Her husband, as well as his parents, were supportive of her.
The pair are living happily now with two daughters, Mari and Nikki. They constantly post about their parenthood journey on their Instagram, but they have not yet revealed their children's faces. 
What is Ali Wong's Net Worth?
After her success with stand-ups in 2011, she was invited to shows like John Oliver's New York Stand Up Show, Comedy Underground Show, and The Tonight Show. 
She also dipped her toes in acting by starring in Are You There, Chelsea? In the past decade, Wong has worked on many TV shows, movies, and other ventures. 
She has released two Netflix specials — Baby Cobra in 2015 and Hard Knock Wife in 2018. She has also written a book named Dear Girls: Intimate Tales, Untold Secrets, and Advice for Living Your Best Life dedicated to her daughters. 
To date, she has 33 credits as an actress and five credits as a writer, including her stand-up specials and the acclaimed series Fresh Off the Boat. 
As a result, Wong has amassed a massive net worth. According to Celebrity Net Worth, the actress has a whopping net worth of $3 million.