Netflix's Stalker Thriller 'You' Season 3 Wraps Filming: Release Date and Other Details
It's a wrap! The production for season 3 of critically acclaimed Netflix series 'You' is finally done with.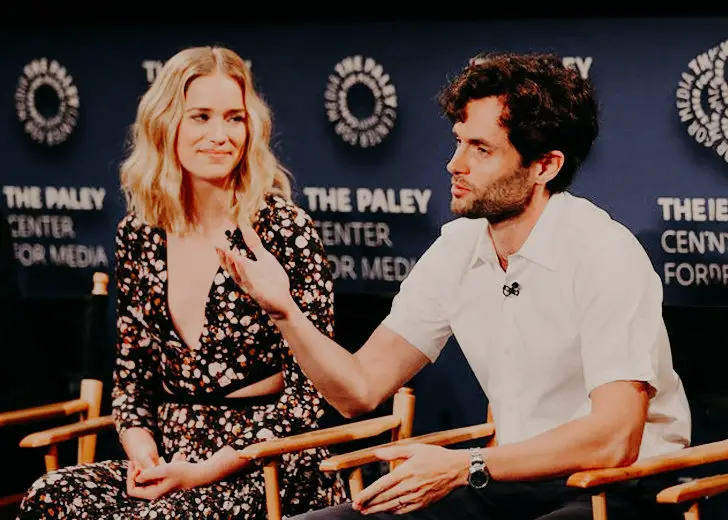 SPOILER WARNING: Plot and details for You follow.
Popular Netflix series You is a psychological thriller revolving around the story of a dangerously charming, intensely obsessive young man Joe Goldberg played by Penn Badgley going to extreme measures to insert himself into the lives of those he is transfixed by. 
It is based on the thriller novel of the same name by author Caroline Kepnes. With its release in 2018, the series was a massive success and got renewed for season 2 which was released in 2019 and now it is the turn for season 3.
The fans had been eagerly awaiting the release of the new season 3, and it was recently announced that the production of the series had finally ended.
Announcement Of The End Of Production 
On April 25, the official account of the popular Netflix series, announced that they had wrapped the production of the new season on their official Twitter with a picture of Badgley in his chair and a teasing caption stating that they had eyes on Joe all the time. 
The showrunner of the thriller series, Sera Gamble, also took to Twitter to give bits and pieces of information about the upcoming season in a thread of tweets. She bragged that there had been zero on-set positive COVID tests throughout filming, even with the significant surge of cases in LA. 
We had zero on-set positive COVID tests through a significant and scary surge here in LA. And haven't had one since.

Because every single member of cast & crew worked very hard to take care of each other during a time that's stressful, in a situation that's tough to control. — Sera Gamble (@serathegamble) April 23, 2021
She further gushed about how hard the cast and crew of every production department had worked to make this season the best they could while staying as safe as possible during such a tough situation.
She continued by saying that she felt privileged to have gotten to witness everyone's creativity, resilience, and kindness and was thankful that everyone had shown up for each other. And ended the thread teasing that the episodes were going to be crazy with insanely good performances. 
I feel privileged to have gotten to witness everyone's creativity, resilience and kindness. I mean, I knew our team was tough and good at their jobs, but holy shit did everyone show up for each other. All the way up the Warner's/Netflix ladder and in every production department. — Sera Gamble (@serathegamble) April 23, 2021
Expected Release Date
The production of season 3 had started in February 2020 but had soon after being delayed because of the pandemic and resumed back only in November 2020. It had almost been a year and a half since season 2 hit Netflix with its release in December 2019. And now the production has finally ended. 
The official release date for season 3 has not been revealed yet, but Netflix has confirmed that it will release in the second half of 2021 in a letter to investors. It has further been narrowed down to the fourth quarter of 2021, somewhere between October and December. 
What To Expect 
Season 2 of the psychological thriller ended with Love Quinn played by Victoria Pedretti pregnant with Joe Goldberg's child and the couple starting their lives together in a new home as they prepare to welcome their child. As per the premise of the series, it also showed Joe again getting fixated on their mysterious new neighbor.
This season will take place in the suburbs as shown at the ending of season 2. In an interview with The Hollywood Reporter, Gamble talked about her plan to have Joe try to navigate life in the suburbs in season three after his journey already took him to Los Angeles and New York. 
This season is also expected to bring out more of the obsessive and manipulative side of the character Love Quinn. Pedretti said in an interview that she was looking forward to tapping into more of her character's hysteria in season three.
Cast Of Season 3
The series has added over a dozen actors to its cast. It was confirmed that season 3 would take place with the continuation of the plot on which season 2 ended with Badgley returning as Joe and Pedretti as Love. 
Deadline announced that Saffron Burrows, Dylan Arnold, and Tati Gabrielle had all been cast in the series as regulars. Further, Michaela McManus, Shannon Chan-Kent, Ben Mehl, Christopher O'Shea, Christopher Sean, Bryan Safi, Mackenzie Astin, Mauricio Lara, Ayelet Zurer, and Jack Fisher would appear as recurring guest stars. 
Netflix also announced that new faces such as Travis Van Winkle and Shalita Grant would join the cast this season. And also added Scott Speedman to the list.