Alexis Ohanian Just Loves Gushing about His Wife Serena Williams and Their Marriage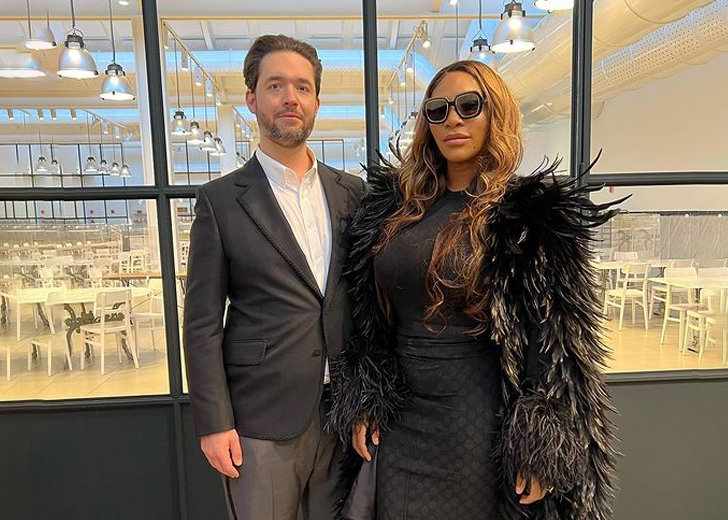 Alexis Ohanian, the co-founder and executive chairman of Reddit, is head over heels in love with his wife, tennis player Serena Williams.
The power couple has been married since November 16, 2017, and shares a daughter, Alexis Olympia Ohanian. Their daughter was born just a month before their New Orleans wedding.
Alexis Ohanian and Wife Serena Williams Celebrated Four Years of Marriage
Last year in November, Ohanian and Williams completed four years of their marriage. To mark the occasion, the entrepreneur shared a couple of pictures of the duo on his Instagram account.
The first picture on the slide showed the couple during their wedding ceremony, where he addressed their many party guests. Likewise, his second photo showed the pair standing with their daughter, Olympia, who notably twinned with her mother.

Alexis Ohanian and his wife Serena Williams photographed at their wedding. (Photo: Instagram)
The tech entrepreneur also penned a short message, expressing his happiness about the special occasion.
"4 years ago you made me the happiest man in the world and our little family keeps me feeling more grateful every day. Nov 16 will always be a very special day for our family," he wrote.
"happy anniversary @serenawilliams — thank you for bringing this joy named Olympia into our life even though you always fall asleep in the middle of our movie nights."
Alexis Ohanian Often Gushes about His Wife
Ohanian often makes most of the occasions and opportunities to talk about his wife and their adorable martial life.
For instance, while appearing on CBS This Morning in May 2021, he opened up about the work-life balance, explaining how Williams had encouraged him to enjoy more of a work-life balance.
He said his wife made him realize that he worked harder than she did, and he deserved to take breaks from work.
"What she hit on the head was that I had a warped view of the path to excellence and greatness being a direct result of pure work," he told host, Gayle King.
He added, "Something that she [Williams] is really good at is shutting it off and focussing on family time or personal time. I'm always a smartphone away from dipping back into work and certainly still get checked from time to time on that one."
Not just that, he was even spotted at Williams's Australian Open match in February 2021, wearing a white graphic T-shirt emblazoned with the message "Greatest Female Athlete" and a photo of his wife.
Alexis Ohanian and Serena Williams' Relationship Timeline
Ohanian and Williams reportedly began dating each other sometime after they first met in 2015.
They, interestingly, came across one another when they argued over a table at a hotel they were both staying at in Rome.
Afterward, they remained in contact, and the tennis champion later invited the tech entrepreneur to spend time with her in Paris in late 2015.
They also didn't waste any time announcing that they were together and engaged. The exciting news was confirmed by the couple in December 2016, as he popped the big question at the same hotel where they first met.
The two then welcomed their first child, got married, and now the family of three are happily living together.