Adam Sandler's Wife Changed Her Religion for Love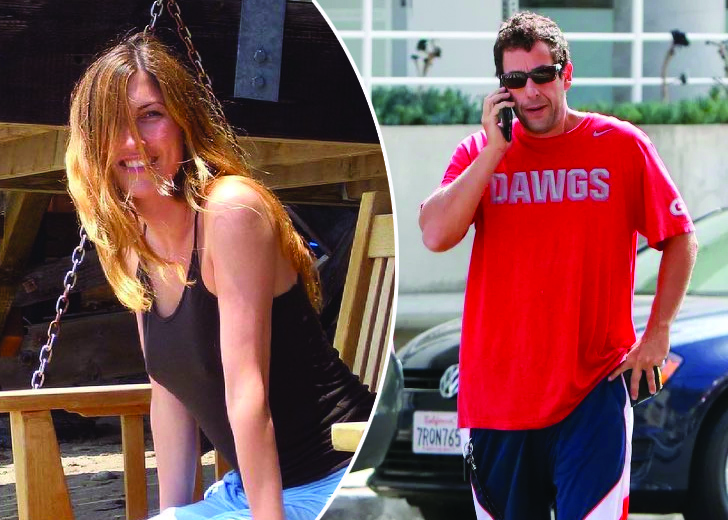 Adam Sandler and his wife, Jackie Sandler, have been together for over 23 years. Together, the two have hit multiple major milestones in their relationship and built a beautiful family.
Adam has since shown his appreciation for his spouse on multiple occasions. In an Instagram post he made back in May 2021, he described Jackie as the "rock" of their family.
Over the years, Adam and his wife have worked together on many projects, including Just Go With It (2011) and The Ridiculous 6 (2015).
Adam and Jackie have an amazing relationship, and the duo has made many changes to achieve it. For instance, Jackie converted to Judaism a year into their relationship.
Adam Sandler & Wife Jackie Sandler
Adam first met Jackie back in 1999 on the set of Big Daddy through a friend and fellow SNL star, Roch Schneider. 
Though Jackie only had a minor role as a waitress in the movie, she and Adam would quickly grow closer in real life. It didn't take long for their relationship to get serious, and she converted to Judaism in 2000.
Adam has spoken about his faith and its importance to him several times. In a conversation on The Howard Stern Show, the actor shared he was proud to be a Jew.
"I'm proud of being a Jew and that's what I am. I get that from my father and mother. I'm very pro-Israel," he said.
Jackie converting to Judaism was a big step in their relationship, and the two tied the knot not long after.

Adam Sandler and his wife met on the set of 'Big Daddy.' (Source: Instagram)
On July 31, 2020, Adam dedicated an Instagram post to his wife, marking the 22nd anniversary of their meeting.
Uploading two pictures of himself and his longtime partner, Adam wrote about how expectant he was about their future together.
"22 years ago today we locked eyes and fell deep," he wrote in the captions. "Look forward to the next 22, young lady. Love you my forever girl."
Adam Sandler Married His Wife in 2003
Adam got married to Jackie in a Jewish ceremony on June 22, 2003. Their star-studded wedding — which saw the likes of Jack Nicholson, Jennifer Aniston, and Rob Schneider in attendance among 400 other guests — was held at Dick Clark's oceanfront Malibu estate.
Adam wore a tux and yarmulke for his big day, as did his bulldog Meatball, who preceded the Murder Mystery star down the aisle. Meatball had the wedding bands on his back.
Three years after their marriage, Adam and Jackie welcomed their first child together, daughter Sadie Sandler, in May 2006. Their family grew larger on November 2, 2008, when Jackie gave birth to daughter Sunny Sandler.
Jackie Sandler Is Supportive of Her Husband
Jackie has been incredibly supportive of Adam and his works. Aside from appearing in several of his movies, she has also been present during much of his movie-making process.
When talking to the Associated Press in 2019, Adam shared Jackie didn't get jealous of his on-screen romances.
"The only awkward part is hearing my wife on the side going, 'Harder! Harder! Kiss her harder! Deeper,'" he said of his kissing scene with Jennifer Aniston in Murder Mystery.
Adam also revealed that his kids had watched the kissing scene, and they loved it. He noted they loved Anniston and had asked him to give her something nice.