Adam Sandler's Daughters Sadie and Sunny Sandler Have Flourishing Film Careers of Their Own
Like father, like daughters!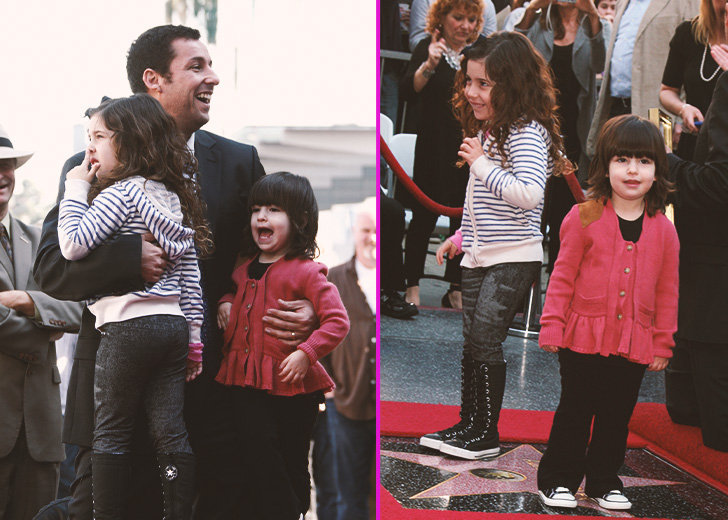 Adam Sandler has showcased his indisputable acting prowess for over three decades in Hollywood.
He has been making people burst into laughter with his comedic take on movies such as Uncut Gems, The Wedding Singer, 50 First Dates, and Happy Gilmore.
And now, it seems like his affinity towards acting has been passed over to his children — daughters Sadie Sandler and Sunny Sandler. 
Adam Sandler's Daughters 
Sandler's journey to parenthood started when he fell in love with Jackie Sandler on the sets of Big Daddy. The pair instantly hit it off and dated for around four years.
After Jackie converted to Judaism for Sandler, they married on June 22, 2003, at an oceanfront Malibu estate and fortified their marriage one step at a time. 
On May 6, 2006, the couple welcomed their first daughter, Sadie, and gave birth to their second daughter, Sunny, two years later, on November 2, 2008. 
"My kids give me the most joy," the Grown Ups actor shared during an interview with The Huffington Post in 2014.
He confessed his life changed with the extra responsibilities and new adjustments of having kids, but asserted he wouldn't trade any of it for the world.
Without a doubt, his daughters are making him proud through their involvement in movies and TV shows.
Sadie Sandler and Sunny Sandler's Films
Sandler's daughters are young in age — Sadie is 15 years old while Sunny is 12. But that being said, they have had multiple cameos in their father's significant projects. 
Their appearance can be noted in multiple movies such as Murder Mystery, Blended, Jack And Jill, the Grown Ups movies, Pixels, The Do-Over, The Wrong Missy, and Sandy Wexler.
Sadie and Sunny even provided the voice for the beloved animated movie series, Hotel Transylvania.
Sadie, the 15-year-old, voiced young Mavis and one of the werewolf pups, Winnie Werewolf, in the movie. Her younger sister voiced baby Dennis and a werewolf pup named Sunny Werewolf.  
In 2020, the sister duo starred as on-screen siblings in the comedy film Hubie Halloween. Sadie played a high schooler named Danielle, while Sunny portrayed an elementary-school-aged student, Cooky.
Their character happened to be the daughter of Violet Valentine (Julie Bowen), the love interest of Sandler's character, Hubie Dubois. 
Adam Sandler on His Daughters' Cameos
Sandler gushed about his daughter's film cameos while attending The Drew Barrymore show in October 2020.
He recounted how his kids would ask to be in his every new movie. But when it came to filming, they would make it look like he was forcing them to do it. The kids would ask to be out of the set now and then. 
The 54-year-old also disclosed that his daughters wanted to have their own films one day.
He remarked that he timely reminded them of the projects they've been a part of, but they "wanted to do their own movies," away from their father's shadow.