Celeb Chef Duff Goldman Turning Girlfriend Into Wife! Getting Married Amid Gay Gossip
Celeb Chef Duff Goldman extemporaneously popped a marriage proposal to her girlfriend with a handy kitchen accessory. Chef Duff is so in love with his girlfriend, and he spontaneously proposed to her with butcher's twine. It was just another normal day when the Ace of Cakes chef popped a marriage proposal to his girlfriend

Celeb Chef Duff Goldman extemporaneously popped a marriage proposal to her girlfriend with a handy kitchen accessory. How did the proposal go?
A Michigan native is a pastry chef and television personality mostly known as an innovative Ace of Cakes baker on the Food Network and the owner of Charm City Cakes. He is also a producer and actor known for Star Wars: The Clone Wars (2008) and Below the Beltway (2010).
Looks Too Good To Eat: Chef Duff Goldman shares a lesson in crafting fondant roses and elegant cupcake toppers with Giada De Laurentiis (Published on 10 February 2017)
Duff built his own business called Charm City Cakes in 2002 and started to show off his creativity.
Duff Goldman's Journey To Becoming Patry Chef
Jeffrey Adam 'Duff' Goldman, who was born on 17 December 1974, grew up in Detroit in a Jewish family. He has a younger brother Luke and older brother Willie. After receiving his education in history and philosophy from the University of Maryland, Baltimore Country, he went on to study at Culinary Institute of America at Greystone in California.
You May Also Like: Out Gay Sam Champion New Job After GMA Exit; What's His Salary Now?
The former Ace of Cakes star, 43, began to work in kitchens from the age of fourteen. He served at several acclaimed culinary destinations, including the French Laundry, the Vail Cascade Hotel, and Todd English's Olives before he returned to Baltimore in 2000 to become a personal chef.
Duff, who stands at the height of 5 feet 4 inch (1.63 meters), established his bakery a household name on the hit Food Network show Ace of Cakes, which aired for ten seasons. After becoming a professional pastry chef, he's appeared on the Food Network Challenge, Iron Chef America, Oprah, The Tonight Show, and Man vs. Food.
The current judge on Food Network's Holiday Baking Championship didn't recognize himself when he had an impressive weight loss in three months in 2017. Duff even took to Instagram to show off his before and after weight loss picture with his fans. He told curious followers that he dropped his weight the "old school" way by "eating clean, riding a bike and lifting weights."
Is Duff Goldman Gay?
The baker receives 'a lot of flak' for advocating gay marriage. In 2015,  Duff partnered with chef Art Smith for the #101GayWeddings campaign, an attempt to give 101 same-sex couples a dream wedding.
But, the veteran baker confessed that he does "get a lot of flak" for his outspoken support for lesbian, gay, bisexual and transgender (LGBT) rights, but that hasn't impacted his attitude.
Read Also: Geoff Tracy Biography: Age, Wife And Family To Net worth Of Restaurant Owner
As of his personal love life, Chef Duff is so in love with his girlfriend, and he spontaneously proposed to her with butcher's twine.
Duff Goldman Surprised His Girlfriend with Unplanned Proposal
It was just another normal day when the Ace of Cakes chef popped a marriage proposal to his girlfriend, writer Johnna Colbry with butcher's twine. They have been dating since 2016.
Duff posted his romantic and quick engagement moment on his official Instagram account on 3rd April 2018, surprising all the fans with a picture of their hand locked in an embrace and showing off the unique ring.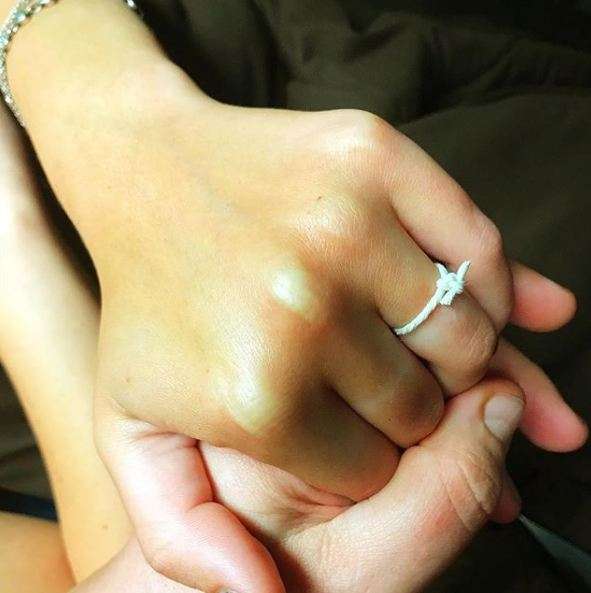 Seriously Dude?: Celebrity chef Duff proposed his girlfriend in a super sweet way on April 3rd, 2018 (Photo: Duff Goldman's Instagram)
He wrote a beautiful caption where Duff said he was shaving his head when like a mule kicked to the heart and realized that he is 'absolutely in love' with Johnna and couldn't imagine living another day without her in his life.
You Don't Want To Miss: Bobby Flay On The Other Side With Girlfriend After Divorce; Married Life At Rest!
The "Super Baking Champion" judge also proclaimed that he didn't plan the proposal and that just happened suddenly. He asked her to marry him, and she said yes.
Now that the Food Network star has proposed his girlfriend to marry him, the only conundrum remaining is the news of when will he get married and make her wife for the rest of his life.
Duff & His Fiance Are Getting Ready For Wedding 
On 13 November 2018, Duff's fiance Johnna posted to her Instagram and shared a glimpse of her opening a gift during the bridal shower. 
Now that was a treat for the fans who are willing to know when the wedding is happening. Johnna looked gorgeous on the slit dress that she wore during the bridal shower. 

Look At That Bow: Johnna opens a gift that she received during the bridal shower (Photo: Johnna Colbry's Instagram | 13 November 2018)
Another treat for the fans, a bit of a closer look on Johnna's finger shows that Duff did get her an actual ring that he had ceased to present her with during the unplanned proposal.
See Also: Meet Katie Lee's Spoiling Boyfriend/Husband-To-Be! Bio Reveals All Details
Johnna is having the time of her life and she didn't fail to thank her family and friends for their love and she had nothing but good words for the people who couldn't attend her bridal shower. 
Duff, on the other hand, has been sharing the excitement of the wedding as he is frequently posting random pictures of his wife-to-be with sweet captions. One caption had stood out was, 'I get to marry an angel.'
Aww, that was absolutely sweet of Duff. Anyway, the couple doesn't seem to be wasting any time to make it to their big day and fans are more than happy for the two.