Inside Rachel Bush Age 21 & LeBron James Clash, What Actually Happened?
The story of Rachel Bush is the story of forgiveness...Even great basketball player Lebron James couldn't remain not contacting her...Rachel found her love...Shortly after the marriage, there was a brief set back in the couple's romance... Rachel forgave her husband and they grew stronger as a family.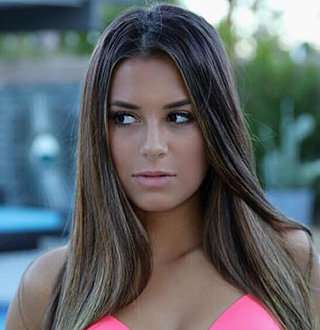 The story of American model and Instagram star, Rachel Bush, is the story of forgiveness. It is the story of accepting that everyone makes mistakes, but if the one can repent, then it is okay to forgive them and forget the mistake. It is the story of how she forgave her husband and grew stronger as a family.
The New York native is a famous Instagram model with a large fan base of her own, but her fame was rocketed by her association with LeBron James in 2016 and for being the wife of American professional footballer Jordan Poyer and the mother of his baby daughter.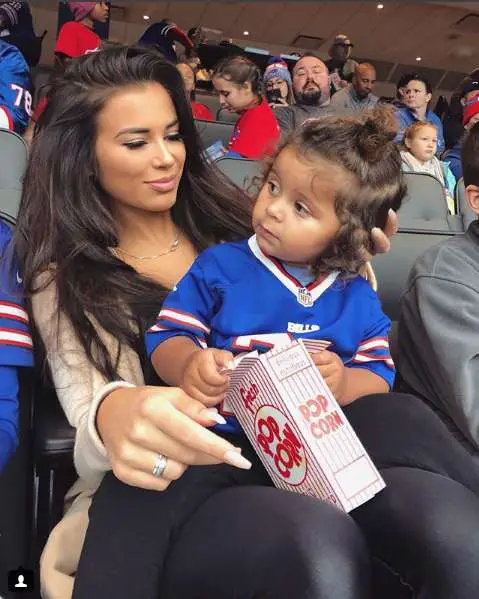 Buffalo Bills Fans: Rachel Bush and her baby daughter supporting the American football team, Buffalo Bills (Photo: Rachel's Instagram)
Don't Miss: Christian Carino Wiki Reveals Birthday, Age, Net Worth - Lady Gaga's Fiance Details
Rachel's husband, Jordan Poyer, is a safety player for the Buffalo Bills team. So, by association, Rachel and her baby are ardent Bills fans.
Rachel Bush Wiki-Like Bio: Age, Height, Family & Ethnicity
Born on 1 November 1997 to a family of Caucasian ethnicity, Rachel Bush was raised in Newcomb, New York with her younger sister, Jordan, and attended Florida Atlantic University in Sunshine State, Florida.
Beautiful as a teenager growing up, the model with the height of 5' 6" reached to the finals of Miss Teen New York Pageant, thus sparking her interest in modeling.
Rachel Started To Accumulate Net Worth From Modeling
Immediately after the Pageant, Rachel was signed by Florida based Premiere Model Management. The signing coincided with her attending college in Florida, thus allowing her to pursue her modeling career. Rachel then was launched into stardom through her Instagram, where she posts her modeling photos. By the end of 2018, she has over 715k followers.
As Rachel herself said in a feed, from her Instagram and photoshoots, she earns a ton of money, increasing her net worth at the tender age of only 21.
Similar: Taylor Hill Dating Actor Boyfriend Every Man Envying; Victoria Model Romancing Gleefully
Rachel's Beauty Attracted Even Great Basketball Player Lebron James
Owing to Rachel's entrancing beauty, even great basketball player Lebron James couldn't remain not contacting her. Reportedly, Lebron DMed Rachel, saying hello. Rachel, excited because a famous star messaged her, shared the screenshot of the message.
The news heated the fans and media alike for a while, but then it died out after Lebron James refused to comment on the matter. After all, Lebron is a married man with three kids, and Rachel too had a boyfriend of her own.
Meet Rachel Bush's Boyfriend-Turned-Husband Jordan Poyer & Their Baby Daughter
Talking about her boyfriend, Rachel found her love, American professional football player, Jordan Poyer when she wasn't even of age. The couple met via Twitter in 2015 and starting dating soon after.
Rachel gave birth to their baby daughter, Aliyah, in 2017 when they were engaged but not married. The boyfriend/girlfriend officially became husband and wife in 2018.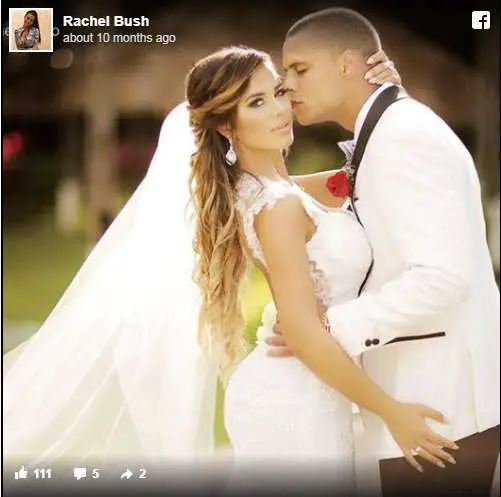 Wedding Celebrations: Rachel Bush and Jordon Poyer celebrating their first moments as a married couple (Photo: heavy.com)
Read Also: Joe Locicero Engaged To Jane The Virgin's Star Gina Rodriguez At Age 31! Wiki, Net Worth, Family & More
Shortly after the marriage, however, there was a brief set back in the couple's romance. Jordan Poyer was accused of cheating, which he later accepted and apologized to Rachel. Although the couple was separated for a while, Rachel later accepted the apology and the couple reconciled.
As of now, Rachel, Jordan and their baby daughter are living the life of a happy family.