Why Sylvia Jeffreys Age 32 Compared Wedding With Husband To Royals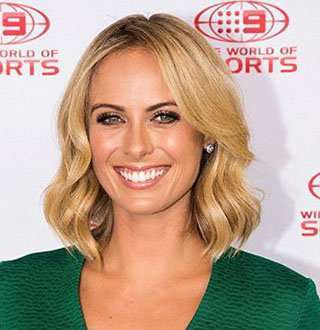 Australian news presenter Sylvia Jeffreys was struck with pregnancy rumors just after a year of getting married when one of her co-hosts passed a remark. The news created a huge hullabaloo among Sylvia's fans, but was she really pregnant?
The Aussie national is a newscaster turned reporter best known for presenting the Australian Morning Show Today. She is also the host of two sports segment of Nine News--Fast5 Netball World Series and Suncorp Super Netball competition.
Morning Show: Sylvia Jeffreys shares how she gets ready for her morning show Today (Published on 20 July 2014)
Previously, she worked as a news presenter for Nine News Brisbane and was also a reporter and fill-in presenter for Nine Morning News, Afternoon News and Weekend Today.
Know more about: Rebecca Judd Husband Condemns Second Wedding, Mother Of Twins Spills
She is the ambassador for the Sydney Children's Hospital Foundation and Brisbane based organization Young Care which helps in getting young people with disabilities out of care facilities and helps them rehabilitate in the society.
Sylvia Jeffreys Career Began When She Was Just 19 Years Of Age 
Born on 1986 at Brisbane, Sylvia Jeffreys celebrates her birthday every year on April 23. She is the daughter of Richard and Janine Jeffreys who separated when she was a toddler and grew up with two older siblings Aaron and Claire. She is a health and fitness junkie and is influenced largely by her mother.
She completed her high school from Brisbane State High school and later graduated with a Bachelor's of Arts in Journalism from the University of Queensland. The gorgeous beauty with a height of 5 feet and 10 inches started off her career in the media as a script assistant in the newsroom for Nine Networks in 2005.
Since then her career has constantly been on the up, reaching newer heights every passing year. In 2008, she delivered lifestyle stories for Nine Networks Extra, a nightly current affairs program.
Having established herself as a staple in Nine News Network, she was appointed as the weekend weather presenter for Nine News Queensland in 2011. After her success in the newsroom, she joined Today in 2012. She was replaced in 2013 only to join back in 2014 and has never looked back ever since, going on to establish herself as one of the best in the Aussie TV scene.
Sylvia Jeffrey's Net Worth Revealed
Sylvia's career progression definitely hints on the fact that she earns pretty well for a living. In fact, she has received a new three-year contract with the news network in 2017 with a rise in her salary. Her salary as a news anchor for Nine News stands at a staggering 96,535 dollars yearly.
After marriage, she also bought a 180 sq.m Double Bay home at Sydney's affluent suburb which was worth a cool $2.7 million together with her husband. 
Although her net worth has remained behind the curtains we can surely assume it is worth in millions, just considering her salary and investments.
Her Husband Also Belongs To Nine News Network
Nine News has been a constant in her career success but it has also been the focal point for her romance which turned into a wedding. Sylvia is married to journalist husband, Peter Stefanovic who is also associated with the network.
Discover: Russell Baker Bio: Career, Personal Life, Family Details & Unknown Facts
Sylvia and Peter got to know one another in 2013 when the then-European correspondent, Peter came back to Australia to do a stint alongside her on Weekend Today. Then began the colleagues' old-fashioned romance where they wrote letters to one another instead of meeting face to face. 
They soon fell in love with each other and began dating in the middle of this decade.
After about a year and half of dating, Peter gave her the ring in 2016. A year later, they decided to take their relationship further by getting married.
Find Out About Sylvia Jeffrey's Royal Wedding Esque Ceremony In 2017
With both the to be spouses belonging to showbiz, the couple's news about getting married hotted up the temperatures in Australia. Many of their fans became expectant of a lavish ceremony and the duo did not disappoint.
The journalist couple exchanged vows with each other in a beautiful and lavish ceremony at Ooralba Estate in Kangaroo Valley in 2017. Sylvia was dressed in a lengthy rain custom designed wedding dress from her favorite designer Rebecca Vallance, while her husband looked dapper in a designer suit.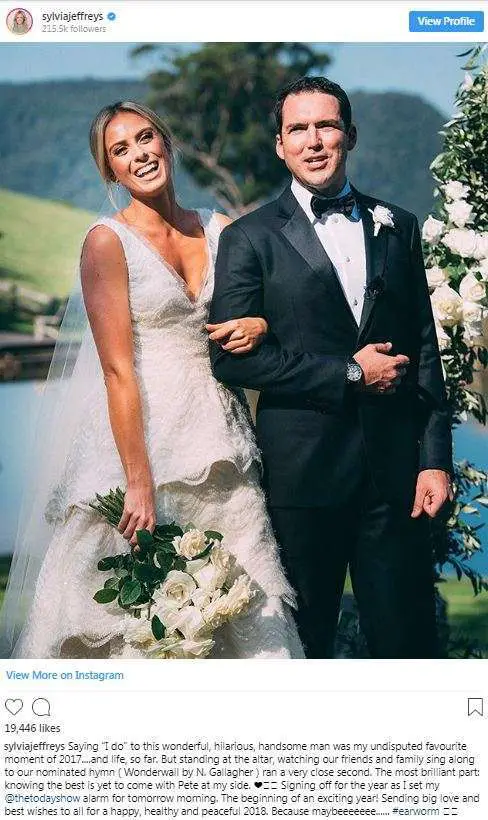 Lavish Wedding: Sylvia Jeffreys posts a picture with her husband (Photo: Sylvia Jeffreys Instagram | 31 December 2017)
The guest list was also befitting of the ceremony and included the biggest who's who of the showbiz. The Today Show was well represented by the presence of  Lisa Wilkinson, Richard Wilkins.
Meanwhile, Pete's brother Karl Stefanovic and many other media personalities from all across Australia, as well as London, were present to celebrate their wedding.
Another Wedding: Princess Love Wiki: Husband Ray J Cheats When Pregnant & Weight Loss
Many celebrities shared their wedding glimpses and it definitely looked a lot of fun. In fact, Sylvia herself shared some glimpses with her Today show viewers and hilariously compared her pictures to the perfect Royal Wedding pictures of Harry and Meghan.

Wedding Photo Fail: Sylvia Jeffreys compares her wedding photo with Royal Family (Photo: Dailymail.co.uk)
In an Instagram post, she stated that:
'I'm thoroughly impressed by the Royal family's ability to wrangle children for wedding photos. Wish they'd share their secrets.'
It must have been a real struggle for Jeffreys but definitely looks like she had the most fun too! The fun continued to last for the married couple as they went on a lavish honeymoon to Fiji after the wedding. Similarly, she was on the road again in November 2017, celebrating her husband's birthday. 
Is Sylvia Jeffreys Pregnant?
After the wedding, the next step common among couple is to start a family with babies. And that's what exactly what happened to Sylvia as she became embroiled in pregnant speculations. The gossips started after her co-host Georgie said to Sylvia:
'That's all ahead of you with having a daughter'.
The statement made everyone believe Sylvia was pregnant and expecting a daughter. 
See More: Ali Astall Wiki At Age 40! From Exuberant Wedding To Sporting Baby Bump
However, the comment wasn't meant to imply she was pregnant and soon after the rumor circulated she addressed it in an interview with The Daily Telegraph:
Our life is good and we're very happy and hopefully one day we'll be blessed to have a child, we certainly hope so, but right now, not happening today or tomorrow.
Looks like we have to wait a few more years to witness the beautiful baby of this gorgeous couple!