Rebecca Judd Husband Condemns Second Wedding, Mother Of Twins Spills
For the majority of women around the world, pregnancy is the perk of married life to be enjoyed...She had met her husband in 2002 and since then they've...The gorgeous couple has been blessed with four beautiful...The luxurious wedding was designed by The Style Co. and included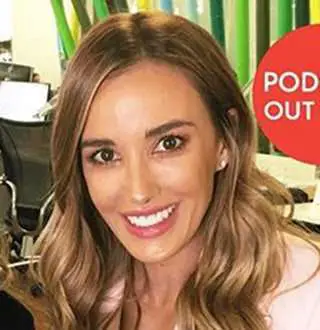 For the majority of women around the world, pregnancy is the perk of married life to be enjoyed, and something that completes a woman. However, for Australian TV host Rebecca Judd her first pregnancy is the key reason she wants to renew her wedding vows. 
The Australian national is one of the most famous TV show hosts famous for hosting Postcards (2011)--a Victorian based travel series broadcasted on Nine Network. She is also the weekend weather presenter at Nine News Program (2014).
Postcards: Rebecca Judd hosts her show Postcards in Australia Goldfield Episode (Published on Oct 21, 2015)
Moreover, the former model is a fixture in billboards across the Land of Kangaroos and works as the brand ambassador for Christian Dior watches, R. Corporation, Melbourne City Land Rover and Jaguar. Besides being an established TV show personality, she is also a speech therapist.
Rebecca Judd Bio: Has Three Siblings
The Australian beauty was born on January 27, 1983, in Melbourne as the daughter of mother Kerry Brown and father Hugh Twigley. Her family also has three siblings. She has a sister from her parents along with two half-siblings.
Know More About: Irv Gotti Married Life Fail; Wife & Girlfriend Scandal Turmoil - Ashley Is Different Story
Her parents separated when she was a young age of 4. 
She graduated with a major in speech and language pathology from La Trobe University in 2008. She worked as a speech pathologist the Alfred Hospital and Cabrini Hospital.
Rebecca Judd's Secret To Fame: Just A Red Dress 
The speech pathologist started her career in modeling before her university degree. Rebecca was pretty awkward and geeky as a child and no one believed that she would turn into a gorgeous model.
But puberty hit her hard and by the time she was in her teens she was an established model. She was the in-house model for Chanel and walked the ramp for biggest names in fashion like Gucci, Prada, Calvin Klein, La Perla, and Dior. 
Already a successful model, the gorgeous lady became a big hit in the media during the Brownlow Medal Ceremony in 2004 where she appeared in a revealing red Tarvydas dress with her boyfriend. The dress won her plenty of column inches and made her an overnight celebrity.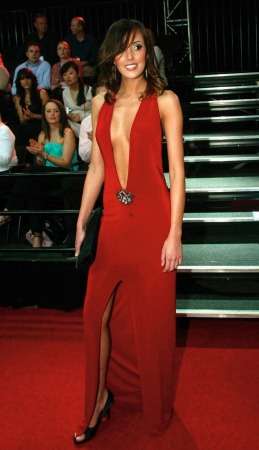 That Red Tarvydas Dress: Rebecca steals the spotlight with her red dress (Photo: Essentialbaby.com)
Even nine years after that event, she expressed that the red gown was the chief reason behind why she could forge a successful career. In an interview with Herald Sun in 2013, she stated:
I don't think I'd be sitting here talking to you today if it wasn't for that red dress.
After the fame, she established herself in the TV industry by first working as a guest presenter on Just Add Water in Nine Perth. Since then, she has excelled to become the darling of Australian TV shows.
Mother Of Twins Rebecca Judd Had Tough Moment During Pregnancy
The beautiful and talented, Judd has a successful career besides that she also has a happy family she is blessed with.
She is married to AFL player husband Chris Judd, with the couple getting married in 2010. She had met her husband in 2002 and since then they've been going strong as a pair over the years.
Discover: Sally Nugent Is Married, Husband Identity & Family Facts Of BBC's Presenter
The gorgeous couple has been blessed with four beautiful bundles of joys, son Oscar Dylan (2011), daughter Billie Kate (2014) and cute little twins Dary Hugh Judd and Tom Andrews born in 2016.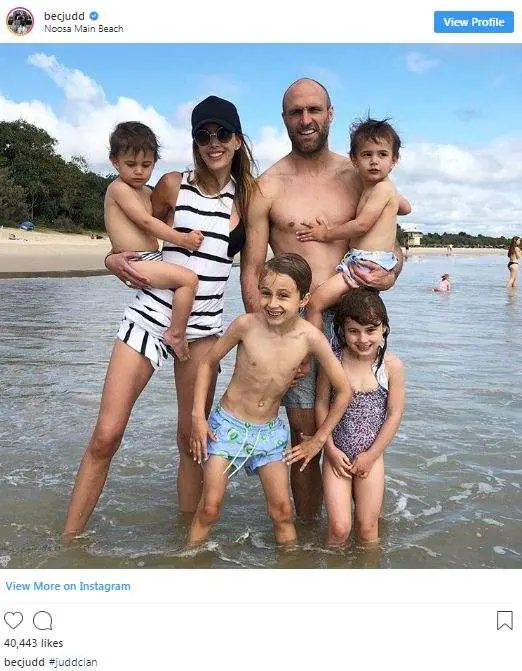 Juddcian: Rebecca posts a family picture on her Instagram (Photo: Rebecca Judd's Instagram)
But entering into motherhood wasn't easy for her, Oscar had an emergency delivery as he had a tangled umbilical cord around his neck. The particular moment was extremely horrifying for the couple which her husband mentions in an interview with Mamamia:
His heart rate was dropping and they're like 'right, we've got to get him out'. My memories were that it was touch and go, whereas I think in reality it was a pretty stock standard birth albeit his heart rate was dropping slightly."
The horrifying moment has passed now and in the present days, the family lives a happy life together. Not only has Oscar been healthy ever since that complication, but he also has a company of three other siblings.
The usually busy Judd's mother also lives with the family and helps to look after her four beautiful children. Well, family is family and they're always there when you need them.
Rebecca Judd's Lavish Wedding Which Cost Fortunes
Who wouldn't want an expensive wedding to remember while tying the knot of forever with your life partner? That's why the Judd and Chris are our wedding goals!
Rebecca and her husband Chris had a lavish wedding at Albert Park in Melbourne.
Interesting: Nicola Adams Partner Tragedy; Did Lesbian Girlfriend Turn Straight & Cheat?
The luxurious wedding was designed by The Style Co. and included three deck changes, lounge lit with 100 candles, a five-tier floral chandelier made from fluffy white hydrangea, peonies, and flickering candles, custom invitation delivered in a box decorated with 2 gardenia flowers and scented in passionfruit.
She also had two separate gorgeous designer gowns from J'Aton Couture--one for her wedding day and another for her reception. Woah all that definitely must have cost a fortune!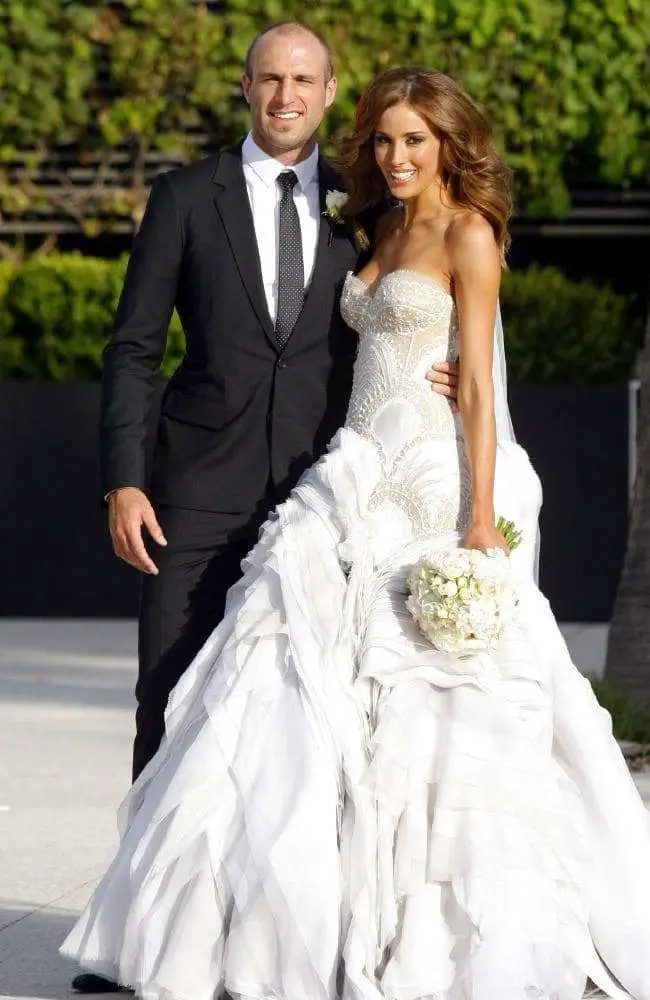 Wedding Day: Rebecca Judd flaunts her gorgeous wedding dress and poses with her husband (Photo: Heraldsun)
But despite the awesome and expensive wedding, Judd reveals that she still wants to renew their wedding vows. Some moments are worth reliving after all!
Why Does Rebecca Judd Want To Renew Her Wedding Vows?
It's not just the lavishness of their wedding day that Judd wants to lap up again. She was not able to savor the wedding to the fullest because she was expecting the couple's first child.
On their wedding day, Rebecca was 10 weeks pregnant with Oscar. Due to the pregnancy, the pretty lady wasn't able to enjoy--dance and drink to the fullest. She said in an interview with Herald Sun in 2017:
I reckon for my 10 year wedding anniversary I reckon we do it all again. Do the whole lot ... I want to have fun and drink at my wedding and be hung-over and not remember it.
But this dream of hers might need some time to come true as the couple is still paying off their expense of the luxurious wedding they had years ago. 
Find About: Drita D'Avanzo & Husband Now; Couple With Massive Net Worth Together?
Nonetheless, it would be an absolutely joyful moment for Judd as well as her kids to relive their parent's wedding! Guess we all just have to wait a few more years for it to possibly happen. Till then, happy family life to the Judds!