Russell Baker Bio: Career, Personal Life, Family Details & Unknown Facts
his bio expanded as a TV personality as he began hosting at PBS...Following his fame and career, Russell won the Pulitzer Prize and earned the George Polk award...His personal life is full of tales of struggles, hardships, and poverty...Russell Baker is leading a healthy life at the ripe old age of 93, and is still alive and kicking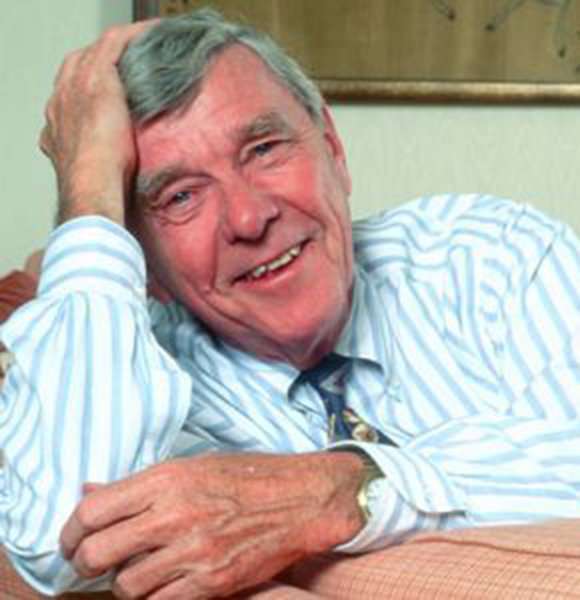 Life is a book. Until and unless you don't turn a page, you never know what happens next. After turning a million pages, American writer Russel Baker reached the ultimate age of 93. He certainly has had a beautiful life lived!
American writer Russell Baker, best known for his autobiographies 'Growing Up' and 'The Good Times.', is a man who went on with his life to find success regardless of all the difficulties he encountered on the way; but what kind of success comes without struggle?
If you're curious to know all about the Pulitzer Prize recipient author, Russell Baker, keep reading the article, where we have gathered a full-fledged bio along with his career and personal life.
Find Out: Did Charles Osgood Quits Sunday Morning Amid Health Complication? Illness, Death Rumor, Age, Family Net Worth
Russell Baker's Personal Life Struggles 
Russell Baker, who is known for his sarcastic commentary and self-critic writings, was born as Russell Wayne Baker in a rural town of Morrisonville, Virginia on 14 August 1925.
His personal life is full of tales of struggles, hardships, and poverty. He grew up in a family with meager income, and on top of that, went through the pain of losing his father. His father, a stonemason, died of untreated diabetes when Russell was at the tender age of five.
However, his mother, a strong-willed woman, and a trained schoolteacher encouraged his aptitude for learning language despite poverty. Without any definite prospects of attending college, Russell completed secondary school in Baltimore's beautiful City College.
When Russell turned 16, his mother remarried, which abled them to move into their own home. During an age, where a typical teenager would have fun on their mind, Russell realized his only ambition was to become a writer despite acknowledging the fact that it would not provide a sustainable livelihood.
However, with the ambition that did not promise him a golden fortune, Russell went for it with the persuasion of one of his classmates who advised to go forth and achieve his dream of being a writer.
Russel Baker's Bio: Career Breakthrough As Writer From New York Times
Russell, determined to become a writer was only able to complete just one year of college after getting enlisted in the navy in 1943. During his tenure at the military, Russell trained for fighting in Florida, Georgia, and South Carolina.
After he completed his service, Russell returned and enrolled at the John Hopkins University to fulfill his writing ambition. He graduated from the University with the help of his creative writing teacher, and soon got a job on the Baltimore Sun.
But he didn't even have an opportunity to write a single published sentence.
After two years, Russell finally wrote a lively weekly column titled 'From a Window on Fleet Street.' Later, he got his big break when he covered the news of the White House, the State Department, and the Congress for the Washington bureau of the New York Times from 1954 to 1962.
Russell Baker--Succesful Satirical Writer!
Russell started to write the 'Observer' column for the New York Times from 1962 and continued to work there for over two decades. His dedication to the Observer credited him with millions of readers.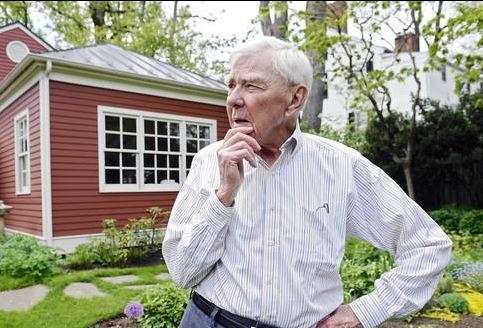 Me & My Abode: Russell Baker posing beside his house back in 2012 (Photo: trbimg.com)
Following his fame and career, Russell won the Pulitzer Prize and earned the George Polk award for his commentary in 1997. Later in 1983, he again won Pulitzer for his autobiography, 'Growing Up.'
Russell's famous columns include An American in Washington, No Cause for Panic, and Poor Russell's Almanac.
Explore: Bernard Goldberg Wiki and Bio: Proud Husband To Wife And Celebrated Media Veteran
Russell's Foray Into Television
Baker had also written and edited the libretto for the 1979 musical play Home Again, Home Again, starring Ronny Cox, with music by Cy Coleman, lyrics by Barbara Fried, choreography by Onna White, and direction by Gene Saks.
However, following an unsuccessful tryout at the American Shakespeare Theatre in Stratford, Connecticut, the show shut down in Toronto and never made it to Broadway. In a 1994 interview, looking back at his failure, Baker said,
That was a great experience, Truly dreadful, but fun. I was sorry [the show] folded because I was having such a good time. But once is enough.
Afterward, his bio expanded as a TV personality as he began hosting at PBS when they asked him to replace Alistair Cooke as host of the show called 'Masterpiece Theater' in 1993.
Replacing Alistair Cooke as the regular host of the PBS television series Masterpiece Theatre, he told how hard it had been for him to appear on Television than he had previously thought. He said that he fancied that he had been an exceedingly charming, witty and handsome young man, but when he appeared on TV, he saw himself as this fidgeting old fellow whose hair had been parted on the wrong side.
In 1995, he narrated the Ric Burns documentary The Way West for PBS' American Experience
Is Russel Baker Still Alive? Health & Family Update!
Besides having a successful professional career as writer and author, Russell also has a prosperous family life. Russell married Miriam Emily 'Mimi' Nash in March 1950 and the husband and wife together share one daughter Kathleen and two sons, Allen and Michael.
See More: Rick Steves Gay Man For Broken Married Life & Wife In Past? Travel Guru Has Answers
In an article published on Baltimore sun in March 1993, Russell stated that he wanted his children to understand him for he had a bad conscience about being a parent. He even wrote that his explanation to his children about where he came from helped them to understand their father well.
As of now, Russell Baker is leading a healthy life at the ripe old age of 93. Yes, it is a pleasure to say that he is still alive despite the pesky internet death hoax roaming around.