Bernard Goldberg Wiki and Bio: Proud Husband To Wife And Celebrated Media Veteran
The New York native is currently popular as a commentator for Fox News and a correspondent for HBO's Real Sports with Bryant Gumbel. Bernard has dedicated his entire life to journalism since 1970's and has won fourteen Emmy Awards during his career.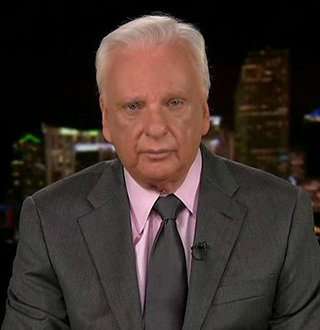 Highly successful in his profession as a journalist, American media veteran Bernard Goldberg has also achieved great success in his family life. The secret: his highly supportive nature, a fact evidenced by the praise of his wife's work in social media.
The New York native is popular as a commentator for Fox News and a correspondent for HBO's Real Sports with Bryant Gumbel. Bernard has dedicated his entire life to journalism since the 1970's and has won fourteen Emmy Awards during his career.
Bias: Bernard Goldberg talks about his book Bias, which details how media distorts the news and skews them towards liberal views (published on 13 March 2018)
Bernard is a Jewish and one of the most successful ones in the Jewish American community.
Bernard Goldberg's Bio
Born in New York City during the final days of World War II (31 may 1945), Bernard Goldberg was destined to have a huge impact on the political scenario of America, which he did in his long years in the journalism.
You Might Like: Serena Altschul In Family Bliss! Married Or Just Dating Perfection?
Bernard went to and graduated from the Rutgers University in New Brunswick, New Jersey.
Bernard Goldberg Earned Huge Net Worth As Journalist And Author
Right out of college, one of the most original writers and thinkers in broadcast journalism began as a writer for the Associated Press in New York back in 1967. He then joined WTVJ-TV Miami in 1969 where he was a producer and writer. Later in 1970, he worked as an investigative reporter for WPLG-TV Miami till 1972. 
Bernard then joined CBS News in April 1972 as a producer based in Atlanta and worked until 1977. He became a reporter in 1974 and was named a correspondent in 1976. In the same year, he covered Republican National Convention for CBS News.
After four years, Bernard covered the 1980 presidential campaign of California Governor Jerry Brown based in CBS News' San Francisco Bureau. Later, he worked as a correspondent at the CBS Evening News with Dan Rather which was based in New York and was a frequent contributor to CBS News specials.
Read More: Dan Rather Biography: Opens Up About Family And Health
Moreover, Bernard, one of the eminent writer in television news, served as a staff correspondent in the CBS News magazine 48 Hours, which earned him six Emmy Awards. Likewise, Bernard, who was also a contributing correspondent to the CBS News prime-time series Verdict, reported a story in 1992 on an innocent man sentenced to life release from prison.
In December 1992, he was a correspondent for Eye to Eye with Connie Chung, which won him an Ohio State Award. Since October 1995, Bernard served as a CBS News correspondent, regularly contributing reports on a wide variety of issues.
Bernard is also a well-known author of five New York Times bestseller books, including Bias: A CBS Insider Exposes How the Media Distort the News (2001), 100 People Who Are Screwing Up America (2005) and A Slobbering Love Affair. 
Currently, he works as a commentator for Fox News and also a correspondent for HBO's Real Sports with Bryant Gumbel. Bernard has accumulated a net worth of $5 million including a room stocked up with awards. He has won fourteen Emmy awards for his excellence in journalism; six Emmys at CBS and eight Emmys at HBO.
Proud Husband To Wife: Appreciates Wife's Work Via Social Media
As staggering as Bernard's professional success is, his personal bliss is equally, if not more, enviable. A proud husband and a loving father, Bernard is living his family life very happily. He is married to Nancy Solomon, a former journalist, and producer of CBS News. Nancy, who received her Master's degree in Mental Health Counseling,  is also a licensed Mental Health Counselor.
Related: Byron Pitts Bio: Married With Family- Wife, Parents And Net Worth
Bernard's wife Nancy has become his real strength in his life. They have a real understanding as both are from the same field, journalism. They have been together for a very long time. They have two children together, a son, Brian, and a daughter, Catherine. 
The secret of the stable married life of the political pundit Bernard is his extremely supportive nature towards his wife. He encourages and appreciates her work in every possible way. Back in January 2016, his spouse wrote a funny piece of an article 'My Inner Yenta' for Huffington Post. Bernard took his wife's piece of work to his Twitter and appreciated her work. He even told his fans to share the post with others.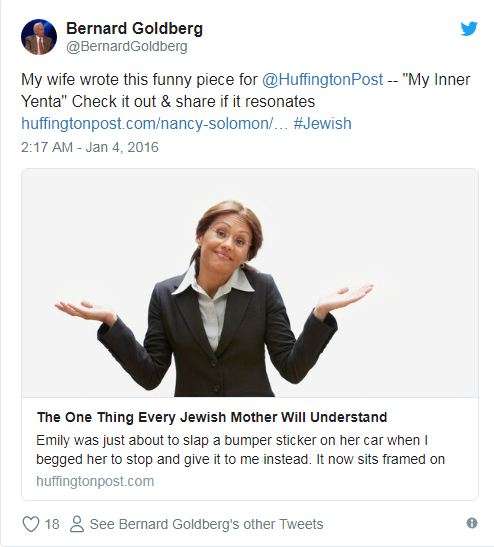 Praise For Wife: Journalist Bernard Goldberg shares his wife Nancy's article published on Huffington Post on 3 January 2016 (Photo: Bernard Goldberg's Twitter)
Even though he mentions his wife's work on social media, he hasn't posted any picture of him with his family to date.
Keep Reading: CBS's Bob Schieffer Bio: Age, Net Worth, Family, Daughter, Cancer And More
Anyway, it is quite clear how great of a husband Bernard is, and there is a lesson to be learned by all on how to keep a marriage stable, healthy and happy.