All You Need To Know About Dan Rather Family And Health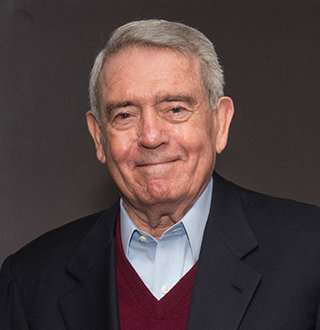 Age tires most people, it corrodes their enthusiasm for work, but not Dan Rather's. At the age of 86, he doesn't seem to be slowing down, rather he keeps hitting the newspaper headlines and his audience keeps applauding his reporting and anchoring.
The multiple-award-winning journalist, Dan Rather, has covered some of the most important historical events including the civil rights movement, the Vietnam War, and the Watergate scandal of his time during his four decades with CBS. Rathers currently works on a weekly newscast called The News With Dan Rathers on a YouTube program The Young Turks.
The News With Dan Rathers: Listen to Dan Rathers talk about American president Donald Trump, North Korean leader Kim Jong-un and their historic meeting (published on 11 June 2018)
It's evident that his followers are well knowledged about his professional life, but they are deprived of information on his personal life as he seldom sheds light on it. However, we have succeeded to garner some information about his personal life, so if you are willing to know, keep reading it till the end!
Dan Rather's Biography
Dan Rather was born in a middle-class family, to parents Byrl Veda and Daniel Irvin Rather on 31st October 1931 in Wharton, Texas.
His family relocated to Houston when he was still a child. Dan commenced his education at Hamilton Middle School and later graduated with a degree in journalism from Sam Houston State University in Huntsville in 1953. 
Dan Rather's Career: Early Prodigy to Veteran Journalist
Dan landed himself in the realm of broadcasting when he was still a student. As his first broadcasting job, he worked at a small local radio station; then after, at KTRH-Radio in Houston. 
In 1960, Dan became director of news and public affairs at KHOU-TV, CBS's Houston affiliate. When, in the following year, his live coverage of Hurricane Carla caught the attention of network executives, they offered him a job as a CBS correspondent. He began working for CBS in March 1962.
But Dan's breakthrough came in 1975 after he joined 60 Minutes, where he served as a correspondent for that program until 1981. Besides that, Dan even anchored and reported for the show 48 Hours, which is also a popular show broadcasted by CBS.
Dan worked for CBS for over 40 years and was famous for presenting the news on CBS Evening News. However, his reporting on Killian documents controversy through CBS Evening News got a lot of criticism.
The documents involved six purported documents critical of President George W. Bush's Texas Air National Guard service. Among six papers, four of these documents were presented authentic by CBS.
The font applied to the documents has characteristics that exactly match the standard font features of Microsoft Word, which led to claims that the memos were forgeries and the accusations then spread over the following days into the mainstream media.
Dan and CBS defended the story saying that experts had authenticated the documents, but it later came to light that CBS had failed to validate the documents.
After that, CBS fired story producer Mary Mapes and asked three other producers connected with the story to resign. Some people believe that this incident hastened Rather's retirement from CBS.
Dan Rathers: Who Is He Married To?
Peeking towards Dan's personal life, he enjoys a happy married life with wife Jean Goebel. Dan first met Jean in 1956 when Dan was working as a news director for KTRH, where Jean was working as a secretary.
Without sparing more time in dating, Dan married Jean in 1957. The couple later welcomed their first child, the daughter named Robin in 1958, and a son named Danjack a couple of years later in 1960.

Couple Alert: Dan Rather with his wife, Jean Goebel at an event (Photo: Zimbio.com)
As of now, the long-term married couple happily lives in Texas. During an interview with The Washington Post back on 12 November 2017, Dan affirmed that her wife Jean is very health-conscious and is the reason he remains healthy even at the age of 86.
And Dan is not only physically healthy but also professionally.
With Dan running quite a few shows even at 86, from The Big Interview to The News With Dan Rathers, and remaining very vocal about political affairs of the country.