WFAA Sonia Azad Bio, Married, Salary
Sonia's effortless and detailed reporting has seen her be awarded with...Currently, she works as Health and Wellness reporter for..Sonia Azad was born on 13th...Strong-willed and forever determined, Sonia has put her work before anything in her life...Be it relationships or family, for Azad...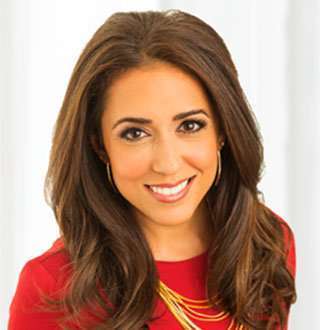 An award-winning journalist, Sonia Azad is not your everyday reporter. Strong-willed and forever determined, Sonia has put her work before anything in her life. Be it relationships or family, for Azad, her passion for her work and her unwilling determination can be seen vividly.
Interesting: Demetria Obilor Age 27 Bio: Rising From Controversy, Is She Married?
Currently working as a Health and Wellness reporter for ABC affiliate-WFAA-TV, Sonia has covered some of the world's massive happenings which include shootings, hurricanes and wildfires, and many others. Her profound work has seen her awarded with an Emmy and many other award nominations. 
Want To Know Sonia Azad's Nationality & Ethnicity? Bio Reveals All
Sonia Azad was born on 13th September. As for the year of her birth; however, the exact details seem to be clouded to the public. So her age can at this moment just be a thing of speculations.
She stands at a below average height of 5'0" as evident by a tweet she posted on 14th February 2017.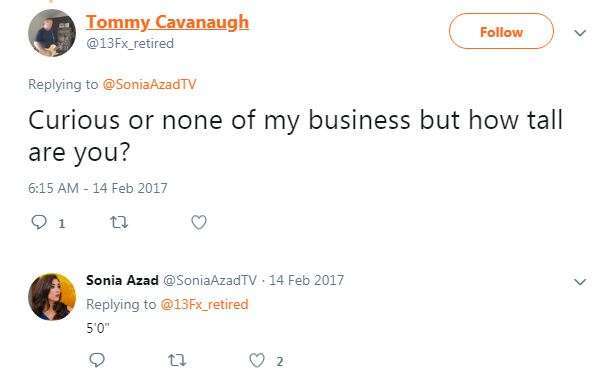 Stand Not So Tall: Reporter Sonia Azad responds to a question about her height. (Photo: Tommy's Twitter| February 14, 2017)
As for her nationality and ethnicity, the exact details have also remained undisclosed, but various reports suggest she could possibly hold dual nationality and be a member of Asian-American ethnicity. Other than that, from a couple of tweets posted by Sonia, it can be seen that she maintains a healthy relationship with her parents. Her tweets show her enjoying quality time with them.
Talking about her education, Azad is a graduate from the University of Texas at Austin with a bachelor in Science in Journalism as well as from Northwestern University's Medill School of Journalism with a Master of Science in Journalism. As for her high school years, details remain undisclosed.
Let's Find Out More About Sonia's Journey To WFAA
As aforementioned, Sonia is a workaholic. For her, work comes before anything. So it could be no surprise looking at the illustrious career that she has had. Azad career has taken her all over the world covering headline-making news which includes disasters such as hurricanes, wildfires, theatre shootings and more. There have not been many headlines that Sonia has not covered.
Read More: Colleen Coyle Shares Wedding Moments With Husband | Salary & More
Sonia effortless and detailed reporting has seen her be awarded an Emmy in 2011 as well as also being named as one of the best reporters in the state by Texas Associated Press Broadcasters in 2012.
So when it comes to salary, it would be no surprise to see Sonia take home a hefty sum of paper. The exacts amount remains undisclosed, but payscale reports the salary of a WFAA anchor is about $89,590. Sonia is not your average reporter. She is sure to earn well above an average salary.
Is Sonia Azad Married? Who Is Her Partner In Crime?
For someone like Sonia Azad, finding the perfect partner to spend the rest of her life would be effortless. But all has not been as one would have hoped. When it comes to relationships, Sonia has not been successful as regards to her career.
It cannot be confirmed whether she is currently in a relationship or whether she is married. But her couple of tweets can confirm that she was in a relationship in the past but as of present remains mum. It seems she has not yet found the perfect man to call her husband.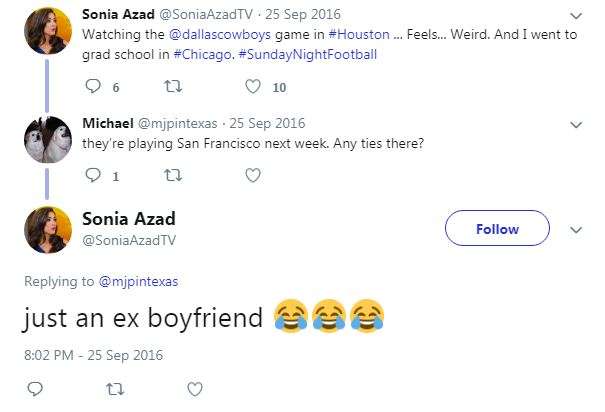 Lost Memories: Reporter Sonia Azad answers a question which indicates her being in a relationship in the past (Photo: Sonia's Twitter | 25th September 2016)
You Might Also Enjoy: WFAA Host Ron Corning Family; Who Is Wife Amid Gay Talks?
Regardless of the reason as to why she is not in a relationship, we can only assume that she fancies her work more than her desire to get married and settle down. Only time will tell what the future holds for Sonia Azad.