Dori Monson, Life Of A Rich Man; Show, Salary, Wife & Family
orking as a radio host for more than twenty decades Don surely has accumulated...has an incoming salary from two radio networks...Dori is married to his wife...e shared the most adorable lines for his wife, wishing her a happy anniversary on...

American radio host Dori Monson has spent decades working in the radio network. Along with his career, he has also taken his love life hand to hand for three decades with his wife.
The Seattle native is an American news reporter and radio personality who is best known as the host for Dori Monson Show, an afternoon talk Seattle based radio show on KIRO-FM.
KIRO Radio: Dori Monson reacts to City of Seattle's new Social Justice Policy (Published on 27 November 2018)
Besides the self-titled show, he also hosts the pre-game, post-game, and halftime shows on the Seahawks Radio Network. He is also a basketball coach.
See More: Bruce Williams Remains Married With Wife? Personal Life Looks Like This
He is also an actor who appeared in Bill Nye, the Science Guy (1993), The Battles of Tim Eyman (2008) and The (206) (2013).
Dori Monson's Early Life And Career
Born and raised in Ballard, a Scandinavian ethnic enclave, belonging to an Icelandic heritage, Dori Monson was born on 2 October 1961.
He graduated from Ballard High School and later graduated from the University of Washington where he was the play-by-play announcer for Husky football on-campus broadcaster KCMU-FM.
His professional broadcasting career started as a producer at KING-TV and sports reporter at KING-AM. Then he moved to KIRO as part of the Pat Cashman Show and later reached heights of his career in 1995 after landing his own Dori Monson Show, a political talk program on KIRO-FM.
In 2002, he became part of the Seahawks Radio Network and hosted Hawk Talk, a day-of-game broadcast.
What Is Dori Monson's Net Worth?
Working as a radio host for more than twenty decades Don surely has accumulated most of his fortune from it and boasts a big net worth (unknown). Currently, he has an incoming salary from two radio networks, KIRO-FM, and Seahawk Radio Networks.
According to PayScale, as a radio host, he is estimated to earn an average salary of $44,391.
You Might Like: Don Imus Retiring From Show Is One Of The Saddest 2018 Moments
Dori Monson Holds University of Washington Very Close To His Heart
When it comes to his love life, it's quite a sweet one! Dori is married to his wife Suzzane since 1985 for 31 years. For the couple's 30th anniversary, he shared the most adorable lines for his wife, wishing her a happy anniversary on KIRO-FM.


Words of Love: Dori Monson shares some lovely words for his wife on their 30th Anniversary (Photo: KIRO radio)
Dori and his wife dated each other in 1983. He picked her up at the AGD house at the University of Washington for a sorority dance and ever since they've been dancing their way together in this journey called life!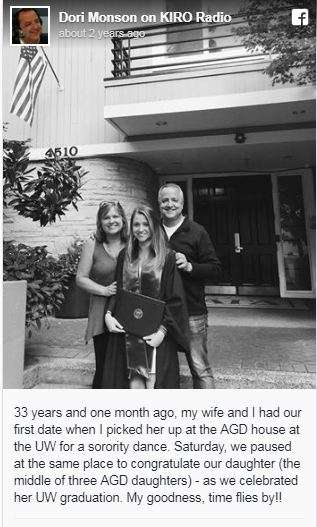 Family: Dori Monson on his eldest daughter's graduation with his wife (Photo: Dori Monson's Facebook)
Discover: Elvis Duran, Openly Gay Radio Show Host's Boyfriend Kneels; Happiest
He is blessed with three daughters, and like him and his wife, his two daughters are also students of the University of Washington. His oldest daughter is already married now
Dori Monson Got Rushed To ER While On Vacation With Family
In 2013 when Dori decided to take a vacation at Scottsdale Arizona with his wife and daughter before the marriage, he suddenly fell ill.
And after he reached to his vacation spot, he had to be rushed to the ER where it was declared that he had an appendix with a bad infection spreading everywhere.
Well, thank god it wasn't very serious as he is fit and healthy for now!