NFL Reporter Andrew Siciliano Married & Wife | Family Insight To Net Worth
Andrew Siciliano set his ultimate goal to serve as an NFL...and mainly hosts the NFL's...was honored with several awards, along with two...career has led him to earn a hefty amount of...his net worth resides within...spill on his married life on social media sites...that is confirmed...Andrew is enjoying a serene married life with his wife...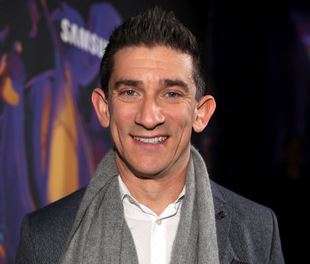 You might want to find somewhere to sit down because what we are about to tell you is going to more than just 'surprise' you. If you know American sports anchor Andrew Siciliano, then the fact that he keeps his romantic affairs in the shadow shouldn't be new to you. But guess what? We just found out his dating status. 
Andrew Siciliano is a well-known sportscaster who hosts the NFL Sunday Ticket Red Zone that airs on DirecTV's Red Zone Channel.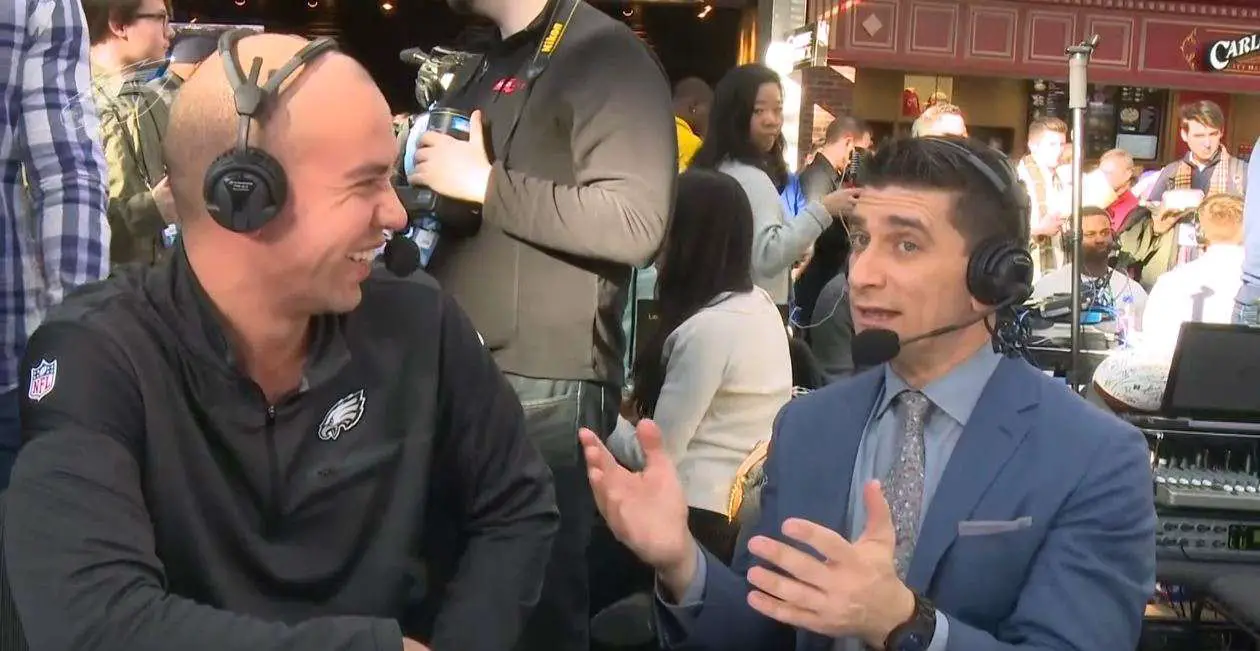 Sports Fanatics: Andrew Siciliano talks about Super Bowl LII with Chris McPherson (Published on 1 February 2018)
You Don't Want To Miss: Lisa Riley Reveals Weight Loss Secret | Future Husband Details Unveil
As a keen sports and journalist fan, Andrew has always set his ultimate goal to serve as an NFL play by play announcer.  
Andrew Siciliano's Salary Amount Heightens At NFL 
Born in 1974, Andrew David Siciliano was raised in suburban Washington, D.C. He carried a passion for sports from a very young age as his whole family shares the same interest. In fact, throughout his time at Syracuse University, he served as Assistant Sports Director at the student-run radio network, WAER.
Andrew, age 44 soon got the role of a dual anchor/reporter at WMAQ-670 AM after his academics. The reporter was honored with several awards, along with two AIR awards for Best Sports Reporter and Best Anchor during his time at WMAQ.
It wasn't long before he started to hold hosting duties at FOX Sports Net in 2000 and left the network in 2011 after contributing to FSN programming that included FSN's Final score as well.  Today, the reporter serves as a host on NFL Network and mainly hosts the NFL's daily news program, Up to the Minute including all of its afternoon breaking news coverage.
His career has led him to earn a hefty amount of salary as well, as the average salary in NFL ranges from $104,642 to $145,656. So it's safe to say to say that his net worth resides within millions.
Andrew Siciliano Gets Mocked For His Ears 
While he is quite successful in his sports reporting career, Andrew is often made fun of for his ears that stand out as prominent ears. Even his Twitter threads are often filled with comments on his big ears.
Read Also: NFL Reporter Albert Breer Wedding Vows To Wife, Breaking Or Booming?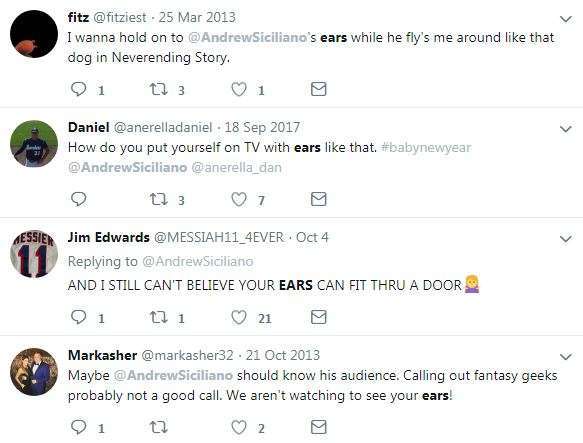 Height Of Ridicules: Andrew is made fun of for his big ears on Twitter (Photo: Twitter threads)
But Andrew isn't the one to let the weight of those comments get to him as he often replies to those comments with his own savagery.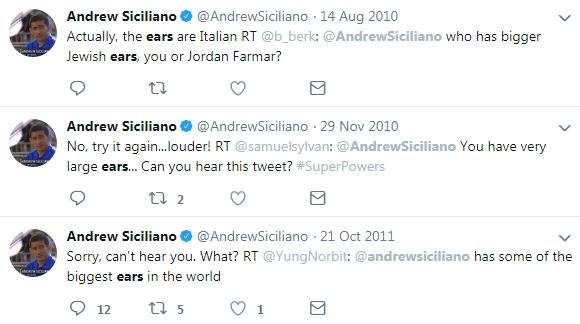 Slaying Haters: Andrew gets back at comments that disregard his ears on Twitter (Photo: Andrew Siciliano's Twitter threads)
If that isn't pure savage, I don't know what is. Other than that, Andrew had mentioned about standing at a tall height of 6 feet 5 inches (1.98 meters) on Twitter once when a fan asked how tall he was.
You Don't Want To Miss: Chris Rose Married Life Secret! Treat Wife Well, Family Gets Better | Age Parents & More
Is Andrew Siciliano Married To Wife?
When it comes to Andrew's romantic affairs, the topic is never a hit. For one, nobody has ever bothered to poke him to spill on his possibly married life on social media sites. And for other, he isn't exactly a fan of talking about his personal life.
But the thing that is confirmed is that he is not married. And if you're wondering why we mentioned his 'possibly married life' earlier, it's because he has already reached the age of 44 and it's only feasible to make a guess about his mystery wife.
Anyway, for the minority of the people who even wonder a bit if Andrew is enjoying serene married life with a wife, the answer is no. And the ladies still have a chance to warm into the anchor's heart.