Lisa Riley Reveals Weight Loss Secret | Future Husband Details Unveil
Lisa Riley shocked the world with the news of engagement with her longtime boyfriend in 2017...Al, her husband-to-be is a different story...The caption which accompanied a snap of her showing off the engagement ring was a tribute to her partner...Her staggering weight loss in 2018 was more shocking...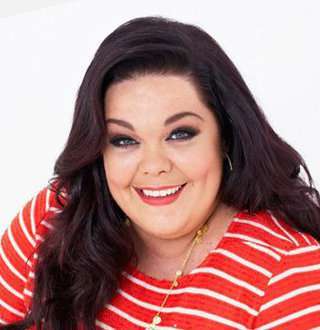 British Actress/TV personality Lisa Riley shocked the world with the news of engagement with her longtime boyfriend in 2017. Her staggering weight loss in 2018 was more shocking.
The 42-year-old Brit is best recognized for her portrayal of the character Mandy in the British drama Emmerdale, which aired between 1995 to 2001. As for now, Lisa makes regular appearances as a panelist on the British panel show Loose Women alongside Ruth Langsford, Andrea McLean, and Coleen Nolan.
Tale Tell:- Lisa recounts a body shaming moment she had experienced at a gym on the show Loose Women which aired on 20 July 2018 (Published on 20 July 2018)
Her other notable work includes taking over the helm at the show You've Been Framed after its host Jeremy Beadle left the show in 1998.
Lisa Riley's Mini-Bio
Born on 13 July 1976 in Manchester, England, Lisa was scouted by a talent agent when she was just 12 years old. Interestingly enough, the Manchester native was 4 when she took up ballet as a hobby.
Read More:- Hallie Gnatovich Bio: Age, Baby, Adventure Enthusiast Husband & Facts
Her acting career, which spans more than two decades now, boasts an impressive catalog of more than 30 TV shows and movies appearances in total.
Very Close To Her Family; Proud Aunt Of New Born Niece
It is really impressive that Lisa not only has success in her professional life but also her family life; she loves her family, and not just herself and her partner, but her entire joint family. She is especially close to her brother, Liam, and his children.
In a recent Instagram feed, Lisa showcased a very cute photo of her newborn niece (her brother's daughter), Everlyn. The little girl, in a fluffy pink jacket and holding her pink shows with her tiny fingers, was looking so adorable that it teared up many of Lisa's fans and compelled them to comment. Lisa even went on and thanked her brother and his wife, Nat, for creating such a cute addition to their family.
Before the birth of Everlyn, Lisa was also a proud aunt to the two other children of Nat and Liam, Jake and Josh. Apparently, her family is very important to Lisa. About having the children of her own, however, Lisa has a different story to tell. 
Behind Lisa Riley's Husband: Boyfriend Turned Life Partner
The Emmerdale actress has kept her boyfriends from previous relationships away from the prying eyes of the public eye. Al, her husband-to-be is a different story.
In the 2017 OK interview, the You've Been Framed presenter commented on her secretive relationship with her then-boyfriend, Al and said:
Everyone's so supportive and thankfully recognizes it's private.
She then went on to reveal that she has been dating her husband-to-be for three years now.
On 21 May 2018, Lisa took to Instagram to announce her engagement to her boyfriend of more than three years, Al.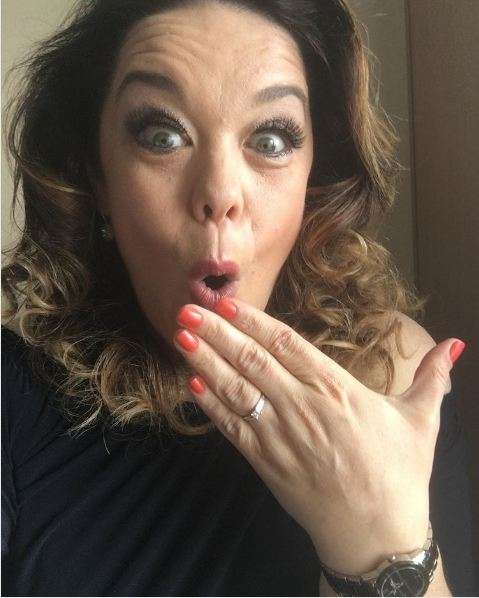 Partner Missing:- Lisa flaunts her ring after announcing the engagement with longtime boyfriend Al on Instagram on 21 May 2018 (Photo:- Lisa Riley's Instagram)
The caption which accompanied a snap of her showing off the engagement ring was a tribute to her partner and read:
My soulmate and best mate and love of my life Al is the best thing to have ever happened to me.
Although no date has been set for the wedding just yet, she explained a zero need to create a fuss about it According to sources close to the couple, Lisa's husband-to-be is a musician who aided her during her weight loss campaign.
Discover:- Fox Anchor Julie Banderas Choked On Divorce With Husband Or Balancing Married Life?
Lisa Riley Underwent Excess Skin Removal Surgery
Soon after Lisa had begun dating her then-boyfriend, Al in 2015, she was already losing weight. By 2017, she had already transformed from size 28 to 12.
The weight loss, however, posed another problem. Now, she was left with excess skin which was more than enough reason to go under the knife.
Following the surgery in the summer of 2017, she described feeling anew and even retracted her previous statements about not wanting to bear a child. In August 2017, while speaking on her show Loose Women, the Manchester native floated the idea of 'IVF' as a measure to conceive a baby with her partner, Al.
Talking to Mirror in late April the next year, she broke the news that her doctors had told her 'IVF' treatment would result in failure. Despite the setback in motherhood front, she asserted that her inability to bear a child wouldn't define her legacy. 
Lisa Riley's Weight Loss Regimen
Lisa stunned the world when she made a guest appearance on ITV's morning show Lorraine in July 2018. Appearing leaner than her usual self, the 42-year-old actress revealed that she had lost 12 stone (168 pounds) in just 18 months.
Weight Loss Tips:- Lisa spills secrets behind her weight loss regimen on an episode of the ITV morning show Lorraine which aired on 13 July 2018 (Published on 13 July 2018)
As a part of her weight loss regimen, the Manchester native had to change her lifestyle and had to stick to a strict diet plan. She also credited Zumba behind her windfall weight loss. Not just that, she explained that weight loss was more of a psychological thing in addition to diets and workouts. 
Interesting:- CNN's Christine Romans Divorced Husband? Married Status & Net Worth
The Emmerdale actress had appeared on the show to promote her new book Lose Weight for Life.
Like many people who struggle with weight loss, Lisa too confessed to looking for comfort in food. She explained:
People use food as a comfort blanket. I was guilty of that, food and stuff that's not too good for you was my comfort blanket.
A month after her appearance on Lorraine, The Sun released an article reporting that the 42-year-old actress had gone a strict diet regimen. According to The Sun, in addition to giving up alcohol, Lisa had limited her calorie consumption to 800 calories per day.