Chris Rose Married Life Secret! Treat Wife Well, Family Gets Better | Age Parents & More
he pointed out was the secret behind his married life...Not only has he got his parents and siblings as a family, but also has a lovely wife and kids...the sports commentator has got an estimated net worth of $3 Million...Standing at the height of 5'11...Chris graduated from Miami University when he was 22 years of age.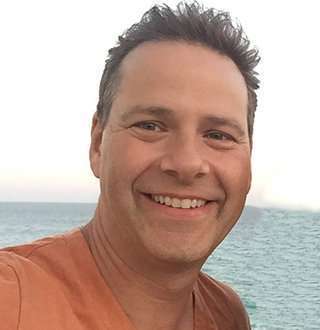 American sportscaster Chris Rose always had a knack for being more than busy. Despite the hectics of his professional life, he had been able to maintain a serene married life, thanks to a secret formula he adopted. 
Chris Rose is more popularly known as the co-host for the MLB Network's Intentional Talk and a studio host for NFL Network's NFL GameDay Highlights. He also hosts NFL GameDay Final and Thursday Night Football.  
CBS Sports Radio: Damon Amendolara of The D.A. Show taking Chris Rose's opinion on the Baseball team, Tampa Bay Rays (Published on 22 May 2018)
Chris also hosts NFL Network's huge events like Super Bowl, Pro Bowl, and NFL Draft. He additionally commentates for BattleBots, a Discovery Channel series.
You May Also Like: Who Was Lisa Nichols' Husband? Son Engaged, Life At Age 52 | All Revealed
Chris Rose's Bio: Age, Height, and Career
Born on 27 January 1971, Chris Rose was raised in Shaker Heights, Ohio. He went to University School in Hunting Valley, US.
Being a person who loves sports, Chris spent the majority of his childhood summers at North Star Camp.
In 1993, Chris graduated from Miami University in Oxford, Ohio when he was 22 years of age. His broadcasting career started as he served as station manager at an American broadcast radio station, WMSR.
Chris hosted The Best Damn Sports Show Period on Fox Sports Net from its establishment in 2001.
Chris became the sports commentator for Fox's coverage of the NFL in 2007. He hosted Big Shots: Titans at the Tee and initial season of The Cheap Seats in 2010.
Eventually, in April 2010, Chris took his place in the MLB Network and started co-hosting the popular show, Intentional Talk with Kevin Millar after a year.
The 47-year-old commentator joined the team of NFL Network on 28 August 2012.
Standing at the height of 5 feet and 11 inches, Chris is currently a studio host of NFL and is continuing doing MLB Network's Intentional Talk despite the vast difference in locations.
Chris Rose's Blooming Net Worth
Being the host and sports commentator of multiple networks, there is no doubt that Chris earns a lot more than an average presenter.
Adding to his occupation of a commentator, Chris has also appeared in movies like Mr. 3000 and Gone to Maui, which might have made him some reasonable amount of money.
Read Also: David Asman Bio: Age, Net Worth, Wife, Family, And Parents
Keeping aside the MLB Network and NFL Network, Chris also hosts for the Discovery series, BattleBots, which adds up to his earnings as well.
According to sources, the sports commentator has got an estimated net worth of $3 Million, which isn't that big of a surprise considering his high paying jobs.
Chris Rose's Family Life: He Is One Of Three Rose Siblings
Chris is one of the three Rose siblings in his family.
Despite being very busy with his schedules, Chris finds time to have good leisure time with his whole family.
The Rose household previously had five children, but the numbers have suffered a dip after his sister, Laurie passed away in 2016.
Chris often shares the happenings of his life in social media sites, from the celebration of a family reunion to the tragic loss of his sister that he shared on Twitter.
The Roses are a close-knit clan with all the brothers getting together for social events.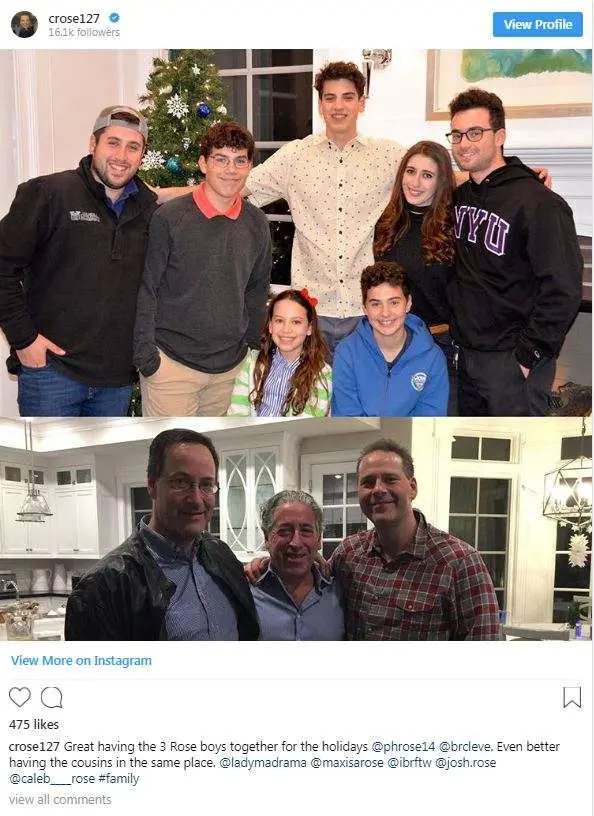 Together in Holidays: Chris posts a picture on Instagram with his brothers during the Christmas holiday on 22 December 2017 (Photo: Chris Rose's Instagram)
There is no doubt that he is a family man who hasn't lost his sight from family to the constant hosting jobs he takes on. Chris also often shares about the time he shared with his parents when they were still around.
He posted a picture of his mother on Instagram with the story he wrote 20 years ago. His parents were huge sports fans as well, which explains Chris' devotion towards sports, mainly baseball.
Chris Rose's Secret To Successful Married Life With Gorgeous Wife, Michele
Not only has he got his parents and siblings as a family, but also has a lovely wife and kids. 
He's got a beautiful wife and two sons who he loves inexplicably. His older son, Josh and younger son, Brady frequently appear on Chris' posts in social media. Chris has maintained a perfect bonding with his family.
In the talk with Sports Business Daily, Chris revealed the exact reason the couple had been able to make their relationship work for more than 20 years.
He stated that he took his wife, Michele on a date every Friday night, which helped the couple relieve the tensions they have had over the week. 
Not just that, he stated that the duo had regular communications and that he pointed out was the secret behind his married life.
The two have been married for almost 21 years, and Chris has shown no sign of admiring his beloved wife any less.
You Don't Want To Miss: Teryl Rothery Relationship Blooms! Engaged-To-Get Married, Meet Hunky Partner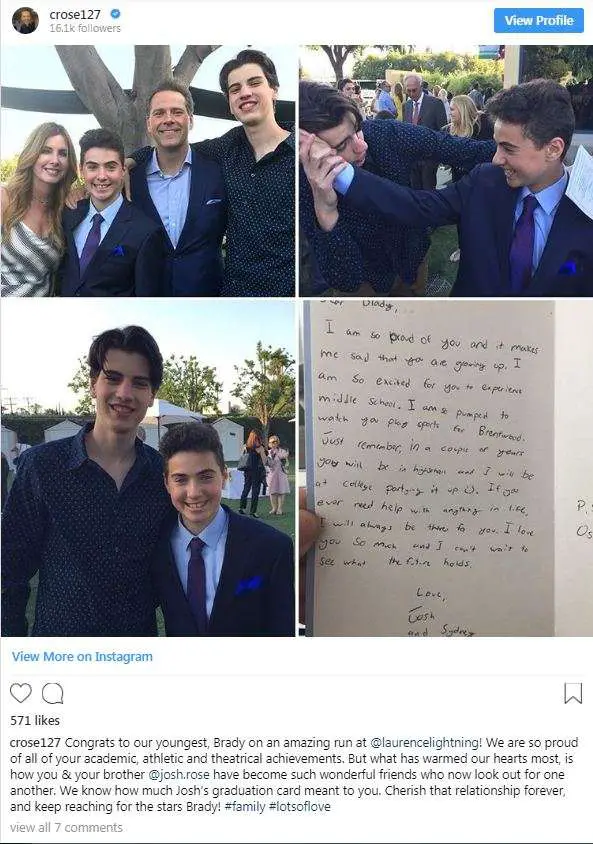 Blessed  Family: Chris posts a picture on Instagram congratulating his youngest son, Brady after his elementary school graduation alongside his older son, Josh and his wife on 8 June 2018 (Photo: Chris Rose's Instagram)
Aside from showing his affection to his wife, also doesn't hold back while sharing his proud father moments when his sons achieve something.
He even posted a picture on Instagram stating that his older son was already starting his senior year in high school and lamenting the quick passing of time.
Unlike many busy men, Chris has always made time to catch up to every special moment of his family's life. But above all, Chris is enjoying his married life with his beautiful wife and kids who are growing like weeds.