David Asman Bio: Going Strong in Marriage with Wife Marta Cecilia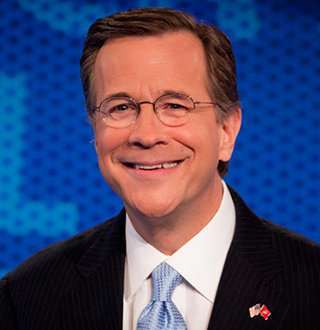 Quick Information
Date of Birth

1954 -02-15

Nationality American
Birth Place

Hollis, New York

Profession

Journalist

Career

1995-Present

Relationship Status

Married

Wife/Spouse

Marta Cecilia Asman (m. 1989-Present)

Ethnicity/Race

White

Father

Robert Asman

Mother

Nancy Johnston Asman

Sister/s

Melinda Asman Krasting

College

Northwestern University, Marlboro College

Son/s

Felipe David Asman (stepson)

Daughter/s

Kristiana Asman
American television news anchor David Asman is best known as the host of Forbes on Fox and the anchor for the Fox Business Network and the Fox News Channel.
Before joining the Fox News Channel's documentary unit, he previously hosted Fox News Live weekdays. 
While his professional endeavors have turned out successful, so has his married life with his wife, Marta Cecilia Asman.
Here's a quick run-down on Asman's career and personal life. 
David Asman's Age, Career
Asman, age 68, was born in Hollis, New York, on February 15, 1954.
He grew up with his parents — father Robert Asman and mother Nancy Johnston Asman — and Melinda Asman Krasting in Washington D.C.
Asman first joined Fox News in 1997 and has been associated with the network ever since.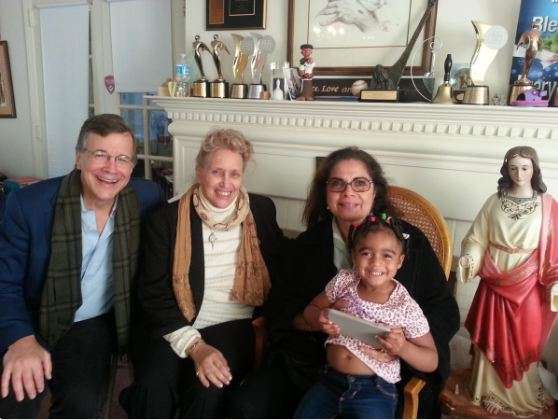 Asman with his wife Marta Cecilia Asman (carrying a child) and the Several Sources Shelter members on October 5, 2015. (Photo: Twitter)
He initiated his career at the editorial page of The Wall Street Journal, where he covered Latin America for twelve years.
He wrote over 100 articles and earned several awards from the Inter-American Press Association for his works on Cuba and Mexico, as well as for his editing of a weekly column on Latin America.
Asman left The Wall Street Journal to join Fox News in 1997. He has since interviewed many well-known personalities.
Along with it, he worked as the host of Fox News Live weekdays for several years but resigned from that position in August 2005 to head up to FNC's documentary unit.
Asman joined Fox Business Network in September 2007 and is presently the co-anchor of Forbes on Fox and other numerous Fox News specials. 
David Asman's Salary and Net Worth
Asman earns a decent salary of about $70K from his work in Fox News according to sources. However, there is no doubt that his net worth is calculated in millions.
Being an author of The Wall Street Journal on Managing and an expert television host, Asman has garnered a significant net worth.
David Asman's Married Life with Wife Marta
Asman has been in an enduring marriage with his wife Marta Cecilia for over three decades.
The television personality first met the love of his life while traveling to Central America in 1984.
He was in Managua covering Central American politics and economics for The Wall Of Street. A lawyer named Roger Guevara introduced him to Marta at a dinner party.
At the time, Marta already had a son named Felipe from her previous relationship. But her motherhood didn't stop the reporter from falling in love with her. 
So much so he helped her and her son flee from the Sandinistas. Luckily, they made it to New York sound and safe. 
The duo got married in 1989. After three years, he and his wife welcomed their daughter Kristiana Asman in July 1992.
David surely has a beautiful family and shares a lovely bond with all of them. 
David Asman's Kids Have Made Him Proud
Asman's stepson Felipe is a member of the U.S. Marine Corps. As the father of a patriot, Asman dedicated his op-ed column on the Fox News site to his stepson on July 4, 2016. 
He remembered the struggle of his son as an immigrant. 
When a communist dictatorship threatened to force Felipe into military servitude at the age of seven, he left Nicaragua with his mother in November 1988 to start a new life with Asman. 
Even though Felipe found it tough to speak English and adapt to the cold weather, he soon grew to love America and his new family. He was also interested in joining the U.S. military.
Further, into the story, Asman recounted his proud moment when Felipe became a U.S. citizen while fighting for his country in Iraq. He concluded the story with a blessing for his stepson and all the immigrant patriots.
As much as you love your son or daughter or grandson or granddaughter...be at peace with the incomprehensible truth that the Creator of all things loves you and those you love even more. pic.twitter.com/7RTKojES20 — David Asman (@DavidAsmanfox) April 27, 2021
In a Twitter post dated November 2021, Asman recalled a heartfelt moment he had with his stepson regarding his interest in the military, quoting,
When I asked him why he would be willing to sacrifice his life for a country that bungled his papers, he simply told me: 'I want to earn my citizenship.' 
While Asman proudly shares about his son on his socials, he also timely posts updates about his daughter, Kristiana.
He gushed about his daughter's wedding that took place on May 19, 2018. He even expressed his happiness over becoming a grandfather when his daughter gave birth to her first son on November 12, 2020.
On her first Mother's Day, Asman tweeted a video of his grandson and hoped all mother and their kids would share the joy expressed by his daughter and grandson.