Stream with Pride — 13 Top Rated LGBTQ Shows to Watch on Hulu
We've rounded up the Top 13 LGBTQ shows you can watch on Hulu.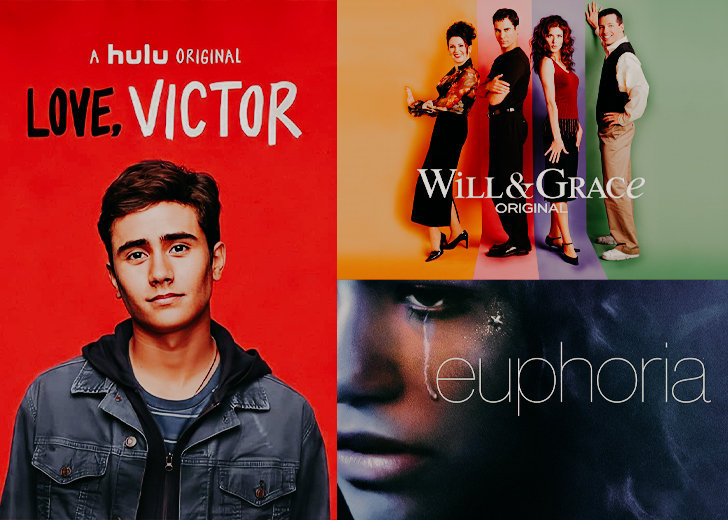 Every year, the month of June comes alive in rainbow hues and a lot of—well, Pride.
It is an emotional and magical time for the LGBTQ community who take to the streets waving flags of resistance and dancing to raise awareness of their communities' issues.
The month-long celebration is carried out in full gusto with parades, performances, and parties. 
However, this year, the world continues to be in lockdown to mitigate the spread of the coronavirus by taking the festivities indoors. But that does not mean Pride is canceled. 
There are plenty of LGBTQ films and TV shows to stay in with. And although the month of June has come and gone, Pride lives on throughout the year. 
Hollywoodmask has rounded up the top rated LGBTQ shows on Hulu that celebrate love and embrace themes relevant to the community.
Looking For Alaska takes us back to the pre-smartphone era, to the year 2005. 
Based on John Green's novel of the same name, the beautifully crafted 8 part series is a heartfelt story of teenage love and loss.
It's about a charming but clueless teenager, Miles "Pudge" Halter (Charlie Plummer), who transfers to a high school in Alabama and ends up falling in love with a girl named Alaska Young. 
While adapting a book to a series is no easy feat, the 8-hour series allows for a more substantial backstory for the other characters.
For example, in the series, Miles's beloved gay religion teacher Professor Hyde (Ron Cephas Jones), is more than just a mentor.
His character is fleshed out and handled with care and tenderness, which brings a new emotional depth to the story. Hyde discusses his late partner and the love of his life, Diego, and it might make you shed a tear or two. 
Queerness is at the absolute core of the acclaimed animated series Steven Universe.
Since its premiere in 2013 on Cartoon Network, Steven Universe has won fans young and old alike for its depiction of queer relationships and gender diversity.
The show centers on its eponymous hero, Steven, and non-binary Crystal Gems, who fight to protect Earth from monsters and other threats.
At the end of season one, we learn that Garnet, a gem, is a fusion of aggressive, masculine butch Ruby and gown-clad femme Sapphire.
These gemstones are openly affectionate to each other and even share an uncensored lip-to-lip kiss.
And it gets even better. In the episode 'The Question,' the lesbian couple have a wedding to renew their love, making the same-sex marriage proposal a groundbreaking moment for LGBTQ representation in children's cartoons. 
The show also explores gender identity through Steven, who is a direct challenge to the archetypal male hero in most cartoons.
Steven, surrounded mainly by female characters, blatantly opposes gender stereotypes using a pink shield and is often depicted in a dress. 
The groundbreaking cartoon championed LGBTQ visibility for five seasons straight.
When The L Word first premiered in 2004, it changed television forever.
The lesbian drama follows the lives of a group of glamourous Los Angeles lesbians; Shane McCutcheon (Kate Moennig), Bette Porter (Jennifer Beals), and Alice Piesczieki (Leisha Hailey).
The groundbreaking series aired long before marriage equality when LGBTQ characters were essentially non-existent on mainstream TV.
As a result, the series played a pivotal role for LGBTQ people of various backgrounds, experiences, and ages.
After a 10-year hiatus, the ladies returned for the reboot, The L Word: Generation Q. Their lives are intertwined with the "Generation Q," the new group of disparate queer men and women who are experiencing love, heartbreak, failures, and triumphs in LA. 
The second season of the show will premiere on August 6. 
When ABC debuted Modern Family is 2009, it was the first time audiences met a gay couple living together and raising an adopted daughter.
The gay dads Cam and Mitch (actors Eric Stonestreet and Jesse Tyler Ferguson) are not married initially because Prop 8 prohibited them.
But, after five seasons, they get married when support for marriage equality was at an all-time high, and several states had legalized same-sex marriage. 
Cam and Mitch drove LGBTQ parents into the pop culture mainstream and, over the next 11 seasons, helped dispel negative stereotypes about gay and lesbian parents. 
For those of you looking to educate yourself with a riveting history lesson on the LGBTQ movement, FX's Pride docuseries is a crucial starter kit.
The six-part docuseries documents milestones and trailblazers in the LGBTQ civil rights movement in the US. 
The documentary follows a single decade starting with the 1950s and continues through the 2000s.
Viewers get an inside look at all the biggest and most important moments in LGBTQ history, such as the Lavender Scare, the AIDS crisis, and the fight for marriage equality. 
The series also features transgender pioneers, including Dean Spade, Raquel Willis, Susan Stryker, and highlights icons like Madeline Tress and late civil rights leader Bayard Rustin. 
21 years ago, the US remake of the British television series, Queer as Folk burst onto the television screens.
The series chronicled the lives of a group of gay men, a lesbian couple, and some of the characters' family members whose lives became intertwined as they dealt with heartbreaks and failures while living in Pittsburgh, Pennsylvania.
It ran from 2000 to 2005 and was the first of its kind to depict LGBTQ life realistically on American television.
The show also addressed same-sex marriage and HIV/AIDS, workplace discrimination, conversion therapy, recreational drug addiction, and hate crimes.
Queer As Folk was more than just a show. It was a necessary voice for many people.
The three women at the heart of The Bold Type are precisely what the title says — BOLD!
The Bold Type is based on the lives of three best friends; Jane (the feminist writer, played by Katie Stevens), Kat (the social-media director, played by Aisha Dee), and Sutton (the fashion department wunderkind, played by Meghann Fahy).
These women embark on a journey of independence with their bold choices and are not afraid to raise their voices even in a board room full of men.
What sets this girl power dramedy apart is the dialogue on taboo subjects like racial/class/gender privileges and body positivity, to name a few.
Watching the three bold ladies be there for each other no matter what will make you want to love your friends much more.
It's happened to all of us at one point: You stumble upon a great TV show and binge on it, forsaking your sanity, and while you wait to find out what happens in the next season, with no warning, the network cancels the show. 
Happy Endings was one such show, and viewers are still upset by the loss. However, in three short seasons, the show garnered a cult following. 
The David Caspe–created single-camera comedy follows six friends; Alex (Elisha Cuthbert), Dave (Zachary Knighton), Jane (Eliza Coupe), Brad (Damon Wayans Jr.), Penny (Casey Wilson), and Max (Adam Pally).
The endearing group of weirdos is forced to reassess their friendship after Alex leaves Dave at the altar. But they eventually learn to co-exist again and go about their typical sitcom shenanigans. 
The show is brilliantly written and packed with ever-deepening jokes that continuously subvert expectations in both quantity and quality. 
Further, Happy Endings brought about a paradigm shift in the portrayal of gay characters in sitcoms. In the show, Max is entirely detached from the archetypally effeminate portrayal of gay characters.
Instead, he is a character that happens to be gay and not a 'gay character,' - he isn't defined by his orientation. For a long time on American television, and particularly in the sitcom realm, such a distinction didn't exist. 
Let's face it: Buffy the Vampire Slayer is a queer show. 
Buffy, portrayed by Sarah Michelle Gellar, is a teenage girl with supernatural abilities who fights vampires, demons, and the forces of darkness.
And while she does not vocally identify as queer, her story as a slayer mirrors the debacle the LGBTQ youth face. Buffy is the one and only vampire slayer.
Throughout the series, she struggles with her identity in a world where no one is like her, much like the queer youths who experience loneliness because of their unique identities.
For example, when Buffy comes out to her mother as a slayer, she is kicked out of her house, which many queer youths can resonate with because they suffer the same fate at the hands of their families.
The show will always be remembered and loved for the unique and progressive way it approached LGBTQ topics.
RuPaul's Drag Race is more than just a show—it's a bona fide cultural movement. 
Hosted by RuPaul himself, each week, a group of drag queens competes in various challenges to become the next drag superstar. Think Project Runway meets America's Next Top Model. 
The show has delivered so many hilarious and genuinely emotional moments. But it was more than just entertainment.
Throughout its 13 seasons, the show has educated viewers on essential LGBTQ communities' issues such as HIV/AIDS, depression and substance abuse; conversion therapy; same-sex marriage; family abandonment, etc.
It's indisputable that RuPaul's Drag Race has had an unprecedented impact on the LGBTQ community and has brought drag culture to the mainstream.
Since its premiere in 2019, Euphoria has been commended for its unflinching depiction of the chaotic and provocative lives of Generation Z.
For those who are not familiar, the show is narrated by a 17-year-old drug addict named Rue, played by ex-Disney star Zendaya.
Rue struggles to deal with her father's death and her history of drug abuse. The series is not sugar-coated, and life is portrayed as it is. 
Some of the more compelling storylines revolve around Rue's love interest Jules, a transgender person, played by Hunter Schafer. Jules has a heartbreaking backstory where she is tricked into conversion therapy by her mother and subsequently attempts suicide. 
Fortunately, she can transition thanks to her supportive father, but it does not come without baggage. 
The show is definitely worth a watch
Every year an avalanche of LGBTQ content is released, and in June 2020, it was Love, Victor's turn. 
The TV series is a spinoff of 2018 rom-com Love, Simon, the first studio movie to feature a gay teen coming out.
It strays away from stereotypical gay characters often depicted as Caucasian, upper-middle-class, whose family and friends readily accept their identities.
This nonchalant approach does little to show viewers the painful and challenging journey a non-straight person goes through.
In Love, Victor, the protagonist Victor Salazar (Michael Cimino) is a Latino, lower-middle-class Catholic dealing with the pain of being an outcast for being a masculine gay man.
A sizable portion of the population link being gay with femininity, but Victor challenges this notion.  Love, Victor engages the viewer and educates them about a wide variety of LGBTQ struggles. 
In 2012, while discussing marriage equality on Meet the Press, then-vice president Joe Biden said, "I think 'Will & Grace' probably did more to educate the American public than almost anything anybody has ever done so far."
This assertion was especially true in 1998 as Will and Grace was the first prime-time TV series with openly gay male characters on prime-time television.
As a result, the show reduced prejudice against gay men and paved the way for many of the shows listed above. 
Critically acclaimed shows like Queer as Folk and Boy Meets Boy were inspired by Will and Grace.