Zendaya Shares 'Euphoria' Season 2 Set Photos — Here's What's Going On with the Show's Productions
These behind-the-scenes snaps from 'Euphoria' season 2 look great!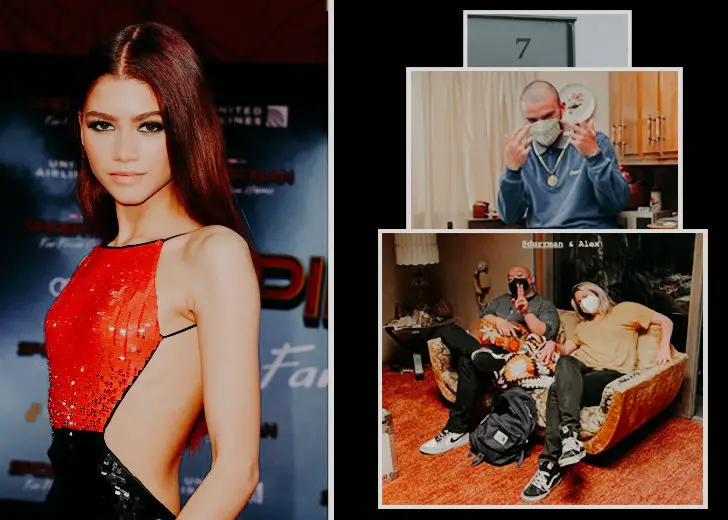 It has been a while since the first season of Euphoria concluded, and fans who are eagerly waiting for a second season will be happy to know that it is now in production. 
The show's lead and general heartthrob Zendaya recently shared some behind-the-scenes snaps featuring her co-stars on her Instagram story. 
Zendaya Shared BTS Snaps
The series of snaps began with the actress sharing a poster that Euphoria's official Instagram handle put up since the show was recently nominated for a Peabody Award.

'Euphoria' poster on Zendaya's Instagram story (Source: Instagram)
Next in line was a snap of actor Agnus Cloud posing on a kitchen counter with the caption, "Missed this kid." Cloud plays Fez on the show. 

Agnus Cloud on the sets of 'Euphoria' (Source: Instagram)
"And these kids...," she wrote on the next snap, which framed lighting technician Danny Durr on the couch resting his feet. He was accompanied by Alex, whom Buzzfeed labeled a friend of Durr.

Danny Durr and his friend Alex on the sets of 'Euphoria' (Source: Instagram)
And finally, she uploaded a photo of the soundstage that Euphoria is shot in, with the caption, "Just being back here in general...missed it."

The studio where 'Euphoria' is being shot (Source: Instagram)
The show wrapped up its first season about a year-and-a-half ago and has since treated fans with only two special episodes, one in late 2020 and another in early 2021. 
Season 2 Was A Long Time Coming
Despite HBO's history of leaving viewers hanging, this subversive series will make a comeback, or at least that is what Cinemablend reports. According to the outlet, the cast and crew have been really busy behind the scenes to get ready for the upcoming season. 
Further, the show was greenlit for a second season back in July 2019 when the first season was still airing. At the time, the show commanded a viewership of 609,000 viewers in HBO's 10 p.m. slot and eventually grew to become one of the most-watched TV shows of the year. 
With such promising numbers, the showrunners were making preparations to start another season, but the unforeseen happened. The COVID-19 pandemic shut everything down in March 2020.
Delayed Because of the Pandemic
The show's official handle even shared an image of Zendaya and Cloud going over their sophomore season lines on March 11, 2020. "Here we go!" read the post's caption, suggesting that the production was well underway. 
Months passed since Tinseltown had come to a screeching halt, and it wasn't until August 2020 that fans received an update. In an interview with InStyle, Zendaya made the following statement:
There is a beautiful second season that has been written, but in order to do it the way we want to do it, we need to wait until it's safer.
As is public knowledge, "safer" is a very loose term these days and has been for well over a year now. Even so, reports from various outlets affirmed that the show began filming in March 2021 and will be on-air by the end of the year.