The Stephanie Miller Show Host, Lesbian Journalist With Massive Net Worth
Comical genius Stephanie Miller has appeared on many shows such as... With a successful radio career, she boasts the net worth of... Stephanie, who stands at the height of... came out as a lesbian on air to the world in...The first women partner she publicly dated was... The lovers were head over heels in love with each other and did not shy away from sharing it in public.

American Radio Personality Stephanie Miller has entertained the world with her wit and humor successfully over the years. However, she is not only an outstanding entertainer but also a source of inspiration to the gay community. 
The American-native is a radio host famous for hosting a political radio show, The Stephanie Miller Show (2004). She is the radio star who garnered #1 ratings at KABC and KFI in Los Angeles and other radio stations in New York and Chicago.
She was also ranked as 23rd most important radio show host in the USA by Talkers Magazine in 2017.
The Stephanie Miller Show: Stephanie hosts her talk show on her YouTube channel (Published on 10 October 2018)
Apart from being a talk show host, Miller is also a YouTuber, stand-up comedian, and an actress.
Stephanie Miller's Career Turn To Radio Was Fortunate 'Accident'
Miller started in the radio industry in 1985 by broadcasting from Rochester, NY. But it wasn't the passion that led her to the radio, it was just a fortunate 'accident,' and the world is thankful for it. 
Find about: Celeb Chef Alton Brown & Flames Up Married Life | Divorce Ends Love
In her interview with Afterellen (2016), she told:
I always say radio was an accident until they started paying me a lot of money and then it wasn't an accident anymore.
Soon, the fortuitous 'accident' led her to have her weeknight show in LA. The determined Miller later also tried to jump her way from radio to TV by launching her own late night talk show. But sadly, it was canceled after a mere 13 episodes.
But no worries for Miller, good days were soon to embrace her again. In 2004 she started her political talk show The Stephanie Miller Show-- and it's a big hit up to this day amongst her six million listeners.
She has also kept up with her gift of comedy by touring with a group of liberal comedians in Miller's Sexy Liberal Comedy Tour (2016).
What Is Stephanie Miller's Net Worth?
At the age of 49, the comical genius- with a successful radio career and a youtube channel with 10k subscribers- boasts the net worth of $2 million. Her estimated yearly salary from only YouTube is $186 - $3K.
Stephanie has appeared in several movies and series as an actress such as Shattered Vows (1984), View From The Top (2003), General Hospital, Diagnosis: Murder (1999), and Just Write (1997).
She had guest hosted on CNBC's Equal Time and appeared on many shows such as ABC'S Good Morning America, NBC's Today Show, CNN's Larry King Live and FOX's The O'Reilly Factor.
Discover: Ali Astall Wiki At Age 40! From Exuberant Wedding To Sporting Baby Bump
Apart from that, Miller is also the author of the book, Sexy Liberal! Of Me, I Sing (2016) and host of the podcast, Stephanie Miller's Happy Hour.
Stephanie Miller's Short Bio (Age)
Born on 29 September 1961, in Washington, D.C, Stephanie Catherine Miller was the daughter of former U.S. Representative father, William .E. Miller, and mother, Stephanie (Wagner).
She is the youngest among her sibling Libby, Mary, and Bill. She grew up in New York- the city that never sleeps.
The Happy Hour host graduated with a theatres degree from the University of California. After graduation, she pursued stand-up-comedy and performed at Laugh Factory in L.A.  
The state of Hollywood, L.A also opened doors for her to the world of movies and series. After short stints in the movie industry, Stephanie, who stands at the height of 5 feet and 7 inches, embarked her career path into the world of radio.
At Age 49, Stephanie Miller Comes Out As Lesbian On Air!
Gay and Lesbians are more supported in today's world compared to decades ago. All thanks to the many inspirations who've encouraged thousands of lives to accept themselves for who they are. After all, love is love.
Inspired by her lesbian friends, Melissa Etheridge and country singer, Chely Wright, Stephanie came out of her closet on air to the world in 2010. With an empowering message, she said,
Today is the day that I stop cheering gay rights from the sidelines and that I step out on the battlefield.
It was a big day for Stephanie to step out of the sidelines but it also hinted on serious threats towards the downfall of the show as most of her viewers were men. But shockingly her listeners were very positive towards her decision and has been a loyal fan of hers till this date.
A win-win for the brave Stephanie, it must have been an extremely empowering moment for her!
Know The Saga Of Stephanie Miller's First Lesbian Relationship!
Sexuality is all about exploring, identifying and then accepting. 
Miller dated men until the early 90s. The last boyfriend she had was in 1991. She doesn't deny finding men attractive to this date but after dating women, she realized that she found more comfort in a relationship with women rather than men.
Know more: Tal Fishman Bio: Is YouTuber Gay? Girlfriend, Parents, Sister, Height & Facts
The first women she publicly dated was Lisa Bendre. The lovers were head over heels in love with each other and did not shy away from sharing it in public.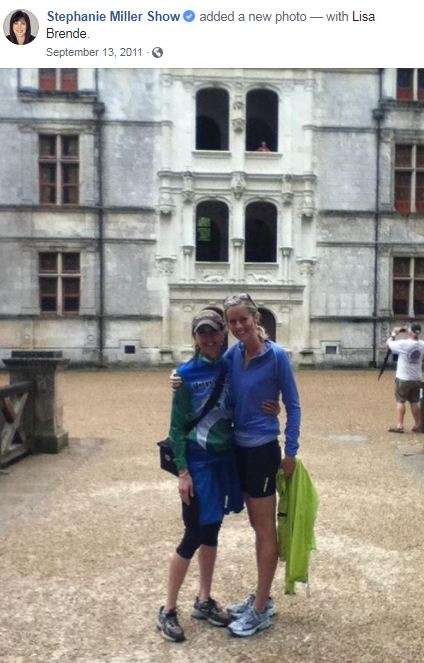 Lesbian Couple: Stephanie Miller Vacations With Her Partner (Photo: Stephanie Miller Show's Facebook | September 13, 2011)
But as they say, sadly, nothing lasts forever! Things didn't work out and the two have put a full stop to their relationship. Her former partner is now married to another woman.
It's not the end of the world for Stephanie though, her wit and beauty can charm possibly anyone!