Out Gay James Charles Bio: Wants Boyfriend, Desperate For Love?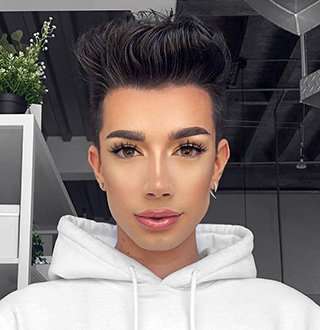 Sisters! If you are one of those who keeps up with James Charles, then you already know that this is how James Charles loves to greet. His girl fans don't have any problem with that, but if the guys out there don't want to get addressed as 'Sisters,' then they better try their luck and be his boyfriend. Cause guess what! He is desperate for one.
James Charles is a talented openly gay makeup artist who rose to prominence as the first ever male model for Covergirl in 2016. In the following years, he established himself as a successful YouTuber with nearly 10 million subscribers in his channel. He joined the Sister Squad in 2018 alongside the Dolan Twins and Emma Chamberlain. He has been using YouTube as the best platform to express himself and is in love with it.
Getting Kylie Ready For Halloween: James Charles does Kylie Jenner's Halloween themed makeup using Kylie Cosmetics' Halloween inspired palette. (Published on 9 Oct 2018)
James' YouTube gig encloses makeup tutorials and hacks, skincare routine and fun makeup challenges and more. He is a self-taught artist and an internet sensation who has garnered more than 9.5 million followers on his Instagram.
Another YouTube Sensation: Who Is Emma Chamberlain's Boyfriend?, Included Wiki, Age, Parents, Height, Net Worth
James Charles' Bio: Supportive Parents & Brother
The artist's real name is James Charles Dickinson, and he was born on 23 May 1993 in Bethlehem, New York. He shares his parents with a younger brother Ian Jeffery who is also an Instagram star.
His parents and brother appear on his YouTube videos now and then giving the viewers an insight on how joyful the family is.
The 19-year-old gay man first came out as gay to his parents at the age of 12. Although most people still have a hard time accepting him for who he is and what he does, his parents have been supportive ever since.
James is very good of an artist; not merely in doing makeup but also in drawing and singing. It was his father who shaped his interest for art and who converted a basement into a makeup studio so that he can get a head start in his career.
His mother has been equally supportive of him. She can even fight against his haters in the social site's comments section. That's how bold of a mom she is!
Stardom Adding Net Worth To James Charles
It has not been long since the Instagram star came in the utter spotlight- as the first-ever male model for Covergirl in 2016.
Similar: Manny MUA Empowering 'Gay Story' | Net Worth & Height Details At Age 27
And holding on to that stardom has been a challenge on its own provided he happens to be one of few males in the female dominant glamorous industry. There have always been people out there trying to pull him down, but he knows better than to pay a pennyworth attention to the hate.
Now [Instagram] has added filters, so I've removed the classic hate comments, but people still manage to get through every once in a while," he continued. "They really don't bother me. I have a thick skin, and I'm definitely not willing to let someone without anything better to do than hate on someone else behind a keyboard get into my head. I've got way more important things to worry about! 

-Cosmopolitian
The self-taught artist has a relatively smart way of tuning out the negativity for his young age in the fame. This is one of the reasons for his ascending career success in YouTube and in glamour. 
YouTube is the YouTuber's thing, and he's getting better at it with each passing day. He earns a maximum of $4.4 million annually from YouTube which essentially boosts his net worth of $12 million.
He has gone past the average in professional life. All he needs now is a love life to relish upon.
Why Can't James Charles Get A Boyfriend
James is dying to date a boyfriend. Well, not just any boyfriend but the one who'll be with him for love not for the slightest advantage of dating an internet star.
He has come across guys who would get close to him for the footage, and that's why he is cautious when it comes to the relationship.
But he can't deny that he's missing out a big time in the void of a boyfriend.
Read Also:  Kandee Johnson's Boyfriend Turned Husband-To-Be Shares Magical Story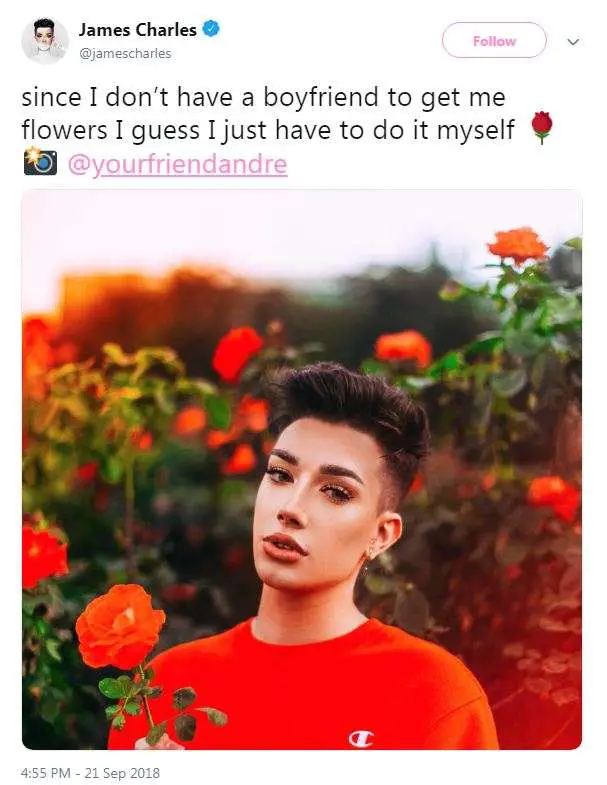 No Boyfriend: James Charles uploads a Twitter post on 21 Sep 2018 suggesting that he doesn't have a boyfriend (Photo: James Charles' Twitter)
Since he remains single to this day, shout out to guys and gays! If you're looking for someone to shower with pure love, then James is the one.