Will Castro Bio: Contently Married With Blooming Family; Age, Net Worth & More
Will enjoys an enormous net worth and is enjoying the bio of a millionaire... he is an almost ideal family man, who is happily married to his wife... At a young age, his parents got separated, which split their family into two...The fortunes he has made is evident by his posh house in Newyork

American car automotive expert Will Castro didn't just know how to make a great car even better, but also knew how to start and bring up an almost ideal family!
The Puerto Rico-native based in Newyork, is an American businessman, entrepreneur, and reality television personality well-acclaimed for his company Will Castro's Designs, and Unique.
Unique Rides: Bet Network takes child star Pio shopping at Unique Rides (Published on 22 August 2018)
As of now, Castro features on his reality television series, Unique Rides, which is currently streaming on the Velocity network. The show first premiered in 2016.
Also Read: Ryan Friedlinghaus Wiki: Massive Net Worth & Merry Family, Perfect Combo!
Will Castro's Bio(Age): Family & Career Height
Born on 4 April 1969, in Puerto Rico as Uriel Luis Castro, Will grew up on the Lower East Side. He has three siblings; two younger brothers and a sister: Chris, Bobby, and Dawn. At a young age, his parents got separated, which split their family into two.
Later, he moved to Brentwood, where he graduated high school.  
Then in the early 80s, Castro started working at John's Auto Body in Islip. With the help of a family member, that's where the story of Will Castro's Designs began.
Initially, people were skeptical about going into his restoration place and was in need of a high profile client to increase his business' portfolio.
Will's Brother Landed Him His First Client, Rapper Erick Sermon
The restoration nerd had his first A-list client in the form of a rapper, who happened to be his brother's friend. 
His younger brother, Bobby, who attended high school in Brentwood with (rapper) Erick Sermon-- approached him with a lucrative offer that the rapper had signed a record deal and wanted to ignite his rapping career by besting his competitors with a dashing car.
While the rest of the rappers had a Mercedes-Benz 190E, Sermon had a 300E on which did the custom freak his magic.
When the customizations were finished, he dropped off the car at an Apollo Theater concert in August 1989 where many hip-hop stars were performing and attending. Looking at Erick's modified vehicle, the majority of the people dropped their jaws in awe of the glorious customization work.
Explore: Anna Cathcart Explicit Wiki: Age, Parents, Net Worth, TV Shows | Detailed
That's when he began to gain a rep for himself and decided to open his car-detailing shop, Willie's Shape & Shine. Then the evolution of his company took place. By 2012, the Will Castro Designs became the contender to claim the throne as the best car designing company.
Trivia: Surprisingly, the king of customizing drives a 2013 Dodge Dart.
As of 2018, the company has been around for over 15 years and become a highly acclaimed international brand with A-list celebrities and athletes, corporate customers and automotive enthusiasts.
Find Out About Castro's Net Worth & Lavish House
Will enjoys an enormous net worth and is enjoying the bio of a millionaire. He boasts the net worth of $5 million from his successful career as a car modifier.
Apart from that, he has also been featured in various reality TV series, Unique Whips, Unique Whips: Special Edition, and Unique Autosports: Miami. Similarly, his client list includes several A-list celebs with the likes of Odell Beckham Jr., 50 Cent, Sean Combs, Pamela Anderson, LeBron James, and Donald Trump. 
The fortunes he has made is evident by his posh house in NewYork; he shares with his family members. (Acc. to his website bio)
Will Castro's Blissfull Married Life: Wife & Children Details!
The measure of a man's happiness should not be counted through the house itself but those who reside in it.
See More: Garry Trudeau Bio: Relishing Old Love With Wife At 69 - Married Life & Trump Talks
Will, a millionaire through his endeavors, is an almost ideal family man, who is happily married to his wife, whom he keeps out of the public eyes. The couple share three children; two sons, and one daughter.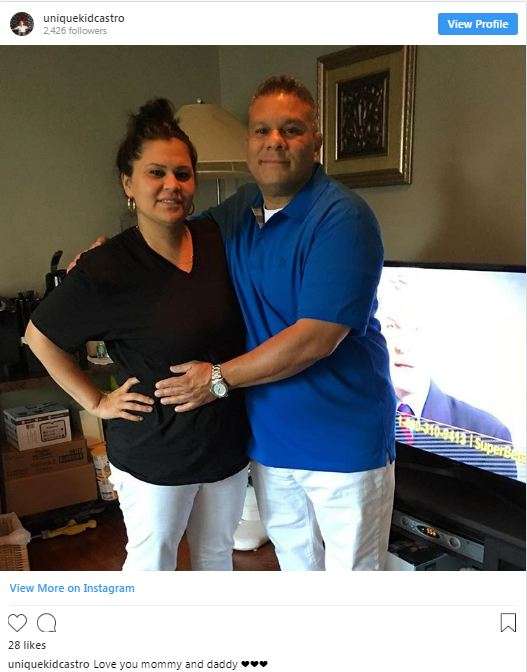 Family Love: Will Castro's son showcases his love for his parents on 4 September 2016 (Photo: Uniquekidcastro's Instagram)
Although the wedding details remain confidential, several internet-based biography sites have listed him to be married.
Reflecting on his twitter feeds, he could have been married to his wife before 2009--it was the first time he shocked his fans with the knowledge about his wife as well as a daughter. On 25 November 2008, he tweeted,
On my way to have Thanksgiving dinner with my wife, daughter and Unique South family.
Although he doesn't talk much about his wife, he shares his life as a father on his Instagram accounts. From milestone like wishing his children happy birthdays to sending them to school, he regularly provides insights into his family life.