Wayne Carini Splendid Net Worth With Wife Of 3 Decades & Daughters! Cars For Now & Ever
the veteran car collector is intent on using his wealth to a better cause and has been ably supported on his journey by his wife...At the young age of 9, Wayne fell in love with cars after driving his first Ferrari...He has been married to his wife Laurie for more than three decades now...The couple's elder daughter Kimberly suffers from autism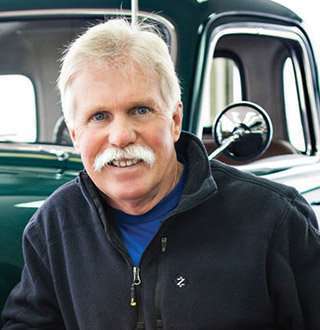 Quick Information
Date of Birth

Oct 13, 1951

Age

71 Years, 5 Months

Nationality American
Profession

Television Personality

Relationship Status

Married

Wife/Spouse

Laurie Carini

Divorce/Split

Not Yet

Dating/Affair

No

Gay

No

Net Worth

$20 Million

Ethnicity/Race

White

Father

Bob Carini

Mother

Rosemary Carini

Height/ How Tall?

5'4" (1.63 m)

Weight

N/A

Hair

Short

Hair Color

White

Eye Color

Blue

Daughter/s

Lindsay Carini, Kimberly Carini
Despite having a considerable net worth, Wayne Carini's life has not changed. Still living in a simple log home, the veteran car collector is intent on using his wealth to a better cause and has been ably supported on his journey by his wife.

Wayne Carini is a professional American classic car restorer who became popular in the public's eye after appearing in a show titled Chasing Classic Cars. He also appeared on the jury panel in the debate entitled "Why Driving Matters" in Scottsdale, Ariz on January 2018.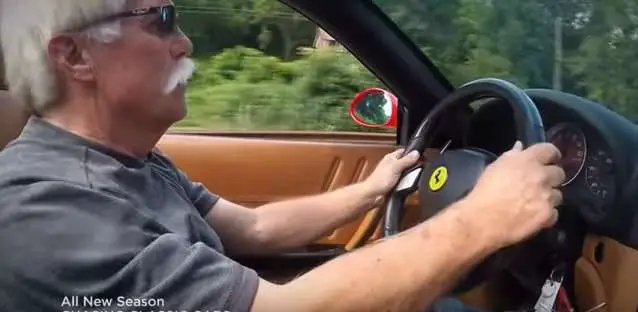 New Show On Its Way: Wayne Carini on the trailer for the new season of the hit show Chasing Classic Cars on 28 February 2017. (Photo: YouTube.com)
Besides Chasing Classic Cars, he was involved in the TV show My Classic Car as himself and also in a TV series documentary Overhaulin.
Similar: Danny Koker Enormous Net Worth Revealed! Richest Among Fellow American Pickers?
To get to know more about this car enthusiast here is a wiki-like bio with information on his career, family and more:
1. Wayne Carini Born In Family Of Car Restorers
Born on 13 October 1951 at Portland, Connecticut to father Robert Carini and Rosemary Carini, Wayne was a part of enormous family growing up. With nine brothers and sisters, he always had company during his childhood.

His father also had the same passion for cars like him. Although Robert did not reach the level of success his son, he was a respected member of the vintage car collector community and passed his genes onto his son, Wayne.

Wayne adores his father a lot, which is evinced by posts on his social sites. On the occasion of the Father's Day 2018, he shared a picture with his father on Facebook, wishing him on his special day.
2. Wayne Carini's Career: From Passion To Collector Of Vintage Cars
The American national grew up with a keen interest in automobiles. At the young age of 9, Wayne fell in love with cars after driving his first Ferrari, a 1960 Rosso Chiaro 250 SWB.
The enthusiasm developed into a full-fledged career for the vintage cars collector and had dedicated his whole life to the study of cars and automobiles. Initially learning the art of restoring a Ferrari by the former Ferrari racing mechanic, Francois Sicard, he has helped to pass on the knowledge to many more.

After developing a passion for vintage cars, Wayne started three companies. He is the owner of three car dealer companies in Portland including F40 Motorsport, Continental Auto Ltd, and Carini Carozzeria. All these companies specialize in maintaining and restoring collector cars and selling them through an auction.  

He has also made appearances in various television shows and extended his automobile expertise to various magazines.
In fact, he is the man behind the steering in the Discovery Channel's hit show Chasing Classic Cars, which is a cult among vintage car enthusiasts. Carini got the opportunity for the Discovery show when his passion and love for the chasing of vintage cars was noticed by Jim Astrausky, the chief of Essex Television Group Inc.
According to the wiki, the show premiered on 3 June 2008 and has already completed its 13th season on July of 2018. It has proven to be one of the biggest successes in the history of the Discovery channel as it shattered its 2017's show ratings by 59%.
Before joining as the host of Discovery's highest rated show, he attended Central Connecticut State University in New Britain to become an art teacher.
3. Wayne Carini's 32 Years Of Blissful Marriage With Wife Laurie
Moving onto his love life, he has been married to his wife Laurie for more than three decades now. The couple shares two daughters: Lindsay and Kimberly.
Having spent more than 32 years of life with each other, the spouses have not only enjoyed their happy times together, but also proved to be stiff support for the other in tough times.
4. Wayne Carini's Elder Daughter Suffers Autism In Early Age
The couple's elder daughter Kimberly suffers from autism just like Ron Funches' son. She was diagnosed with autism during her early age. Instead of seeing it as a setback, the spouses stuck together in their daughter's fight have also tried to help raise the level of awareness against Autism.

In March 2017, Wayne took his daughter at a ride in one of his cars after its restoration. He believes that every time he rides together in a car with his daughter they get to know each other better.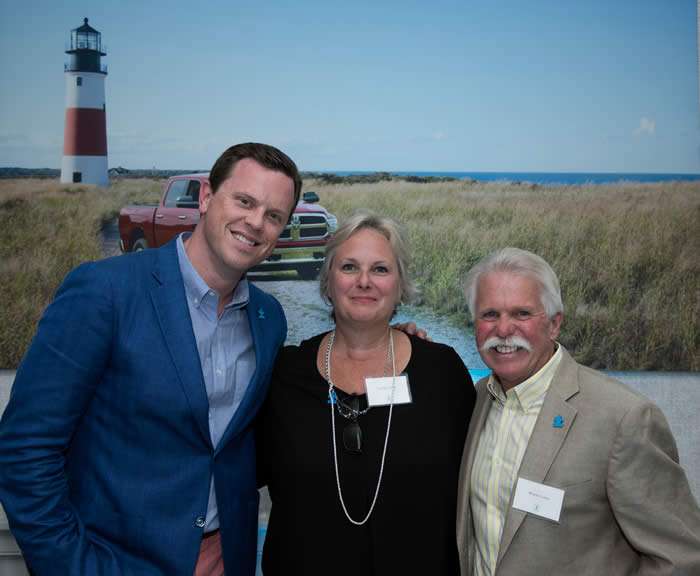 Together With Wife Against Autism: Wayne Carini with his wife Laurie and Willie Geist, on the 10th anniversary of Autism Speaks on 23 July 2015. (Photo: anantucketwedding.com)
The husband and wife duo have been active advocates of the fight against autism and are actively involved in fundraising events and charities against the disease.
5. Wayne Carini's Wife Helps Amass Huge Net Worth
From the lifetime experience of cars, Wayne now has been able to earn a massive amount of fortune. His wealth mostly accumulates from selling exotic cars to a variety of buyers including Hollywood A-listers. He is also the owner of successful automobile companies like Carini Carozzeria, F40 Motorsport, and Continental Auto Ltd.
You May Like: American Pickers' Robbie Wolfe Wife & Family Revealed! Bio About His Age, Family, Net Worth
He also works in the television including Chasing Classic Cars and various other shows have also helped to boost his earnings. Adding more to his earnings he also owns a merchandise brand called Carini which offers the t-shirts in various colors and all the sizes for $25.
With all these sources of income as of now in 2019, he has accumulated an estimated net worth of $20 Million at the age of 66.

However, it's not just Wayne's knowledge about cars that he has been able to garner his net worth. He was ably supported by his wife, his wife Laurie for his success. Laurie has been the most critical support system in Wayne's life. Wayne acknowledged his wife's role and explained that she helped him in his business and also during big deals with the customers. Not just that, his wife is the first person, Wayne turns to when he is in need of advice.

The whopping net worth and worldwide fame have not got to the car enthusiast as he and his wife still lives in a log house, which was built 33 years ago. His sprawling property houses consists of a few dozen museum-quality cars, racers, and trucks.

Some of his collection includes 1932 Auburn Boattail Speedster, 1936 Ford pickup, and 1948 Davis Divian. He donates a hefty percentage of his wealth to various charities and also contributes a handsome sum for research to find a cure for Autism.
6. Fast Facts About Wayne Carini's Hit Show Chasing Classic Cars
1. Although during the auction of the cars, the price seems to appear reasonable and satisfactory. In reality, the buyers end of paying more due to premium percentages, reserve/non-reserve cars,  additional fees and costs that can add up to more than thousands of dollars.
2. According to some former stars of the show including Edd China, channel velocity has a huge influence on the production and workings of the show.
3. David Gooding, an important personality of the show, has sold almost $20 Million worth of Seinfeld Cars which is undoubtedly an impressive achievement.
4. Wayne is not always fond of the cars he admiring to his guest. Sometimes he doesn't even know what he is looking at but plays interest for the sake of the buyers.
5. Although the show has been out for almost a decade, the rankings started to increase only from last two years.
6. Wayne was once accused of being a flipper and he goes into many of these sales only thinking of the money he makes when he resells the rare or exotic car. However, those accusations have not made any hindrance on the success of the show.