Taylor Goldsmith & Mandy Moore Married, Inside Their Secret Wedding Ceremony
The 32-year-old rocker is the frontman of the folk-rock band Dawes. The little-known folk band's vocalist is more affectionately known as the love interest of Mandy Moore. His preference of partner has also been influenced by music. Taylor had been dating pop singer and actress Mandy Moore.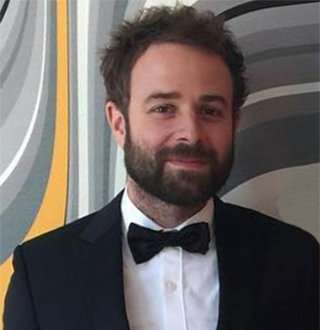 Taylor Goldsmith had a significant change in his life in the year 2017. The actor had not just one but two major decisions to make, which turned his life for good.
The 32-year-old rocker is the frontman of the folk-rock band Dawes. The little-known folk band's vocalist is more affectionately known as the love interest of Mandy Moore.  
Sing It Out: Taylor Goldsmith sings Strangers Getting Stranger on an episode for the Nothing Is Wrong sessions (Published on 13 July 2018)
Taylor has released six studio albums with the band and their fourth album All Your Favorite Bands, debuted at the no. 5 in the folk chart.
Taylor Smith's Passion For Music With Brother Started Out Early
Born on 17 August 1985 in California, a hotbed for hip-hop music, Taylor never inclined hip-hop. Moreover, he was interested in the lyrics heavy, acoustics guitar-laden country songs.
You May Also Like: Stacey Solomon & Boyfriend/ Partner Closer To Get Married, Fixed A Date?
As kids, Taylor and his brother Griffin had a band for themselves. Taylor would play the guitars and vocals while Griffin would beat the drums.
What started as a passionate past time for the brothers later became a full-fledged career. 
Taylor started his singing career with punk band Simon Dawkes in the mid-50s. However, after the departure of co-songwriter Blake Mills, the band had a change of genre and chose folk rock and indie rock as their genre of music.
He added his brother Griffin to the group and was renamed only as Dawkes. Apart from the Goldsmith brothers, the band also consists of Wylie Gelber (bass) and Lee Pardini (keyboards). 
Taylor recently released the band's sixth album, Passwords in June 2018, and is receiving a massive favorite among country listeners with singles Never Gonna Say Goodbye and Telescope proving to a firm favorite. 
Taylor admits that his songs are 70s inspired soundtracks, a period of dominance for the country music. 
Taylor Got Engaged To Famed Actress Mandy Moore
What's more, his preference of partner has also been influenced by music. Taylor had been dating pop singer and actress Mandy Moore, former girlfriend of American Actor Wilmer Valderrama, since the middle of 2015.
Read Also: Yovanna Ventura Age 22 Wiki: From Dating Justin Bieber To Height Details
And after the finalization of Mandy's divorce with the previous husband, former Whiskeytown frontman Ryan Adams the couple moved in together. 
And in September 2017, Mandy Moore was seen flaunting her engagement ring confirming a facebook post's claims that the couple was engaged.
Mandy Moore then confirmed the engagement rumors through their Instagram. 
After getting engaged in the fall of 2017, Taylor and his fiance were seen flaunting their love at various red tape events.
Taylor was seen rooting for his wife-to-be in her concerts and award shows, while Mandy is a frequent visitor at Taylor's sing-ins. 
New House To Start New Relationship, Mandy Wants Kids
The lovebirds are madly in love with each other and now are thinking about taking the next step in their relationship. 
Shortly before their engagement, the couple had spent a whopping $2.5 million to buy a house in LA. And the loved-up couple spent the whole of their winter renovating their new abode. 

Smiles Everywhere: Taylor Goldsmith with fiance Mandy Moore celebrates their 2-year union (Photo: Mandy Moore's Instagram)
You Don't Want To Miss: Channing Tatum Officially Dating! 'Price Tag' Singer Jessie J Is Girlfriend
With the renovations completing in June 2018, Taylor and Mandy moved into the house in January 2018 and revealed their excitement to start a new chapter in their life in the new house.
Mandy, who has already gone through a failed wedding before, is ready to walk the aisle again with Taylor to be pronounced husband and wife.
What's more, she is also ready to have kids with the rock star fiance. Talking to PEOPLE on 21 January 2018, she gushed about her relationship with the rockstar and claimed that they had added glass doors in the whole house to keep kids and pets safe.  
Having completed the hard part of getting their own home, the pair soon seemed to be singing to the tunes of the wedding bell. 
Taylor Goldsmith Heard Wedding Bells With Wife Mandy Moore: Presenting Boho-Vibe Ceremony
It was on 18 November 2018 that Taylor officially pronounced his wedding vows with his wife, Mandy Moore in Los Angeles. The bride and the groom looked absolutely stunning as they embraced matching black-and-white attires.
The wedding ceremony was apparently an intimate backyard wedding at Mandy's home that started right after sundown.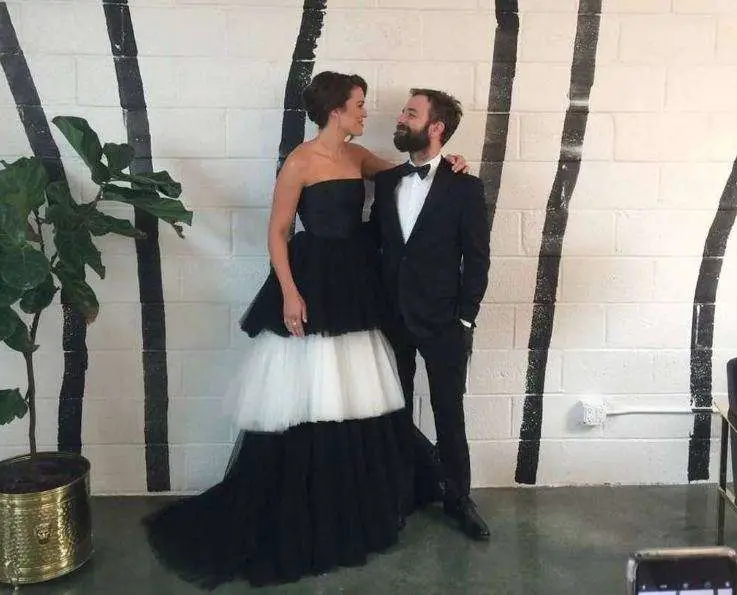 Love Everywhere: Taylor Goldsmith and his wife Mandy admiringly look at each other while embracing their better half during their wedding ceremony (Photo: eonline.com | 18 November 2018)
See Also: Lola Iolani Momoa Age 11 Bio: Growing On Limelight; Who Are Parents?
There was quite a small group of family and friends that gathered the number of at least 50. The look of the wedding was 'very boho' as it included rugs on the floor surrounding the altar and the flower arrangements looked beautiful with large feathers.
After the ceremony was over, guests traveled to the private event space in the Highland Park neighborhood of Los Angeles, The Fig House. The guest list embraced some big names like Milo Ventimiglia, Minka Kelly, Wilmer Valderrama, Sterling K. Brown, and Chrissy Metz.
As for the food, there wasn't a formal dinner, but there were several food stations around the venue that provided many veg and non-veg items. Well, that definitely sounds like a fulfilling wedding. 
Now that Taylor and Mandy are married, there's no doubt they'll be riding a whole different rollercoaster of their intimate bond. And we sure are hoping to hear about their future kids.