What Is Shawn Pomrenke Net Worth? TV Personality Personal Bio - Married & More
Shawn Pomrenke is a television reality star, best known for his gold mining skills. An inspiration to many, Shawn has had a succesful work life and hefty net worth and salary just from his career alone. Co-owner of the Christine Rose and Shamrock; two Highline dredges situated in Nome, Shawn Pomrenke is a TV reality star. Famously known as "Mr. Gold," he currently works in a Television Series titled Bering Sea Gold. The first episode was released on 27 January 2012.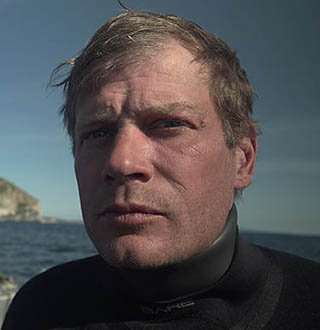 Shawn Pomerenke took over his father's mantle from an early age. Not only did he achieved success following in his father's footsteps, but he was also rewarded handsomely. 
Famously known as "Mr. Gold," Shawn Pomerenke works in the Television Series, Bering Sea Gold. Co-owner of the Christine Rose and Shamrock; two Highline dredges situated in Nome, the star, aged 43, has proved himself as one of the most successful gold diggers in the living memory. 
Discovery Original:- Shawn stars in the trailer for the season 10 of Bering Gold (Published on 11 May 2018)
The season 10 of Bering Gold starring Shawn was premiered on 11 May 2018.
Shawn Pomrenke's Bio(Age): Leaves House To Dig Gold With His Father
Shawn was born on 26 March  1975, to mother Cathy Tieva and father Steve Pomrenke in Nome, Alaska. His father Steve was a gold getter, and Shawn developed a passion for gold digging from a very early age.
Shawn Pomrenke left his house and started gold digging at the young age of fourteen with his father, Steve. Honing his skills along with his father as the guiding star, Shawn is now considered as Nome's most exceptional gold getter by many. He loves to brag about being the top gold-getter in Alaska.
Shawn along with his father and one of the best mining ship, Christine Rose, has been a part of Discovery's gold mining show Bering Sea Gold since 2012.
Read Also:- Patrice Failor Wiki Tells: Age & Height To Family With Husband James Comey
However, not content with living in the shadows of his father, Shawn is planning to purchase the mining rights over 10,000 acres of property. He believes the considerable landmass contain a quarter billion dollars in gold.
Though this Mr. Gold has fierce competition with his rivals, his most difficult battles are with his father who does not have the same ideologies when it comes to running the family business.
Not just that, the hot-headed gold getter has had his issues with the law enforcement and has been handcuffed multiple times for DUI charges.
However, he has cleaned up his acts and has not had any issue with the authorities since 2013, signifying his new found maturity.
Shawn Pomrenke's Tumultuous Relationship With Wife; Son & Daughter Still In The Picture
The reality star was married to his wife, Jenny. There have been no shreds of evidence of the duo's marriage date. The couple had two children together with a son and daughter Emily.

Like Father Like Son:- Shawn posted a snap with his son before flying home from Ted Stevens International Airport on Facebook back in 2017 (Photo:- Shawn Pomrenke's Facebook)
But, the husband and wife had their issues over marriage and separated. Despite no details about his divorce with wife, he has listed himself a single on his Facebook profile and in 2016 in an interview with reddit.com; he mentioned that he had no wife.
Interesting:- Openly Gay Andrew Scott Reveals Secret! Boyfriend, Dating, Family & Facts
Despite distancing himself from his wife, Shawn is close to his kids and posts regularly about them, whether that be a casual journey home with his son or his daughter's sports function.
Behind Shawn Pomrenke's Net Worth
His TV career has brought him name, fame and whopping net worth. As the lead star of the show Bering Sea Gold, Shawn and his father command a huge salary. And that salary has been reflected in his net worth. 
As of 2018, Shawn Pomrenke has the estimated net worth of $2 million. Whats more, his father Steve also has a net worth of $5 Million, making the Pomerenke family one of the richest in the show. 
Having already aired seven seasons, the show still garnering a massive number of views per episode. And the show has been renewed for its eighth season and is sure to run for a considerable amount of time. That, in turn, will only serve to increase the net worth of the Pomerenke family.
Five Unmissable Facts About Shawn Pomrenke
1. The Bering Gold star never watches his show.
2. Discovery pays Shawn in the excess of $200 thousand per season for his appearances.
3. Shawn completed his high school education from Nome Beltz High School in 1992.
4. His favorite movie of all time is 2000 titled The Patriot starring Mel Gibson.
5. He's really into Shyloh Powers' music.
Don't Miss It:- Hannah Stocking Has Boyfriend Now? Dating & Family Status Of Internet Personality