Shawn Mendes' Parents Helped Him Remain Humble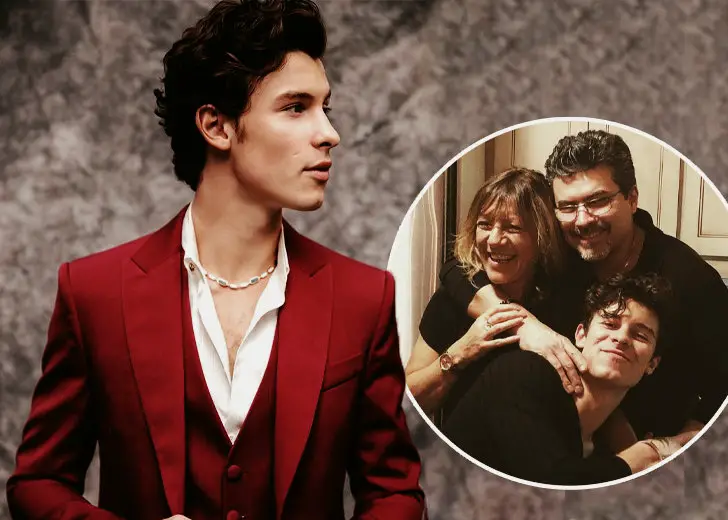 Shawn Mendes does not need any introduction at this point. The Canadian singing superstar, who started on Vine, is now stealing hearts and filling stadiums and has been doing so for a while.
However, fame and success have never really got the better of Mendes.
Besides his insane musical talent and his heart-melting good looks, he is also known for being humble and down to Earth — qualities he got from his upbringing.
So, what role did his parents have in instilling values of humbleness in him?
Shawn Mendes's Parents
Mendes, whose full name is Shawn Peter Raul Mendes, is of mixed ethnicty. He was born to parents with two distinct origins. 
The singer, who was born on August 8, 1998, in Pickering, Ontario, has parents of English descent and Portuguese ethnicity.
According to Capital FM, his father, Manuel Mendes, who sold bar and restaurant supplies in Toronto as of May 2018, is originally from Lagos, Portugal.
Both of his parents now have a joint account on Instagram under the name @karenandmanuel. His father likes to share a photo or two of him and his famous son every once in a while on the social platform. 
As for his mother, Karen Rayment, as reported by the same outlet, is a real estate agent. She was born in London but migrated to Toronto and grew up there.

Shawn Mendes with his parents, dad Manuel Mendes, and mom Karen Rayment. (Photo: Instagram)
Mendes is close to his mother. In fact, the two even share matching elephant tattoos on their fingers.
In a GQ Magazine segment, Mendes opened up about his long-awaited dream of getting his mom tattooed.
He confessed his mom loved elephants, and as an homage to his mother's fascination, the mother-and-son-duo got matching elephant tattoos on their fingers.
Shawn Mendes Is a Down To Earth Guy
Mendes has used his fame not only to sell music but also for the good of humanity.
The singer-songwriter has been associated with the Sick Kids Foundation to address the challenges in child health. 
Such charity works, coupled with his humble demeanor, have earned the star a reputation for being humble.
Even people and veterans of the music industry have acknowledged and lauded Mendes for his down-to-earth personality.
The great Elton John has explicitly mentioned it while talking about the two musicians' telephone conversation, which was later published by V Magazine on November 19, 2020.
John began the interview by telling how he thought Mendes was down to Earth every time he met him.
I'm so fond of you [Shawn], and every time I've met you, I've just thought you were really down to earth.
Further, he also added, saying that success had not gotten the better of him.
You have so much magic about you [Shawn], and you're a big star, but you're so humble. Success has not gone to your head.
Also, Jack & Jack, the pop duo, has stressed what great a person Mendes really is. "That dude probably doesn't even know that he is famous," Jack and Jack can be heard saying during a podcast. 
Mendes, himself, has addressed the importance of being humble occasionally. 
Back in 2018, he spoke at L.A.'s The Grammy Museum about how one had to be humble but not let that put one in a position where you question your own success.
You have to be humble, but you can't wake up and question it. Because if you start to question it, you start to crumble. There's a balance there.
Going back even further, in August 2016, when he had just turned 18, he had a chat with Shem of KISS 92.5, where he revealed he was humble because he did not know how to be anything else at that point in time.
While we're sure that he knows a lot more about life and people now than he did back then, he is still that same person, and that is a testament to how he was raised.
Shawn Mendes Credits Family for Keeping Him Humble
Mendes was brought up in a family that followed the Christian religion, as reported by W Magazine, and Mendes has to thank his parents for his upbringing. 
The Canadian singer has expressed his gratitude towards them in the past.
According to a quote reported by Shawn Mendes Updates, a fan account on Twitter dedicated to the singer, in July 2019, he replied to a fan saying that he had a million reasons to be and stay humble and family-oriented even after such success.
Fan: "What makes you stay humble and family oriented after becoming famous?"

Shawn: "I have a million reasons to be humble and I think the first one is that's the only way to be. And I have the most incredible friends and family around me at all times and they, no matter (1/2) — Shawn Mendes Updates (@MendesCrewInfo) July 15, 2019
Further, he also said that he had "the most incredible friends and family around me at all times and they, no matter what happens in my life, no matter how much success, they don't forget to remind me what's important in life."
Way back in 2015, Noticias Magazine published a story about one of Mendes' concerts in Spain.
The superstar, who was just 17 at the time, spoke to the magazine after the concert where he said that his parents "won't let me fly too high."
Probably because he was too young he even used to let his mom and dad open the gifts that he got during the meet and greet at concerts. "It is my parents who see if anything matters," he said.
Therefore, all the credit for Mendes being incredibly down to Earth goes to the people embedding him in his life, especially his parents.