'Ink Master' Star Ryan Ashley Malarkey's Journey — From Fashion Designer to Tattoo Artist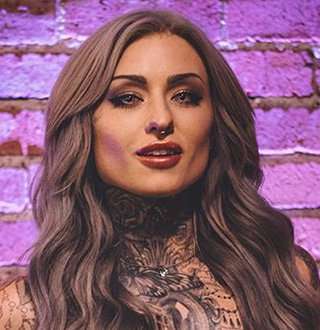 Ryan Ashley Malarkey, the winner of the Ink Master season 8, turned heads with her outstanding tattooing skills.
What came as a surprise was that she had perfected her skills within a short time. She had joined the tattoo business after investing half her life in fashion designing. Apparently, her natural talents to imagine, design, and enforce her ideas helped her achieve the title of an ink master.
Studied Fashion Designing
Malarkey's immaculate jewelry tattoos, indubitably, reflect her creative side and her conscientious approach. Her skills for such art, however, didn't rise from talent alone; it did from her years of practice as a fashion designer.
Before grabbing success in the tattoo industry, the tattooer worked as a fashion designer.
Born on June 17, 1987, she graduated from the Fashion Institute of Technology in 2007 as a Critics Choice Award winner of her class. She worked as an in-house fashion designer for an NYC-based private label clothing company that designed dresses for brands such as Chico's and Boscov's.
However, she left the fashion industry circa 2011 and invested her full time in the tattoo business thereafter.
Skyrocketed to Fame After Winning Ink Master
The professional tattoo artist moved back to her hometown, Pennsylvania, after quitting fashion designing.
She focused on tattooing and started an apprenticeship in a private tattoo parlor. After a year of practicing, she developed her unique style in black and gray tattoos.
Her friend (tattoo artist), Austina Obscure, who knew her in her development phase, praised her eye for details and said to Timesleader that she knew Malarkey "would be great."
Early on, I knew she was going to be great, because her art was already on point and that's always a huge bonus. It's a great thing to watch her come so far in such a short amount of time.
After training, Malarkey started her own studio parlor in Kington, The Strange & Unusual, with her then-boyfriend, Joshua Balz — the two parted ways, and Malarkey married Arlo DiCristina.
In 2016, she competed in the Ink Master season 8 as a member of Team Peck, managed by judge Oliver Peck.
It would be fair to say that Malarkey came into people's notice as a professional tattoo artist after her appearance in the show. And her fame only multiplied as she became the first female winner of Ink Master in 2016. She even got crowned as the "Tattoo Queen." 
INK MASTER SEASON 12 WINNER: Laura Marie Is a Role Model for Aspiring Female Tattoo Artists
Following the victory, the Pennsylvania native became a host of the spin-off show Ink Master: Angels in 2017 alongside famous artists: Kelly Doty, Nikki Simpson, and Gia Rose.
In 2019, she moved to Colorado and became a member of the Elysium Studios, Grand Junction.
Won Ink Master With a Tattoo that Opposed Her style
Malarkey's unique style is her black and gray tattoos inspired by jewelry, fashion, and antique themes. An avid builder of intricate and three-dimensional details, she rarely makes vibrant tattoos.
But in the finale of the Ink Master season 8, her competitor, Kelly Doty, challenged her to make a 90s' news school-themed tattoo.
Accepting the challenge, Malarkey stepped out of her comfort zone and pioneered a skull tattoo with vibrant color play.
The 33-years-old nailed the challenge in such a way that impressed the judges and also proved she could handle any style if need be. That season, she won against fellow artists Gian Karle Cruz and Kelly Doty with only five years of experience as a tattoo artist.