Veteran Journalist Roger Mudd Passed Away — A Look Into His Family, Wife's Death, and Net Worth
Veteran Journalist Roger Mudd Was A Household Name In The American News Industry. A Look Into His Family, Wife's Death, And Net Worth After He Passed Away.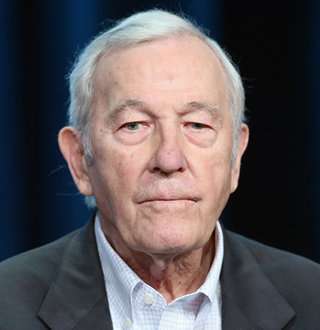 Quick Information
Date of Birth

February 9, 1928 - March 9, 2021

Nationality American
Birth Place

Washington, D.C., United States

Birth Name

Roger Harrison Mudd

Profession

Journalist

Ethnicity/Race

White

Father

John Kostka Dominic Mudd

Mother

Irma Iris Mudd

College

Washington and Lee University, University of Richmond School of Law, University of North Carolina at Chapel Hill

Hair Color

Gray

Eye Color

Brown

Son/s

Daniel Mudd, Jonathan Mudd, Matthew Mudd

Daughter/s

Maria Mudd-Ruth

Career

1962-2020

Ex-Wife

Emma Jeanne Spears Mudd

Divorce/Split

Yes

Awards

Peabody Awards

Children/Kids

4
Veteran journalist Roger Mudd peeked into the American households, providing timely updates on contemporary issues through his role as a correspondent and anchor. Doing that, he served for various national channels such as NBC, PBS, CBS, and the History Channel.
His work had earned him several awards and accolades, including five 'Emmy Awards,' 'Joan Shorenstein Award' for Distinguished Washington Reporting, and the 'Peabody Award.'
Today, Mudd, who experienced success and received love for his work, is no more with us — he passed away on March 9, 2021.
Died at the Age of 93
The renowned broadcast journalist passed away due to complications from kidney failure at his residence in McLean, Virginia, on March 9, 2021, at the age of 93.
His death saddened many of his family members, friends, audiences, and colleagues. "Roger was a hero in the CBS News Washington bureau," the president and senior executive producer of CBS News, Susan Zirinsky, said on Mudd's death.
Zirinsky added, "He was a journalist of enormous integrity and character. He would not budge if he believed he was right and would not compromise his ethical standards. He was an inspiration to all of us in the bureau."
On a personal note — I sat directly across from him in the D.C. newsroom — Roger was big, not just in his physical presence but he was larger than life.
Besides, many fans and media houses took to their social media to share their heartfelt condolences towards Mudd and his family members. 
Roger Mudd was a journalist of the highest standard. His storied career was a credit to his talent and a service to the country. The crucible of newsrooms can be competitive, but I always admired Roger. I enjoyed reminiscing with him in later years about the journeys we traveled. — Dan Rather (@DanRather) March 10, 2021
RIP Roger Mudd. We met him at The Homestead years ago, and he and my husband played a round of golf. They attended the same university. He interviewed Bobby Kennedy right before he was assassinated. Classy guy. — Jan Rieger (@McRieger) March 10, 2021
RIP Roger Mudd, legendary TV journalist. 93. — Jon Heyman (@JonHeyman) March 10, 2021
Know About Mudd's Bio and Family
On February 9, 1928, Mudd was born to his parents, John Kostka Dominic Mudd (father) and Irma Iris Harrison (mother).
His father served as a mapmaker for the US Geological Survey, and his mother was a lieutenant in the U.S. Army Nursing Corps.
As being born in such an educated family, Mudd was always focused on his education bound. He graduated with a B.A. degree from Washington and Lee University and received an M.A. degree from the University of North Carolina in 1950.
Relationship with His Wife Emma and Her Death 
To be exactly precise, it was during his days at radio station WTOP in Washington when he met his wife, Emma Jeanne Spears Mudd.
The couple dated for a brief period and later got married in 1987. What's more, the couple had a lovely family of three sons, Daniel, Jonathan, and Matthew, and a daughter, Maria.
In his book 'The Place to Be,' released in 2009, Roger described his wife as the vital cog that held on the family together when he was not available.
YOU MAY LIKE: Sharna Burgess' Boyfriend & Husband To Be; Bobby Bones Or Someone Else?
The vital cog in the family, Emma, however, was taken away from the Mudd family in 2011. She suffered a heart attack in May 2011, and her health worsened with every passing day. The heart attack turned out to be the cause of her death in July 2011. 
The Mudd couple had been married for more than 60 years, and the death of Emma resulted in the loss of support for Roger.
Death of Emma Didn't Impede the Growth of Sons and Daughter
Despite the death of Emma, her son Daniel continued to excel in his role of business personality while the middle son, Jonathan, excelled in his music career. The career of the other two children of the Mudd couple also hit newer heights. 
On the other hand, Roger was involved in philanthropic works and was fulfilling his role as a Trustee of the Virginia Foundation for Independent Colleges.
Mudd's Professional Career and His Net Worth
Mudd started his career in journalism by serving as a reporter for the Richmond Times-Dispatch. After his term at the paper, he joined WTOP News, a DC-based TV channel, as a reporter.
Climbing up the ladder quickly, Mudd was already an anchor for the network before joining the National Broadcaster CBS Washington in 1961.
At CBS, he covered Congress and national politics and often subbed for Walter Cronkite until 1981. However, he left the network after being snubbed for the role of a regular weeknight host in 1981.
READ ABOUT: Acacia Brinley, Married & Mother To Cutest Baby - At Just Age 20! Spectacular Journey
He left CBS to join NBC, where he co-anchored Nightly News and Meet the Press before moving on as a correspondent to the McNeill-Lehrer's Newshour on PBS in 1987. After his brief stint on PBS, he also worked for Academia and The History Channel in the late 1990s before retiring in 2004.
His broadcasting journey was filled with memorable moments, including the famous interview with US Presidential Candidate Ted Kennedy. His abrasive questioning led to a mockery of Ted, which led to his defeat by Jim Carter for the president.
It's not just name and fame that the broadcaster earned during his time, as he was consistently one of the best-paid broadcasters until his retirement. Despite the exact figure remaining obscure, his net worth was reported to be in millions.