Rachel Nichols' Net Worth — A Look Into 'The Jump' Host's Career and Earnings
Rachel Nichols receives an impressive salary of $1.5 million from ESPN alone.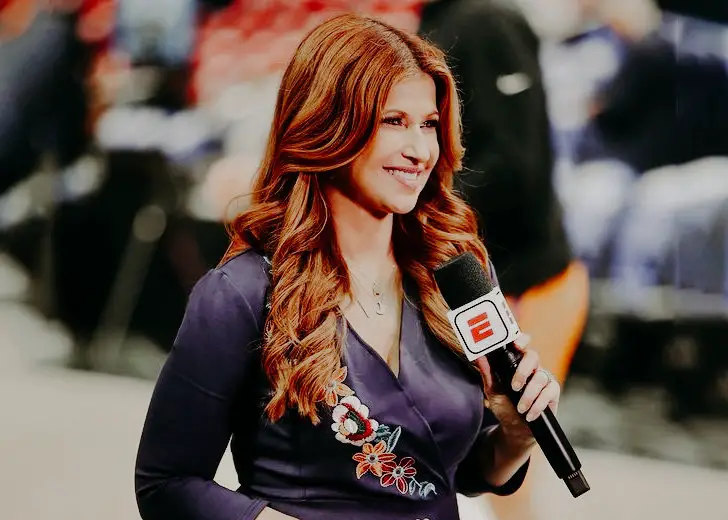 American sports broadcaster Rachel Michele Nichols, popularly known as Rachel Nichols, has lately made the headlines for her diversity comment.
The statement, which she made in July 2020, was brought into light by New York Times' report, where Nichols stated that Maria Taylor, who is Black, was preferred over her to cover the NBA Finals due to ESPN's long and terrible record on diversity. Nichols is white.
In the wake of the situation, the 47-year-old broadcaster issued an apology at the top of her popular NBA show, The Jump, on July 5, 2021.
"The first thing they teach you in journalism school is don't be the story, and I don't plan to break that rule today or distract from a fantastic Finals," she said. "But I also don't want to let this moment pass without saying how much I respect, how much I value our colleagues here at ESPN, how deeply, deeply sorry I am for disappointing those I hurt, particularly Maria Taylor, and how grateful I am to be part of this outstanding team."
But sometimes, mistakes are inevitable. And, despite her offensive comments, Nichols still happens to be one of the most experienced and respected ESPN broadcasters.
Her Career
The 1991 graduate of Winston Churchill High School, Nichols started her career in sports journalism after completing her education. She started by writing for the Fort Lauderdale Sun-Sentinel sports page from 1995 to 1996.
She then moved to cover the NHL's Washington Capitals for the Washington Post. There, she served between 1996 and 2004.
In 2004, the Potomac, Maryland native joined ESPN for the first time and became a regular part of SportsCenter, Monday Night Countdown, Sunday NFL Countdown, and various NFL and NBA coverage.
After 9 years at ESPN, Nichols left ESPN for CNN and started hosting the show Unguarded with Rachel Nichols in October 2013.
As a broadcaster for CNN, she received praise for her tough questioning of NFL Commissioner Roger Goodell following the Ray Rice scandal and confronting boxer Floyd Mayweather on his history of domestic violence.
She made her way back to ESPN in 2016, and since then, she has been co-hosting a daily discussion show, The Jump. Meanwhile, she also became a recurring guest-host on the podcast Pardon My Take and television show Pardon the Interruption.
For her contributions in journalism through the years, Nichols has been named one of the Hollywood Reporter's 10 Most Powerful Voices in Sports Media in 2015, and one of Esquire's Women We Love in 2005.
Her Net Worth From Her Career
With over a three-decade-long working career, Nichols has managed to earn a substantial amount of wealth. According to Players Bio, she has a net worth of $10 million.
A huge chunk of her earning comes from ESPN only, as she receives an impressive salary of $1.5 million annually from the network.
Her net worth, therefore, has helped her to provide a comfortable lifestyle to her family, too. She has been married to Max Nichols, film and music video director, since May 2001. Together, they are parents to twin daughters.