Inside CNBC's Morgan Brennan's Married Life with Matt Cacciotti — Bio Details
Brennan and her husband Matt Cacciotti are parents to two kids.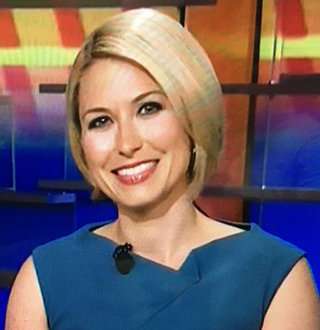 Quick Information
Birthday

26 April

Nationality American
Birth Place

Stamford, Connecticut

Profession

Television Actor

Relationship Status

Married

Husband/Spouse

Matt Cacciotti

Ethnicity/Race

White

College

New York University

Hair

Long

Hair Color

Blonde

Eye Color

Brown

Wedding Date

2011
American journalist Morgan Brennan has welcomed two kids since tying the knot with her long-time partner Matt Cacciotti.
She has, however, kept her motherhood and details of her children to herself, not revealing their pictures on social media. Here's what we know!
She Married Matt Cacciotti in 2011
Brennan married Cacciotti on August 6, 2011, in a private wedding. It is not sure when they started dating, but his pictures on Brennan's Instagram hint that they are going strong. 
The Squawk Alley anchor refers to her husband as her best friend, and rightfully so.
On September 16, 2018, she Instagrammed a picture with him. The pair could be seen spending quality time on a swing at Orient Beach State Park. She used a best friend forever hashtag in the caption. 
Likewise, she wrote, "You're my best friend" for her husband in another picture uploaded on July 14, 2019.
Her partner is the founder and CEO of a brokerage firm Gold Street Trading Ltd. Cacciotti is also the president at MMC Trading.
Related: CNBC Contessa Brewer Bio Reveals Funny Husband; Do Fans Know Him?
They Are Parents To Two
Brennan has two kids with her husband. Her eldest child, a daughter, was born in 2016. The birthday of her second child is, however, unknown to date.
For all those inquiring:

Yes, I am pregnant. I'm due mid-summer and thankfully, everyone is healthy and doing well.

And now, back to your regular programming... — Morgan Brennan (@MorganLBrennan) June 17, 2020
She had announced her pregnancy in July 2020 and revealed that she was due in mid-summer that year. Then, on August 4, 2020, she hinted at the birth of her child, saying she was "busy being a new mom again."
Needless to say, the CNBC anchor is strictly private regarding her children; she seldom posts pictures or gives updates of them on her social media.
The last time she shared anything about her kids was on April 16, 2020. She posted a picture of her daughter riding a bicycle and shared that her daughter learned to ride a bike in the lockdown. The mother-of-two also mentioned that the pandemic allowed her to get quiet and reorder her priorities.
Her Parents and Career
Brennan would have been a musical star if not for a change of heart. As a young girl, she dreamed of making it big in the music industry, for which she didn't join college after high school. 
But when she was in her early 20s, her plan changed, and she set out to be an anthropologist. She studied the subject at the New York University and graduated in 2010.
While going through the course, she realized that anthropology and journalism were similar. As a result, she pursued a career in media and interned at Newsweek International.
In 2009, she joined Forbes Media as an assistant for a video department. She slowly worked up her way up the ladder and became the reporter of the network. In 2011, she became a staff writer for Forbes magazine, covering real estate.
Her proficiency in the real estate business came from her parents. Her father worked as a property developer and her mother as a realtor. She literally grew knowing all about the real estate market, including inflation and subsequent crash. 
The knowledge helped her excel at her work in Forbes. Soon, the CNBC reporter was appearing on TV as a regular guest at Fox News' Forbes on Fox and MSNBC's Weekends with Alex Witt. 
In December 2013, she joined CNBC as a general assignment reporter. She was promoted as the co-anchor of CNBC's show Squawk Alley in April 2018.
Two years later, she left the show and started anchoring Squawk on the Street. She covers various topics like defense, manufacturing, and space. Undoubtedly, her expertise in the journalism sector has helped her enrich her net worth through salary.