Israel Houghton's Children Has Found a Loving Stepmother in Adrienne Bailon
Israel Houghton and Adrienne Bailon tied the knot on November 11, 2016!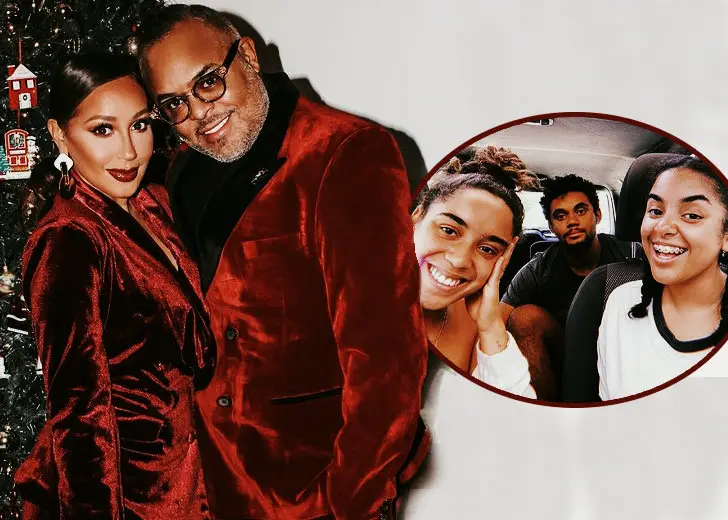 Gospel singer Israel Houghton got married to Adrienne Bailon, a renowned singer and television host, after divorcing his ex-wife Meleasa Houghton in February 2016.
Having tied the knot with Israel the same year, Adrienne is also a stepmother to her husband's children from the previous relationship. The YouTube content creator, who candidly speaks about her life on social media, has openly expressed her warm relation with her stepchildren.
Israel Has Four Children
According to Israel's IMDb profile, he married his first wife [now ex-wife] Meleasa Houghton in 1994. During their marriage, which lasted until February 22, 2016, the two welcomed three children Sonny, Mariah, and Lillie.
Their son Sonny Houghton is a singer-songwriter and music producer. Additionally, he also works as the director of marketing at Beat Bank, a music production, mix, and mastering platform.
Daughter Lillie Houghton works with Sonny as a content director at Beat Bank. In contrast, their other daughter Mariah Houghton is a model and an overall artistic person, which is evident in her Instagram account.
Israel also has a son named Jordan Houghton, about whom he occasionally posts on Instagram.
However, his ex-wife Meleasa is not Jordan's biological mother. In her Instagram bio, Meleasa has even stated that she is the mother of Mariah, Sonny, and Lillie.
That suggests that Jordan is Israel's son from a previous relationship which the gospel singer hasn't revealed yet.
But Jordan does appear to share close ties with his father and stepmom as he also promotes his father and Adrienne's initiatives via his Instagram handle.
Jordan Is a Father Himself
On May 4, 2021, Israel's son Jordan welcomed a son, Nova Houghton, with his spouse Lēaira Marie Houghton.
With that, Isreal also became a grandfather. He even took to his Instagram to share the news and express how happy he was. "He's so adorable. I'm already in love," he captioned the post.
Jordan is a musician and was selected as a contestant in American Idol in 2020.
Adrienne Is Open about Her Feelings Towards Israel's Kids
Adrienne doesn't shy away from opening herself and her lifestyle to anybody. The name of her YouTube channel, 'All Things Adrienne, ' alludes to how she is open to sharing her life experiences with her viewers, which she also mentions in her promo video.
Perhaps this same eagerness of allowing people into her life has led her to be so well-adjusted with Israel's kids.
Speaking to Latina magazine in 2016, she talked about her relationship with Houghton's children. Adrienne said that the kids were great and expressed gratitude towards their parents for raising them right.
They are wonderful people and I just think they are phenomenal little human beings. They are so much fun and I think it's just a testament to how their parents raise them. 
She further went on to express how she felt that she was going to be a permanent part of the kids' lives.
"Honored. I think when you love somebody you love all the parts of them and their extensions," she added. "It's awesome to see little parts of him in them and how smart, wise, kind and generous they are."
In fact, in a segment from The Real Daytime, in May 2017, the television personality said that her stepchildren don't refer to her as a stepmom but rather as 'Lit Mom' to commemorate their 'lit' relationship with one another.
Her Special Bond with One of the Daughters
Out of all the children, Adrienne seems to be especially close to Israel's daughter Mariah. The mother-daughter duo has wonderful chemistry, as has been observed on multiple occasions.
On Maria's 24th birthday, on August 31, 2020, the diva took to her Instagram to wish Mariah a happy birthday.
The caption read, "My favorite person to be EXTRA with is 24 today! Lol. These pics are literally US... ALWAYS!' I love you so much! ... let the fun begin!"
Mariah has even appeared on her stepmom's YouTube channel. On February 25, 2020, Adrienne uploaded a video titled 'Meet My Sister… I Mean, Stepdaughter!' on her channel where the 37-year-old stepmom said they would talk "all things Mariah" that day.
The video began with both saying that they hated the term "stepdaughter" and "stepmother." They also shared that they shared the same height, shoes, and clothing measurements and talked about the people's confusion, as many think they are sisters.
The confusion is not at all surprising because they only have about 13 years of age difference.