Eboni Williams Stalker Aims To Be Husband! Bio Reveals Parents, Ethnicity
Maybe she'll just drop the bomb of getting married to her future husband out of nowhere just like the details of her boyfriend...her mother fulfilled the roles of both her parents, mother and father...is of African-American ethnicity...That is the reason why the presenter, aged 34, is very close to her mom...Eboni possesses a gorgeous figure with the body measurements of 35-23-35

American television host, Eboni Williams had a secret lover who professed his love to her saying 'This is just the beginning of our love.' Sadly for him and many others she, however, had other plans as she shed light on her happy family life.
Eboni Williams is best known for co-hosting the talk show, The Curtis & Eboni Show on WABC Radio in New York City and Fox News Channel's 2017 show, Fox News Specialists.
Age of Judicial Discretion: Eboni Williams discusses Stephon Clark Injustice with Breakfast Club Power 105.1 FM (Published on 2 April 2018)
Eboni also assisted the council members of New Orleans by doing clerical works during the devastating Hurricane Katrina.
Eboni Williams' Bio: Age, Ethnicity & Parents
Born on 9 September 1983, Eboni Kiuhnna Williams is of African-American ethnicity and was raised in North Carolina, US, by a self-employed single mother.
Eboni grew up without a father or a fatherly figure but has never complained about his absence. This is because her mother fulfilled the roles of both her parents, mother, and father.
That is the reason why the presenter, aged 34, is very close to her mom and doesn't miss the chance to mention her mother in any talks, gushing about how much she admires her mother who never failed as a single mom.
You May Also Like: Drop Dead Diva's Brooke Elliott Bio Reveals: Married, Husband, Weight Loss & More Details
Eboni received her B.A. at the University of North Carolina at Chapel Hill in Communications and African-American studies, later earning her law degree from Loyola University New Orleans College of Law.
Eboni Williams' Height & Body Measurements
Initially having participated in different beauty pageants in the past, Eboni maintains a stunning hourglass figure. With an average height of 5 feet and an inch, Eboni doesn't fail to allure people with her talent and her curves.
Adding to that, Eboni possesses a gorgeous figure with the body measurements of 35-23-35 inches. Being a reporter, Eboni doesn't forget to maintain her healthy body by working out and being comfortable enough to present the news.
Eboni Williams' Rising Career Height
In 2008, Eboni began her career in Louisiana as a law student in the wake of Hurricane Katrina. Providing legal counsel in family law and civil litigation, She represented for clients in homicide, rape, sex crime, drug, and federal offense cases in 2010 as a public defender.
After spending years as a public defender, Eboni turned her focus on TV and joined CBS News as a legal correspondent. Eboni was a correspondent for CBS News and a contributor for Fox News who appeared on Hannity and The O'Reilly Factor. She has co-hosted on Outnumbered and The Five.
In May 2017, Eboni became the co-host for the Fox News Specialists afternoon show with Eric Bolling and Katherine Timpf.
Eboni also published her book, Pretty Powerful, that surrounds her belief that women should embrace their beauty as a positive asset in 2016.
After the Fox News Specialists was canceled on 8 September 2017 following sexual harassment allegations against Eric Bolling, Eboni joined WABC Radio as co-host in June 2017.
Eboni's Net worth and Salary
According to sources, Eboni Williams has got an estimated net worth of $200,000 as of 2018. She earns from her work as a host and even an actress at times.
Read Also: Reginae Carter Blessed Bio! Nasty Huge Net Worth & Loving Boyfriend & Still Young
From her work with Fox News, Eboni makes an average of $74,000 on an annual basis. And aside from the hosting career, she made her acting debut in 2009.
Eboni has played her roles in Mean Mr. Greene, 1000 Ways To Die, Against the Grain and Crossing Thresholds. These movies must have brought a massive amount of wealth to her as well.
Eboni Williams' Self-Professed Boyfriend
There are a lot of cases regarding Eboni's romantic life as the beautiful host has been claimed as a supposed girlfriend to many fans.
A fan took the topic too far, even opting to stalk Eboni, resulting in many rumors and disappointed loyal fans in 2017.
The alleged stalker wanted to have a long love life with the TV host and traveled from Ohio to Big Apple on his truck just to give her a letter. And in the letter, he had stated that he loved her a lot and in claimed that was the beginning of the couple's love. The man gave her the letter during her public book signing event in 2017, and the man even used to pepper her with gifts and emails from much before. 
The stalker had a criminal record including an arrest on an aggravated assault charge, which led to FBI and NYPD to act for her safety. 
Is Eboni Bringing Forth Her Husband?
Apart from crazy fans, Eboni doesn't have a long history of romance. But she did mention how she got upset when her ex-boyfriend didn't bring her an orchid because it was too expensive.
The same year she had to deal with a stalker, she revealed about her wonderful relationship on Twitter. She was responding to a fan, who described her as a smart cookie after she gave a relationship advice without ever having a boyfriend or love life. 
She replied to the fan that she was in a position to advise about relationships because she was currently in one and even described it as 'a wonderful relationship.'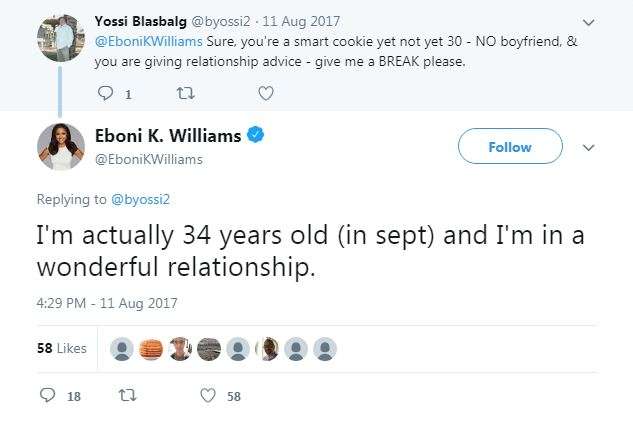 Mystery Boyfriend: Eboni replies to a tweet about being in a relationship on Twitter on 11 August 2017 (Photo: Eboni Williams' Twitter)
Now, there hasn't been any confirmation after her surprising confession about being in a relationship. She might have said that to defend herself from the tweet, or, maybe she really is dating someone.
You Don't Want To Miss: Is Michael Teutul Married? Age, Wife, Family, Net Worth & More
Eboni has yet to reveal her boyfriend's identity or any information regarding her romantic affair. And if she is dating someone, her boyfriend must be a fortunate guy. And who knows, maybe she'll just drop the bomb of getting married to her future husband out of nowhere.