Is Donna Brazile Married? Personal Life & Family Amid Drooling Gay/Lesbian Rumors
Veteran Democratic political strategist Donna Lease Brazile is an adjunct professor and the former Chairwoman of the Democratic National Committee. She was the first African American woman appointed as campaign manager for Al Gore in 2000 to direct a major presidential campaign.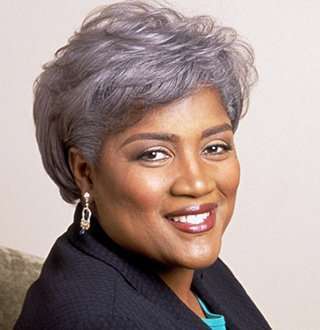 Quick Information
Height/ How Tall?

5' 6" (1.68 m)

Weight

N/A

Hair

Short

Hair Color

Salt & Pepper

Eye Color

Dark Brown

Official Site

http://donnabrazile.com/

Lesbian

No

Children/Kids

Not Yet

Date of Birth

Dec 15, 1959

Age

63 Years, 9 Months

Nationality American
Birth Place

New Orleans, Louisiana

Birth Name

Donna Lease Brazile

Profession

Television Personality

High School

Grace King High School

College

Louisiana State University

Relationship Status

Single

Net Worth

$3 Million

Ethnicity/Race

African-American

Father

Lionel Brazile

Mother

Jean Brazile

Sister/s

Sheila Brazile
American political strategist Donna Brazile had an awkward dance twirl with her longtime friend in front of all the respected political figures at the National Conference.
Veteran native Donna is an adjunct professor and the former Chairwoman of the Democratic National Committee. She was the first African American woman appointed as campaign manager for Al Gore in 2000 to direct a major presidential campaign. She is an outspoken woman with strong political opinions.
Donna Brazile Interview: Donna speaks about her critics with ABC news (Video: Published on Nov 6, 2017 )
Donna Brazile is also a co-author of the book For Colored Girls Who Have Considered Politics (2018) with famous writers like Yolanda Caraway, Leah Daughtry, and Minyon Moore."
Know About Donna Lease's Bio(Age) & Her Family
Donna Lease Brazile, who was born on 15 December 1959 in New Orleans, Louisiana, U.S., is the daughter of Jean Marie (Brown) and Lionel Joseph Brazile, the third of nine children. Her family's surname was 'Braswell' several generations back.
Her all siblings are married and gave her fifteen niece nephews, and Donna loves being around them. Back in March 2012, she confessed through a tweet that if she had a son he would look like one of her nephews.
Donna lost her sister Sheila in December 2012 and expressed her gloomy emotions through a tweet.


Donna Brazile Family: Donna mourning on the loss of her beloved sister in her Twitter account on Dec. 2012. (Photo: Donna's Twitter)
Donna Brazile's Strong Political Opinions
Having spent her entire life in and around American politics, Donna is very critical about the way the US government works and often gets depressed with the rugged political environment. Despite that, politics is her job, and her bread and butter. 
In 1998, Donna was fired from Dukakis campaign from the post of assistance field director for saying this to the media:
"The American people have every right to know if Barbara Bush will share that bed with him in the White House."
In an article published by her in Oprah.com, the political professor was reported saying,
It's people, not politicians, who make this country what it is. When I look around me, I can't help having faith.
And not having people to keep faith around her seems to have spilled in her dating life too. Havin no persons to keep her faith has implied in her having a secluded romantic life with very few partners on the fore.
Donna's Dribbling Gay/Lesbian Buzzes
Donna Brazile, who was a weekly contributor and political commentator on CNN's The Situation Room, is an active LGBT activist. She was an advocate in gay politics and also served on the board of the Millennium March on Washington. The 1999 New York Times Magazine said that she was highly protective of her privacy and called her openly ambiguous about her sexual orientation.
Interesting: Lisa Salters Without Husband At Age 52! Surprising Fact, Gay/Lesbian Or Straight?
'Gay and Lesbian Americans and Political Participation' a reference handbook written by Raymond A, Smith and Donald P. Haider-Markel and published in 2002 stated Donna as openly lesbian who served as Gore's presidential campaign.
It's no surprise that Donna has always fought for gay rights. She even wrote a quote supporting the gay community.
"Gay comes in all shapes, sizes, strengths, and personalities. Just like straight does. It shouldn't be news that- guess what - some gay people don't fit your stereotype."
Donna was always rumored to be an out lesbian, but she has never confirmed those rumors. But, those rumors can be real too, and that might be the very reason for her being still unmarried.
Is Donna Brazile Married? Know about Her Husband
58-years-old Donna Brazile, a committed Democrat, who was the first African-American woman to manage a presidential campaign, has built a successful political career as well as a friendly relationship with other politicians.
With more than three decades of adventure as a political strategist, her professional life has no doubt become marvelous and very inspirational. But when it comes to her personal life, we cannot say the same.
Also Read: Tory Belleci And Kari Byron Relationship Isn't What It Looks Like - Married, Gay, Net Worth And Facts
A graduate of Louisiana State University, Donna, has kept her love life very private and surely doesn't feel like her love affair is something she would want to see other's gossiping about.
Donna is not married to anyone still and is leading a single happy life. Surprisingly, she has not yet been romantically linked or seen with someone who can be suspected as her boyfriend or husband.
However, she has built some close relationship with her politician friends. According to the 2003 New York Times piece, Donna was engaged in daily combat with Karl Rove, former George W. Bush's top strategist. But as of today, they breezily exchange e-mail, chat, and tweet on social media.
Similar: Openly Gay/Lesbian Tammy Bruce Of Fox News Reveals Onetime Girlfriend
Back in March 2013, Donna shared a tweet mentioning Karl where she said; "When I lost the bet, Karl asked for my favorite fried chicken. He's still waiting on my recipe and the same for me on that Chili. #justsayin."
And on June the same year, they even danced at the National Conference on Volunteering and Service at Washington, D.C in front of all the people. That must have been awkward.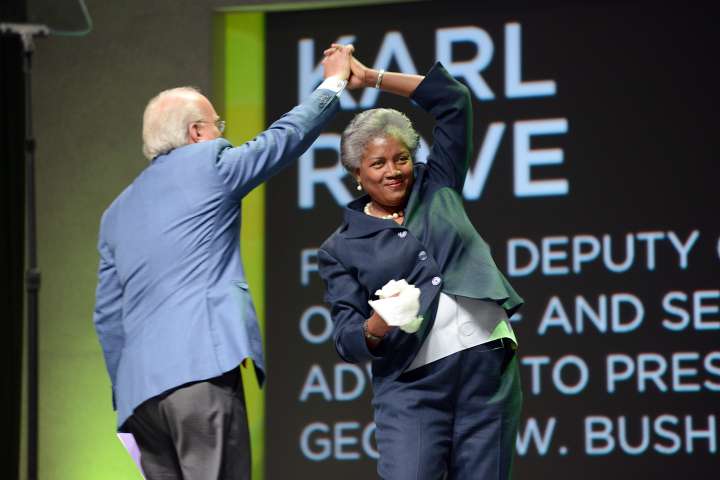 Donna Brazile and Karl Rove had an awkward dance at the National Conference on Volunteering and Service at the Washington, D.C. back in 2013 (Photo: swampland.time.com)
Donna has built a friendly relationship with other Republicans too but not quite like with Karl. However, they are not more than friends, and that leaves Donna still a single woman.
Donna, who is the author of Hacks: The Inside Story and Cooking with Grease: Stirring the Pots in American Politics books, hasn't opened up about her love life and her plans on having her own family yet. It appears that her professional career has kept her busy to serve the nation and couldn't manage the time to lead a married life.